8 Reasons to Choose WordPress as CMS to Build Your Website
Did you know that more than 40% of websites run on WordPress? If you aren't using WordPress yet, you may be perplexed by that sizeable percentage. If you're looking to build and develop websites, you'll need a strong platform that is dependable, flexible, and adaptable to the needs of the business. Although several website builders are available, WordPress unquestionably checks all the right boxes in terms of features and advantages.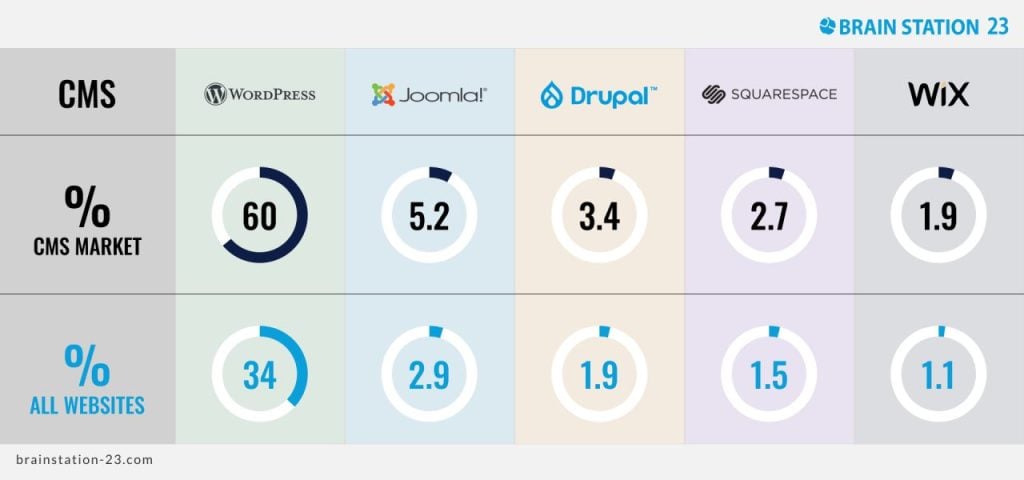 WordPress is one of the most popular content management systems. It is an effective tool for building and maintaining your website. WordPress can be used for various websites, including blogs, e-commerce, business, and personal websites. You can utilize this platform without downloading any desktop software because it is operated online. It's time to discuss why WordPress is so fantastic now that you have a better idea of what it is and what it does. I've come up with 8 justifications for choosing this platform for your website. After reading this blog, I'm confident you'll agree that WordPress is the finest CMS for you.
Wide user base: WordPress is open-source software. It entails that you are free to obtain, set up, utilize, and customize it as necessary. That is why WordPress has a vast and expanding user base. According to a new Kinsta survey, WordPress has a huge market share in CMS. 60% of the market for CMS is dominated by WordPress. With a proportion 12 times lower than WordPress, Joomla is ranked second. Also, 34% of all websites on the internet run on WordPress. To put it mildly, these numbers are absolutely mind-boggling.
The platform wouldn't be used as extensively if it weren't dependable. WordPress is used for popular websites including TED, TechCrunch, UPS, and CNN. This demonstrates how trustworthy WordPress is as a platform for creating content management systems and websites. So, if you use WordPress as your content management system, you will become a member of a sizable and vibrant user community that can offer support, direction, and advice.
Customization and Flexibility: WordPress is renowned for its adaptability and personalization possibilities. There are numerous pre-built themes included with WordPress, and new themes are created daily by designers and developers. The WordPress plugin repository has over 50,000+ free plugins, and thousands of commercial plugins are sold by independent developers. This implies that you can modify your website to meet your unique demands and specifications.
The ThemeForest marketplace has more than 9,000 free WordPress themes available in its collection.You can also buy affordable paid themes that offer more features and support. Whatever website you have, there is a perfect WordPress theme for it. Many themes have their own settings panel, so you can easily customize them without coding. You can change colors, add logos, modify the background, and create attractive layouts. You can also use plugins to add special features to your website.
SEO friendly: One of the major advantages is that it's SEO friendly. Many people use search engines like Google, Yahoo, and Bing to find websites. Websites that rank well on search engine result pages attract a lot of visitors every day. Website owners compete with each other to get more visitors, and SEO (Search Engine Optimization) plays a crucial role in this. Google and other search engines have specific criteria they use to rank websites.
WordPress has features like permalinks, title tags, meta descriptions, and XML sitemaps that help search engines understand your website's content, improve visibility on search result pages (SERPs). You can also use over 100 SEO plugins to manage links, analyze content, and optimize keywords. With WordPress and these plugins, you can optimize your website for search engines, improve rankings, and attract more visitors.
Mobile responsive: A mobile-friendly website is more crucial than ever because more people are using their smartphones for online activities including browsing the web, using social media, watching movies, and shopping. The number of consumers actively using handheld devices to access websites increases every year, however many websites are still not optimized for various screen ratios and quick loading times. Fortunately, your site will already be loaded with mobile capabilities thanks to some built-in WordPress functionality and the majority of WordPress themes. The majority of these crucial aspects will happen organically without any additional coding as long as you use a responsive WordPress theme, from site design to picture scaling. This will make it easier for users and search engines to view your website on all devices, resulting in an excellent user experience regardless of the screen size.
Security: There is a misconception that because WordPress is an open-source CMS, it is susceptible to security breaches. It's hardly surprising that hackers frequently target the most widely used website builder and CMS platform in the world when seeking for security flaws. The platform's security and safety are fortunately maintained by a WordPress security team made up of developers, security authorities, researchers, and contributors. To reduce risks, WordPress implements security measures and creates new technology. It finds issues and publishes relevant patches to remedy them. The themes and plugins you use on your website are not subject to the control of the WordPress security team. It is the responsibility of the individual developers to update plugins and themes. A team often routinely maintains a premium plugin or theme. Get themes or plugins from trusted developers to reduce security risks.
Affordable pricing: WordPress is open source and free to use. Hence, if you choose, you can go without paying anything. But you should switch to a paid plan if you intend to do more than just have a simple personal website. If you want to see the pricing of WordPress don't forget to check out their website. There are a total of six subscription choices, including the free version. They range in price from $3 to $45 per month. I wouldn't even bother with the blogger or personal plans if you're prepared to pay for WordPress. I would immediately upgrade to premium. The extra advantages you'll receive for just a few dollars more are definitely worth the cost. However, you will need the business plan, at the very least, if you want additional features like integration with Google Analytics and unique plugins. This pertains to the earlier discussion we had about flexibility. Plans for WordPress are available to suit the requirements of almost any kind of website. Those are all extremely reasonably priced. Even the most costly plan won't set you back more than $540 annually. Nonetheless, I figure most of you will be able to get away by spending a lot less than that.
Simple integration: You probably have a goal in mind when creating a website, whether it be to exhibit your work online, attract customers, or organize information for consumers. Whatever your objective, you may use things like email marketing software, payment gateways, Google Analytics, and countless other elements in addition to plugins and widgets to run an entirely functioning and operational website. A lot of the other online applications you use will have an integration with WordPress because it is such a widely used platform. The method to integrate these technologies into your workflow, whether it links via an API or a plugin, is really straightforward.
Multi-user capability: With WordPress, you can create and manage user accounts with various roles and permissions thanks to the system's integrated user management features. As it allows numerous individuals to collaborate on a single website, this multi-user capacity is one of the key characteristics of WordPress. WordPress has different user roles, each of which has a unique set of powers and permissions. The Administrator has complete authority over the website and may install plugins, themes, and other user accounts. This makes it the most powerful role. The Editor role, which has the ability to produce and edit all website contents, including pages, articles, and media files, is another crucial role. Although it has less authority than the Editor job, the Author role can nonetheless draft and publish posts. WordPress also enables you to create custom roles with particular rights and capabilities in addition to these pre-existing roles. If your website needs anything specific that isn't provided by the default roles, this can be helpful. WordPress' multi-user functionality is very helpful for websites with numerous authors or contributors. It makes it simple to organize and keep track of each user's contributions, ensuring that everyone is contributing in a productive and efficient manner.
Overall, WordPress's multi-user capacity is a strong feature that makes collaborating and working as a team on a single website possible. This feature might make it easier for you to manage your content and users effectively, whether you are managing a blog or a business website.
The various advantages of WordPress make it a highly suggested content management system for creating websites. With its simplicity of use and wide range of customization options, WordPress offers a platform that can accommodate different needs and preferences. Its widespread use and strong community backing also make it a dependable and dynamic platform. It is a great choice for both people and corporations because of its flexibility and scalability. All things considered, WordPress is a fantastic option if you're searching for a user-friendly, strong, and dynamic CMS to develop your website. It can help you establish a credible and effective online presence.
We're here to help you unlock the full potential of WordPress and create a remarkable online presence. Whether you're an individual or a business, take advantage of the various advantages offered by WordPress.
Brain Station 23 is focused on delivering tailored services to meet the unique needs and expectations of their clients. Here we provided ERP Solutions to our client. 
Software Testing as a Service
Brain Station, 23 is focused, on delivering, tailored services, to meet the, unique needs and, expectations of their clients. Here we, provided ERP, Solutions to, our client.  

  Previous
Brain Station 23 is focused on delivering tailored services to meet the unique needs and expectations of their clients.
 NEXT 
Brain Station 23 is focused on delivering tailored services to meet the unique needs and expectations of their clients.