Outsourcing means when you hire resources from outside your company for having certain job functionalities done. Functions can be outsourced to either a company or an individual. It can be software development to administrative tasks, lead generation and customer service, accounting and financial duties, marketing, IT operation, human resources, etc. 
Hiring an overseas workforce to outsource certain business functions can lead to:
lower overheads

Increased growth 

Greater focus and service quality
Combining these facts, businesses are trying to stay competitive, which means capitalizing on the world being a smaller, more tech-savvy, and enjoying the benefits of outsourcing.
Why businesses outsource?
Undoubtedly, the main reason behind outsourcing is, it allows companies to lower their overheads. Besides that, according to Deloitte's 2017 Global Outsourcing Survey (which is more or less the same in 2019), here are more reasons why businesses hire overseas teams.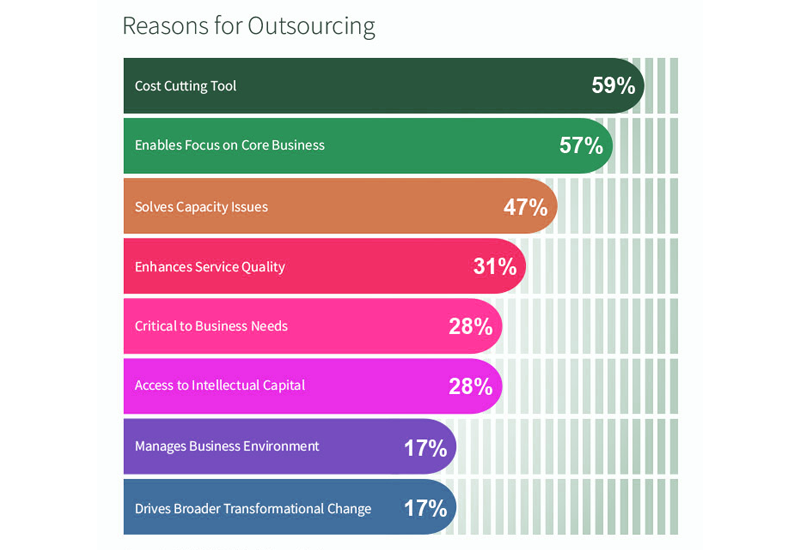 59% of businesses surveyed said outsourcing was used as a cost-cutting tool. But investing in outsourcing is more than just a money-saving exercise. If we look at all of the responses, they suggest outsourcing improves business performance and, therefore, results in better user experience.
Interestingly, 57% of respondents said outsourcing meant they could focus on their core business. 31% outsourced specifically to enhance service quality, while 17% used outsourcing as a way to drive change and disrupt their business norm.
The conclusion is that by outsourcing, businesses are rewarded with extra time and greater staff support. This allows them to scale, remain competitive, and (potentially) improve their services and offerings. That's good news for consumers.
Deloitte's 2016 study of why businesses outsource remains the most relevant and reliable list. But delve deeper into the statistics and it's clear the outsourcing market is far from static. 
Offshore popularity is rising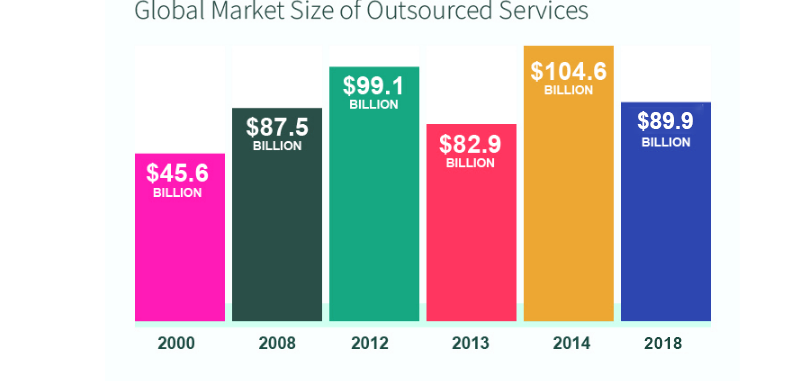 Spending on outsourced services in the global market has grown in the last two decades, from US$45.6 billion in 2000 to US$89.6 billion in 2018. Almost double! And it's not slowing down.
Businesses are feeling positive about their outsourcing relationships. As a result, 57% of US companies increased their use of outsourcing.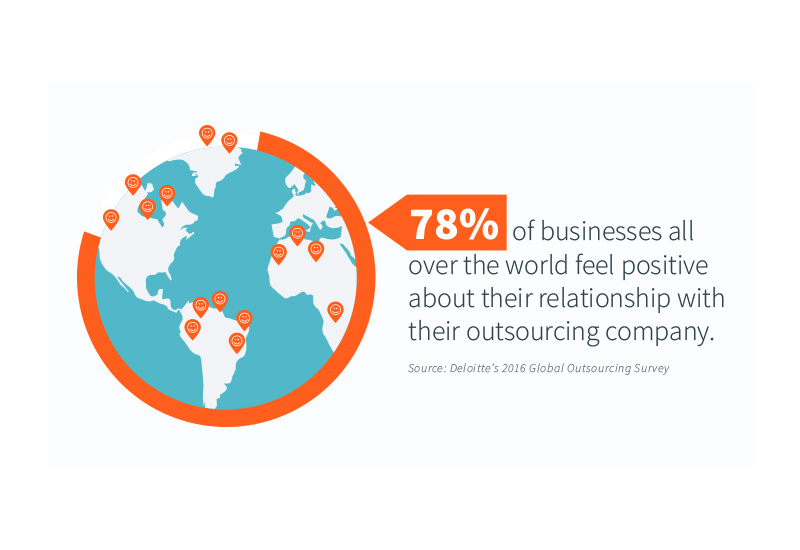 Factors to Consider for Outsourcing Decisions
1. Cost Savings
In pure business terms, the main purpose of outsourcing is to improve your business's bottom lines through reduced operational costs. If you don't see this happening anywhere soon, chances are high that you'll end up spending more than you end up retaining. 
You don't need to be an expert analyst to figure out where you're heading. All you've to see is whether outsourcing will help you reduce a significant amount of your capital in hiring employees and equipment. At the same time, you will also need to maintain a balance between the quality and quantity of the services provided by the outsourced employees/firm. For instance, if you outsource app development, you need to see if carrying out this function is taking up more resources and costs as compared to outsourcing it.
2. The Price Tag
Cost-cuttings by hiring talent at a reasonable price tag is one of the most common factors why companies outsource. Several vendors are offering their resources at a competitive price while you look for them. However, instead of going for the cheapest vendor, compare and find out what are you going to get from other vendors as well. For instance, some vendors will also offer customer support at no extra charge, which is a great deal in itself. Just remember that although the price is an important fact, it should not be the ONLY factor that helps you to pick up a vendor.
3. The Combination of Resource and Technology 
Technology and resources are two major considerations when you choose to outsource. Ask the outsourcing company about the tools and technologies they are going to use for your project and how capable they are of handling all your needs. Also, find out if the resources are well trained for the assignments. It's better if the vendor has an office with up-to-date systems and can handle the most rigorous of the outsourcing functions. Answers to questions like these will lead the way to select the ideal vendor who has the best resources and updated technology for seamless handling of your business functions.
4. The Ability of Meeting Deadlines
In outsourcing business, time is money. For instance, if your vendor fails to meet the deadlines, it can lead to major bottlenecks. That alone will repeal any cost-saving benefits that you had anticipated while hiring them. You need to ensure that your vendor adheres to the promised quality and timeliness. One of the ways to do this is by making all your queries in advance. If you find that the vendor has little quality control measures or does not have any backup plan should they miss a deadline, it is better not to hire them in the first place.
5. Minimal Supervision
When you hire an outsourcing vendor to work on your business requirements, it's a given that they are going to take care of everything from scratch. There should be no room for sloppy or shoddy work and they should be able to produce the results. 
Choosing a responsible vendor who will be in charge of the projects is a must-have so that you only need to supervise them minimally and let them take it from there. This will give you more time to focus on your core business functionalities.
6. Trustworthiness
Before you sign any agreement, do make it a point to visit the vendor's site if possible. Apart from this, also research on the internet to find out more about your outsourcing company, the infrastructure, safety practices and the team that works there. Look for case studies related to the functionalities you hired them for. This will help you assess the reliability of the service providers. If you have a reference who've worked with a vendor in the past, you can also ask them about the firm. This takes you to the next point.
7. Who'll Lead The Team
You can't just have blind faith in the outsourcing team even if you're saving significantly by hiring them. Know your offshore team members. In this process, you can ask for individual CVs of your team members which includes clear technical expertise, set a meeting by video call at the initial stages. In a nutshell, find out all that you can. Learning these facts upfront will save you from several agonies at a later stage. Moreover, when you know that your business functions are in good hands, you can sleep in peace. 
8. Limit The Liabilities
More often than not, certain functional areas can build up liabilities for a business. Which is both money and time consuming, which can be spent elsewhere. You can cleverly outsource certain functions to reduce the liabilities to an extent.
9. The SLA (Service Level Agreement)
The SLA (Service Level Agreement) is one of the most crucial documents when we talk about hiring an outsourcing partner. At the time of creating the document, make sure with your outsourcing partner that they are aware of the term "SLA" and every single detail is written clearly by the guidance of SLA. This will help you to avoid any kind of confusion or ambiguity, especially about the quality of the services you'll be getting so that you don't end up in any legal trouble.
10. Communication  
Whether you are onshore or offshoring ,your business communication is the key to running your business smoothly. If you and your vendor's language didn't match, this could be a really big problem which leads to communication gap. Sometimes it's better to choose the international language to communicate as there is less chance of getting into a transmission issue. Primarily, vendors must be able to handle your queries and promptly reply without making you wait indefinitely. Their communication skills need to be spot on without any space for cultural or other communication barriers. This ensures that they have clearly understood your requirements and can address any issue that may crop up.
The future of outsourcing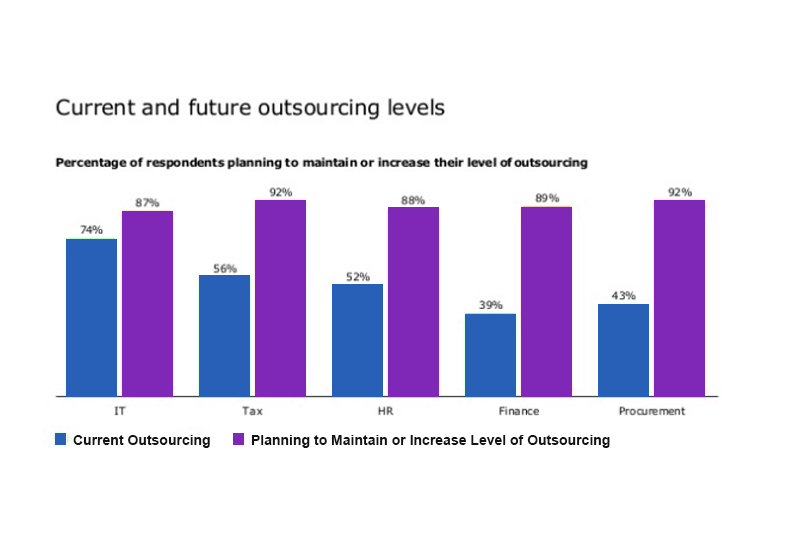 This outsourcing statistic shows how prominent offshoring continues to be for each possible sector of any business. Though major outsourcing companies belong from the USA and European regions as the Asian region is more willing to serve the outsourcing services.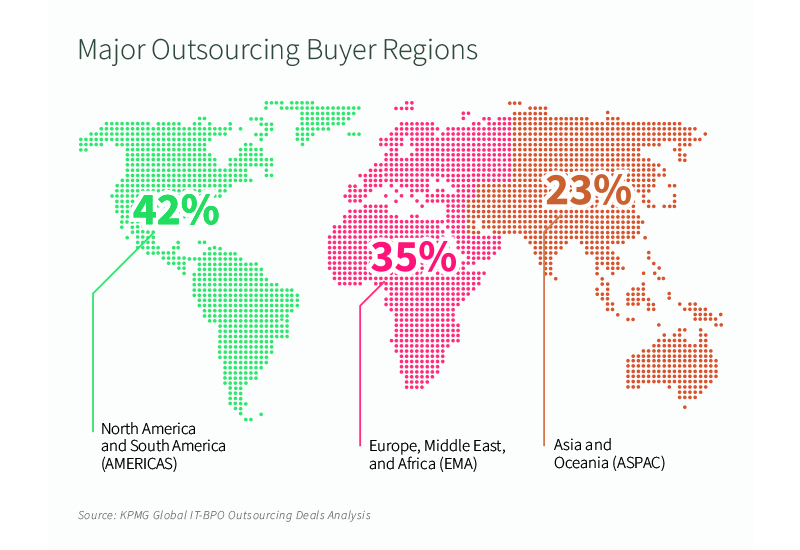 As technologies and infrastructure continue to evolve, particularly in the Asian region, companies needing to grow and remain competitive in the global market, can't afford to overlook the cost savings and functional benefits of outsourcing.
We can help you get your offshore team up and running in as little as six weeks. Reach out to us.