Financial technology, commonly known as "fintech," encompasses a wide range of applications and solutions that have revolutionized the way we manage our finances. From online banking and mobile payments to investment apps and cryptocurrency exchanges, fintechs have made it easier than ever to keep track of our money.  
The fintech app development market is projected to generate $123.4 billion by the end of 2025 at a CAGR of 23.84%, with a 64% adoption rate. And as younger generations become more comfortable with digital platforms, they are also more likely to use them for financial transactions. As a result, businesses are turning to the fintech revolution for business growth and fintech is poised to play an increasingly important role in the banking sector in the years to come. 
We are addressing why fintech is a driving power behind rising businesses, why investing in fintech app development makes perfect sense and how to choose a partner in this regard; in the blog. 
Fintech Adaptation Scenario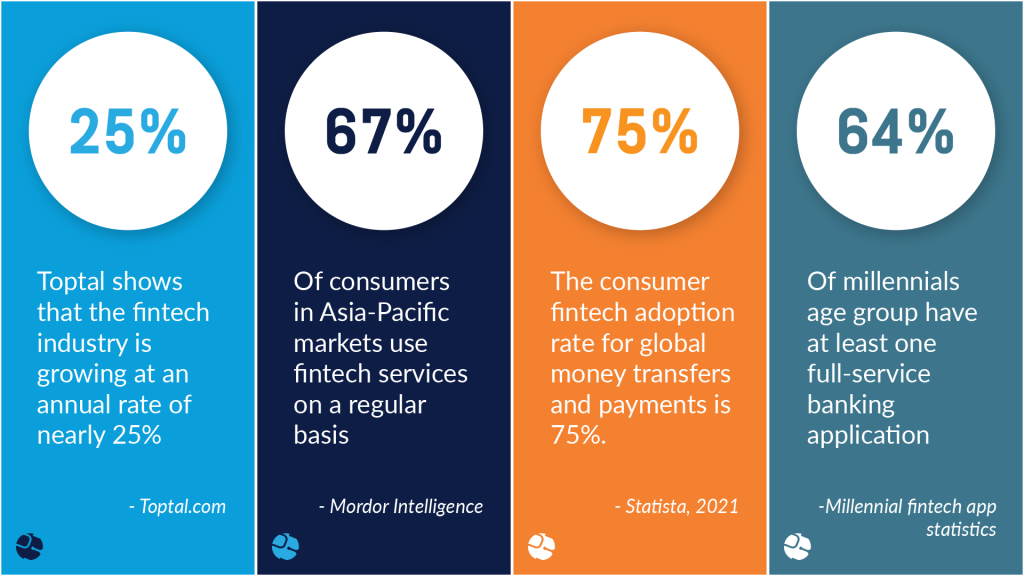 The financial technology industry, or fintech, is one of the fastest-growing industries in the world. A recent report by Toptal shows that the fintech industry is growing at an annual rate of nearly 25%.
In just a few short years, FinTech has gone from being a niche service to a mainstream necessity in many parts of the world. Asia-Pacific markets have been at the forefront of this trend, with consumer usage rates of FinTech-powered services doubling or even tripling in some cases. Hong Kong, Singapore, and South Korea have particularly high rates of FinTech adoption, with 67% of consumers in these markets using FinTech services on a regular basis. Even mature markets, such as Australia and Japan, are seeing significant increases in FinTech usage.
The consumer fintech adoption rate for global money transfers and payments is 75%. (Statista, 2021). This means that three out of every four people who make use of financial technology are doing so for the purposes of transferring money or making payments. When broken down by age group, it becomes clear that millennials are the most likely to have adopted this technology. According to millennial fintech app statistics, 64% of this age group have at least one full-service banking application. This is compared to 59% of Gen Xers and 41% of Baby Boomers. The statistics demonstrate a clear trend: as younger generations become more comfortable with digital platforms, they are also more likely to use them for financial transactions. With most new consumers coming from these younger age groups, it is likely that the trend will continue in the future.
Why is fintech the power behind rising businesses?
Financial inclusion for SME & Startups
The process of providing financial services to persons who are underserved by conventional banks is known as financial inclusion. FinTech is making it possible for small businesses to serve customers worldwide in real time, accept payments, pay employees, and even manage inventory while still spending less than ever imagined with traditional, local methods of financial management. This includes small businesses and startups, who often have difficulty accessing banking services due to location, high fees, and other factors. Neo banks and payment systems are helping to provide access to these underserved groups by reducing fees, providing smart financial products, and ensuring greater security. Additionally, digital-only services are accessible from anywhere with an internet connection, making them much more convenient for those who are not near a traditional bank branch.
Better usability than conventional banking websites
In recent years, there has been a surge in the popularity of financial technology, or FinTech. FinTech apps provide a wide range of services, from money transfers to budgeting tools. One of the main advantages of using a FinTech app is that it can often be more user-friendly than a traditional banking website. This is because FinTech apps are designed with the user experience in mind. Navigation is typically straightforward, and users are only presented with the information they need. This can save a lot of time and frustration, especially when completing tasks such as online banking or transferring money.
Increasing financial awareness
In a world where we can access nearly limitless information with just a few clicks, it's surprising that so many people are still financially illiterate. Only 33 % of adults worldwide are financially literate. This includes managing money, budgeting, and understanding credit. Fintech solutions that focus on consumer finance can help people become more financially literate. These solutions often make complex financial concepts easier to understand and offer users more control over their spending and savings. As a result, fintech can help boost financial literacy levels and empower people to make better decisions about their money.
Easy money operations for young people
When it comes to financial operations, many people tend to see them as a chore. This is understandable, given the often complex and dry nature of the work. However, there are solutions out there that are designed to make financial operations more fun and interactive. These solutions can add a much-needed element of excitement to an otherwise mundane task. Not only that, but they can also help people to better understand and manage their finances. As a result, these solutions are quickly gaining popularity. This is especially true among millennials and Gen Z. Venmo has become one of the fastest-growing payment apps because it has found a way to add an element of fun to the experience.
Simplifying regular operations
Automation is key to providing an efficient and streamlined consumer experience. By automating routine operations, businesses can focus on more important tasks and provide a better overall experience for their customers. Automation also helps to keep data organized and accessible, making it easier for users to find the information they need. In addition, automated systems can provide insights and data that would be otherwise difficult or impossible to obtain. As a result, automation can help businesses to improve their operations and provide a better experience for their customers.
Unifying financial processes
In recent years, financial data has become increasingly accessible thanks to global open banking initiatives. This increased access to financial data has numerous benefits, allowing authorized solutions to make better use of customer information and providing consumers with more choice and control over their finances. It also helps to create a level playing field for small fintech startups and big banks alike.
A study by Juniper Research, found that the value of global payment transactions aided by open banking will exceed $116 billion in 2026. Open banking presents advantages like making farsighted decisions effortlessly, digital swiftness, improved collaborative chances and more.
Fintech companies are characterized by their innovative approaches to financial services, and their open-mindedness has led to the development of countless personalized products targeted toward business owners. From contactless payments to cloud-based accounting software, fintech companies have responded to the unique needs of businesses of all sizes. In doing so, they have not only made it easier for businesses to operate, but also helped to level the playing field between small businesses and large corporations.
Why Invest in Fintech App Development
Popularity of Mobile Banking
With the advent of technological advancements, mobile banking apps have become increasingly user-friendly and allow customers to undertake a variety of tasks such as checking account balances, transferring funds, paying bills, and more. According to Google's report, about 6 out of 10 users opt for finance apps on their mobile phones to check their investments. Mobile banking is especially popular among small and medium-sized businesses (SMEs) because of cost efficiency which helps in business growth.
The cost of entry into the financial services industry has long been a barrier to entry for new businesses. The high costs of technology, compliance, and marketing have made it difficult for startups to compete with established firms. However, the tide may be turning. Due to the rise of digital banking and the increasing popularity of alternative financial products, the cost of entry is decreasing. This is opening the industry to a new wave of startups that can offer innovative products and services at a lower cost.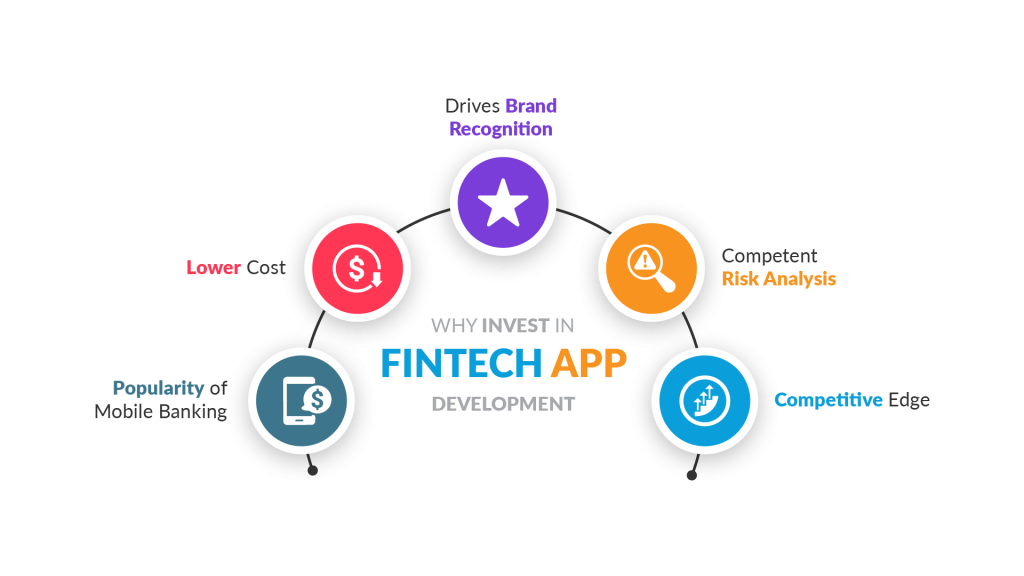 Accessibility is a key factor in building brand loyalty. When customers can easily access their accounts from anywhere in the world, they become more loyal in today's global market, it is essential for businesses to have a presence in multiple countries. By providing customer support in various languages, you are increasing the chances that your customers will be able to use your products or services regardless of where they are located. This shows that you are committed to meeting the needs of your customers and helps to build trust and loyalty.
One area where fintech is having a major impact is in the realm of risk management. Fintech solutions offer a more effective way to predict and overcome risks, which can lead to errors and frauds. As a result, fintech companies are now better able to detect and prevent fraud, which has led to a decrease in the overall level of risk in the financial sector. Fintech solutions can offer a more complete view of risk variables by screening a significant amount of information from many sources which help lenders to identify early warning signs of financial distress, allowing them to take proactive measures to protect their investment. In addition, fintech solutions can help to speed up the decision-making process, as they can quickly gather and analyze data
Fintech apps are an innovative way for financial technology companies to stay ahead of their competition. In the competitive world of financial technology, having a good app can be the difference between success and failure. By developing a custom app, FinTech companies can stay ahead of their competitors and offer their clients the best possible experience. A well-designed app can make all the difference in user satisfaction and retention, so it's important to invest in good app development.
In the competitive world of financial technology, having a good app can be the difference between success and failure. By developing a custom app, FinTech companies can stay ahead of their competitors and offer their clients the best possible experience. It's essential that FinTech companies work with an experienced development team that can create an app that meets their specific needs.
To create a successful fintech app, it's important to hire a development agency with similar values and expectations. Thus, you can be confident that they'll build an app that meets your needs and expectations.
When it comes to developing secure and compliant mobile applications, experience matters. An experienced team will be able to create an app that meets the highest standards for security and compliance, while also delivering an intuitive and engaging user experience.
When you're looking for a fintech app development firm, it's important to ask for examples of their work. A good development firm will be able to show you a portfolio of their previous projects, which will give you a better idea of their design sensibility and technical capabilities. This can help you to evaluate how well they understand the specific needs of your industry.
Understands the target business
The right team will take the time to understand your business and your customers, and they'll create an app that reflects your brand and provides a seamless user experience. By taking the time to understand the business and its customers, the team can create an app that provides real value and makes a lasting impression.
The fintech sector is one of the most promising and rapidly growing industries today. And it's no wonder – with the advent of new technologies, consumers are increasingly searching for smarter ways to handle their money.
If you're looking to enter the fintech space and speed up your business growth, Brain Station 23 is the perfect partner for your venture. We have extensive experience in building different types of financial applications that are secure and scalable. Our team of expert developers will work closely with you to create a product that meets your specific needs and exceeds the expectations of your users. So, if you're ready to take your fintech business to the next level, contact us today. We're here to help you succeed.