Virtual Affairs/We Are You is an international software and services company with over 20 years of experience- specializes in transforming digital channels for banks and insurance providers.
They have flagship products such as InsuranceRight, BankingRight, and InvestmentRight- built on Sitecore Platform. Sitecore covers an organizations Content (CMS), Commerce (eCommerce), Experience (personalized marketing and branding, CRM) needs.
Virtual Affairs previously did not have a reusable and resilient solution to serve different clients who are looking for an insurance platform, and these clients needed customer facing portals. The platform needed to deliver personalized customer experience, as not stay static and show the same content and features to every customer. From insurance provider side, there must be sales & marketing automation. And the platform needs to have the ability to calculate complex premiums and claims. Since insurance policies vary among individuals, the platform needs to track and understand each and every customer onboarded by the client. And have profiling and scoring management integrated. To top it off, the platform must be multitenancy and support multiple languages as Virtual Affairs is based in the Netherlands and looking to serve insurance organizations in Europe.
Our team built the core insurance product "InsuranceRight" on Sitecore CMS platform. It delivers personalized customer experience with a higher conversion rate and increased loyalty. The solution is a reusable base solution for Insurance Premiums and Claims. It supports rolling out insurance-based products to multiple customers.
Insurance clients can take insurance-based products from Virtual Affairs and use that to provide their insurance services. To provide flexibility to the marketers. The combination of the Sitecore customer experience platform and InsuranceRight enables the marketer to monitor performance and results, to optimize and enrich the website, introduce campaign sites, provide off-site funnels and perform A/B testing.
Different types of templates for versatile use. It can be car insurance or liability insurance or health insurance- any type that fits the needs
Built in components for flexibility. Like FAQ, available working hours, hero banner, shopping basket.
Customizable options available. Can set insurance premiums, costs, occurrence and any other individualizing component.
Custom report generated pages with analytics combined with Sitecore. All customer related telemetry data is recorded so Virtual Affairs can keep track of how customers behave or utilize their platform.
All content is added or managed using Sitecore Experience Manager.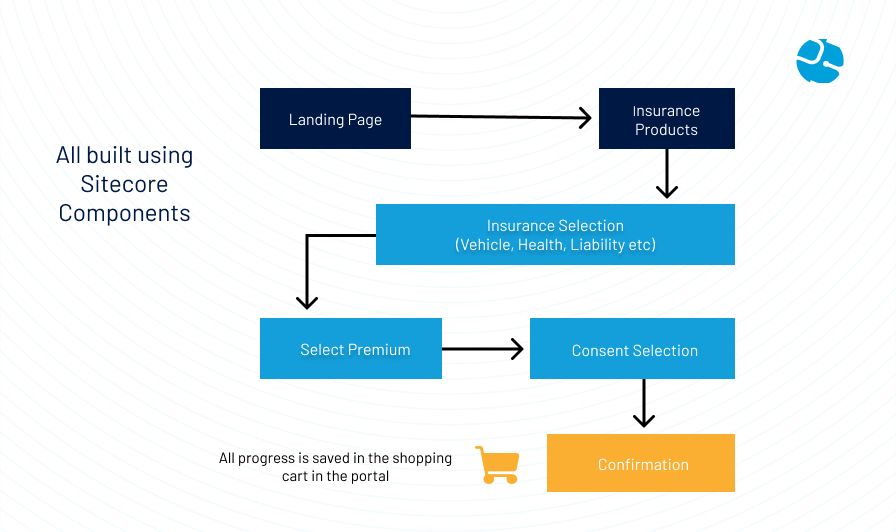 Figure: The workflow of Virtual Affairs' InsuranceRight platform
Our team developed platforms that provide solutions, and that support multi-product, multi-currency and multi-label scenarios.
The different insurance-based product templates cover all types of insurance- for vehicle, liability, health or any other insurance types. And the built in Sitecore components are the basis for developing various features of their portals and services.
The customizable options for the insurances help the clients of Virtual Affairs to modify their insurance premiums, costs, occurrence, and other aspects of the insurance policy individually. And Sitecore helps Virtual Affairs to reach numerous numbers of individuals with personalized insurance policies. The reporting and analytics features are there for Virtual Affairs to see how their clients are utilizing their services to the amount of time they spent on the insurance platform.