In our growing economy of Bangladesh, people are more intended to go for options of convenience and are less concerned about price while shopping. People getting more occupied with other tasks these days. Therefore, they search for easier, trustworthy and applicable online shopping options where they can shop anytime as online shops are open 24/7.
The COVID-19 pandemic has halted our usual activities as we know, bringing an air of uncertainty. As we are collectively staying home and maintaining social distance, the necessity of e-commerce solutions has become apparent more than ever. Your business can remain active with an e-commerce site as everyone is buying products through online platforms. The demand for essentials such as food and medicine is booming more than ever, and e-commerce is the only viable platform to serve your customers during the pandemic. 
Here are the updated top 10 e-commerce sites in Bangladesh during this pandemic situation
COVID-19 Edition list 
Chaldal.com
Chaldal.com is one of the leading e-commerce shops famous for delivering groceries. The site has been facing a considerable increase in sales as people are turning into the Chaldal site to order their groceries as people are unable to go out to get groceries by themselves due to the pandemic.
Daraz.com
Daraz is one of the most popular and oldest e-commerce sites in Bangladesh, specializing in electronics, home appliances, clothing etc. Recently they have added a grocery section in their subcategory which makes Daraz one of the top e-commerce sites of Bangladesh. Also their home appliance section is booming as people need to do most of the house chores by themselves and Daraz offers the biggest home appliance section through their website.
Meena Click
Meena Bazaar is one of the biggest departmental store brands in Bangladesh. With the Meenaclick, Meena has entered the e-commerce industry and is catering essentials and groceries to the people who are unable to go to a store physically due to the pandemic.
Othoba.com
Othoba is one of the e-commerce sites seeing a booming increase in usage due to its Ramadan centric offers and supply of PPEs and other hygiene products, necessary products during the COVID-19 crisis.
Priyoshop.com
PriyoShop has already known as one of the top e-commerce sites for fashion, jewelry, and clothing in Bangladesh. But after the lock-down due to the pandemic, PriyoShop has been majorly focusing on providing daily groceries, home appliance products, PPEs and other hygienic products; thus seeing an increased growth during these times.
Shawapno.com
Shwapno is one of the leading departmental stores in Bangladesh. As people are forced to be in quarantine, Shwapno has launched their own e-commerce site where people can get their groceries and essentials with free home delivery. 
Khaasfood.com
Khaasfood has come to focus during this COVID-19 situation for providing groceries. Khaasfood has taken initiatives to promote their online grocery shopping, Ramadan offers, and nutrition to keep people healthy during the pandemic; hence seeing an increased user traffic in recent times.
Sheba.xyz
Sheba.xyz is an online marketplace where people of Bangladesh can look for services such as cleaning, repairs, and delivery. As the lockdown in the country has made people unable to go out for essentials, Sheba has introduced grocery shopping, healthcare, and emergency services to meet the ongoing demands throughout the quarantine.
Ajkerdeal.com
Ajkerdeal is a popular e-commerce platform in Bangladesh selling a wide variety of products. And as the pandemic has caused a severe lockdown in the country, Ajkerdeal has adopted to selling PPEs, healthcare products, groceries, and other essentials to help out the people during these tough times.
Pharmacy.com
Medicine and other healthcare products are essential to many people. And due to the quarantine lock-down, many people are not able to procure their medicines and such, leaving them to further health risks. Pharmacy.com is the leading online pharmacy store who has been seeing a substantial rise in sales as they are one of the few e-commerce businesses that have brought the pharmacy to a digital storefront.
Top 10 e-Commerce Sites In Bangladesh (2019)
Let's learn about the top e-commerce sites in Bangladesh for the year 2019 in the category of online shopping according to Alexa, the digital marketing tool by Amazon:
Rokomari.com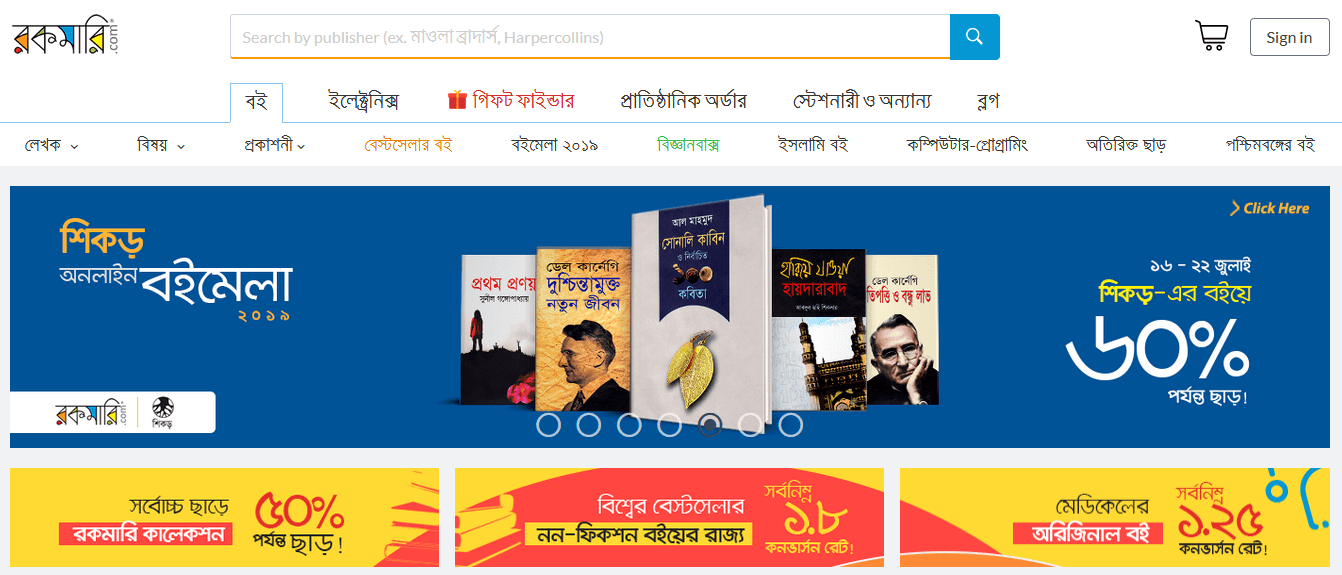 Rokomari.com is one of the most trusted e-commerce sites in Bangladesh for purchasing books of different interest. It has been operating since 2012 and the most amazing part they have their own home delivery system in Dhaka, Chittagong, and Rangpur. Besides books, they also sell electronics and accessories at very reasonable prices. They provide great deals in books and electronic products. They are providing cash on delivery, MasterCard, VISA card, Bkash, and DBBL as a payment system.
daraz.com.bd

Daraz BD is one of the leading online shopping sites with a wide selection of electronics, fashion and home appliances. Currently, this is the number one online shopping website in Bangladesh considering the popularity. Daraz started their journey in March, 2015 in Bangladesh.  They offer great deals on discount offers, installment facilities and warranty. Daraz Bd also provide with product delivery and pickup options. They have different payment options including VISA card, Bkash payment and cash on delivery. Daraz also claim 100% authentic product collection.
ajkerdeal.com
With a vast arrangement of daily necessary products, ajkerdeal.com is also one of the familiar websites in online shopping.Furthermore, they are specialized in updating offers, current necessities etc. They also provide cash on delivery, Bkash, DBBL, MasterCard, VISA card etc. options for payment.
pickaboo.com
pickaboo.com is another trending site for online shopping. Now you don't have to wait for any relative or friend to come from abroad and bring your desired electrical devices. You can have great deals, especially on electronic gadgets and appliances, and cheaply priced options here in one site. They provide brand warranty, 100% authentic products at marked down prices. With the benefit of home delivery and spot purchase options, they provide EMI payment, along with other popular online payment systems. Additionally, they have a very easy return policy for any of their products.
Bagdoom.com
BAGDOOM.COM is a currently trending website for online shopping in Bangladesh. The prosperity of having an engaging and customer satisfactory site, it claims to sell almost all kind of lifestyle products. Apparently, their main target customers are young. Bagdoom.com is the rebranded name of previous site Akhoni.com. In addition, they have a running blog section on which one can easily find various articles on lifestyle related topics.
othoba.com
Othoba.com is a sister concern of Pran-RFL group. Officially they started their business allay from November 28, 2015. It deals with accessories, daily groceries, medical kits and much more. Their delivery charge is approximately low than other sites. The company's distribution system has penetration even to the rural areas which if used correctly can provide a significant benefit to Othoba in a market in which logistics is a big challenge for ecommerce beyond big metropolitan cities. The only draw back is there are not enough assorted payment methods in their system.
PriyoShop.com
PriyoShop.com is one of the most trust-able online shop in Bangladesh for a vast option of clothing, footwear, jewelry, accessories, electronics, appliance, books, restaurants, health & beauty products etc. It is one of the best e-commerce solution providing online sites for shopping in Bangladesh starting in 2013. Having all the necessary facilities of an ideal e-commerce site, it became one of the top leading e-commerce sites of Bangladesh. 
BanglaShoppers.com
BanglaShoppers.com is one of the legal retailers of world-class brand cosmetics, imported directly from the USA, Canada, Germany, England and China.  They started operating from 2013 and their products range is from common brand name to more unique products that can't be found easily at any other retail store. What makes them different from any other retailer online shop is they maintain a strict rule of selling authentic products only and they provide a very quick responding and helpful customer service. Besides, Banglashoppers is a very well known name among the female crowd as they have a very good promotional strategy. Plus occasional discounts and other privileges for their loyal customers help them to be one of the best e-commerce sites of Bangladesh.
Clickbd
clickBD.com is a renowned online marketplace for Electronics, Cameras, Computers, Phones, Fashion Accessories, Music, and Traveling goods. Anyone can sell or buy almost every item of daily appliances. The site has a strong and growing community of users who trade in a vast range of detail categories. Through a world-class technology framework, ClickBD enables and simplifies e-commerce for Bangladesh's fast expanding the online community. People spend more time on ClickBD than any other Bangladeshi site which makes it the most popular site of the country. ClickBD gives the opportunity to the young generation to earn money from selling goods using the virtue of the Internet. Another success of ClickBD is establishing a sound way of earning for many people who make a living out of it.
Chaldal.com
Chaldal.com is an online shop for home appliances, food items, health and beauty products but mainly popular for its grocery items which we need in our day to day life. Their main motto is to save their customers valuable time.  This is why they deliver every day needs as fast as possible to their customers' door-steps across Dhaka. Recently chaldal.com is promoting their deals and offers through all the possible channels like Facebook, Viber, SMS etc which help them to make a huge customer platform for their business.
Banglashoppers and Chaldal.com are the two newly added websites to the top ranking e-commerce sites list according to Alexa. Let's have a quick overview of the previous list:
Top 10 e-Commerce Sites In Bangladesh (2018)
Daraz.com.bd (Already mentioned above)
PriyoShop.com (Already mentioned above)
Ajkerdeal.com (Already mentioned above)
Rokomari.com (Already mentioned above)
Kiksha : Kiksha was another online shopping site for different necessary products of our lives. It was known as Biponee for the first time it releases and now acquired by Zero Gravity. They provide with EMI payment, cash on delivery, Bkash, MasterCard etc. However, their return policy is very firm. Well known for providing quality products.
Othoba.com (Already mentioned above)
Pickaboo.com (Already mentioned above)
Bagdoom.com (Already mentioned above)
Bikroy.com: Bikroy.com is one the top ranked online shop of Bangladesh. It gained the hype when it arrived to the raising moment of online shopping ideas in other countries. This is an e-commerce website where you can buy or sell everything at all whole over the country. For local sale, you can take it as the best platform. You can advertise your product in more than 50 different categories without any cost. Site authority perceives all the advertisements to keep pace with the best quality.
Clickbd (Already mentioned above)
Here we can see a major ranking change in the latest list of top e-commerce sites compared to 2018 list. Some e-commerce sites have made a place at the top of the list whereas some are failed to hold the grace. lets see what are the reasons behind the downgrade of the ranking
Poor User Experience:
Even the best business plan cannot always overcome a bad website. A modern e-commerce site must be secure, functional, have great search, adapt to mobile devices, and load very quickly. Anything less is unacceptable. Even, there are many excellent e-commerce platforms from which to choose. Many of these require very little technical expertise, so there really is no excuse for having a website with the poor user experience.
Lag of Customer  Service:
Poor customer service is one of the main reasons that turns off any customers from any site. Many people want to satisfy their query about a product before they buy by chatting one of the responsible persons of that website. If any website yet not integrate any live chat app to their website they are at high risk to lose potential customers.
Lack of quality content:
Content is the most essential part of any website. Without quality content, a website cant survives for a long run. In addition, it also helps to rank a website with proper placing of keywords and other SEO fundamentals. Product sheets, blog & articles, guides, descriptions, feedback or comments also help to gain visitors trust.
Lack of Promotional strategy:
Nowadays, promotional activities are the key to attract visitors to any website. Giving customers special offers, discounts on festivals, social media campaigns are some of the crucial strategies that any e-commerce business can't ignore, or failure is a time of matter.
Poor Product Photography:
Online shoppers cannot physically inspect the products they are buying, so they will need a strong visual representation of those products to help them understand it, want it, and buy it. Thus, poor product photography is one of the cardinal sins in online retailing.
Among all of these, Daraz BD, Pickaboo and PriyoShop seem like much potential to be dignified in product areas with a higher reputation among their targeted clientele society. Priyoshop is a product of Brain Station 23, a leading software development company in Bangladesh, working on enterprise and customized the web and mobile application. Othoba was another one largest e-commerce online store at that time, a product of Brain station 23. Among 200 other existing sites, othoba was in the top trending one at that time.
As Brain Station 23 was determined to build the BIGGEST e-commerce sites in Bangladesh, they first came into the market with the biggest e-commerce site called Biponee back in 2012 which is now known as kiksha. Magento, nopCommerce, Shopify, WooCommerce, BigCommerce etc are the platforms Brain Station 23 work with. Brain Station 23 has gained the tenderness among the best IT company in Bangladesh for providing the best e-commerce solutions for both local and foreign market. Though the company started the journey in 2006 focusing on outsourcing, in 2011 they began working for the local market as well. Eventually, investment has been raised to fulfill the vision of becoming a global giant where the top notch talented developers from Bangladesh will be contributing to the global tech industry.
Being the leader and provider of cutting edge e-commerce software services and solutions, Brain Station 23 aims to represent Bangladesh in the global tech business.
We are a Customer First e-commerce software development company offering custom development and facilitation in growing your business up on top. We offer custom e-commerce development, Ecommerce web development for e-business, mobile application development to build native nopCommerce App operating on both iOS & Android platforms. Our custom themes & plugins development service come along free of charge alongside the premium service.
To learn more of our comprehensive services and industry expertise, surf our online portal and the relevant tabs.