As traditional operation models got flipped upside down on their head due to COVID-19, new models have emerged for businesses to harness in order to continue with their development and progress. Staff augmentation is not an old concept, but back in the day it merely meant as a temporary fill-in by an outsider for a vacancy. Now with the demand for remote teams ever rising, the concept of staff augmentation has taken on a new meaning.
To clarify, the whole concept of staff augmentation has not changed; but what changed is notably the application. Staff augmentation or resource augmentation is engaging an outside professional or team to augment the capacity of an organization on a temporary basis. This contingent basis of workforce augmentation was first practiced for administrative vacancies. Now the concept has evolved with various models to accommodate the needs and strategies of modern business.
According to Statista's 2019 data, the global staffing industry generated USD$497 billion, 85% of which was generated through temporary and contract employment. By reducing expenses while recruiting qualified staff, companies can scale their business quicker than if they were to hire full-time employees.
How Brain Station 23 offers staff augmentation services
We at Brain Station 23 have experience of working in various industries verticals. Brain Station provides staff augmentation services to enterprises and SMEs. We aim to meet the demand of global companies and startups, as finding qualified and experienced professionals is difficult. Our .NET and JavaScript professionals have always been in high demand ever since we started our staff augmentation services in 2018. Our teams are hired through staff augmentation models, mostly for fintech or enterprise-level projects.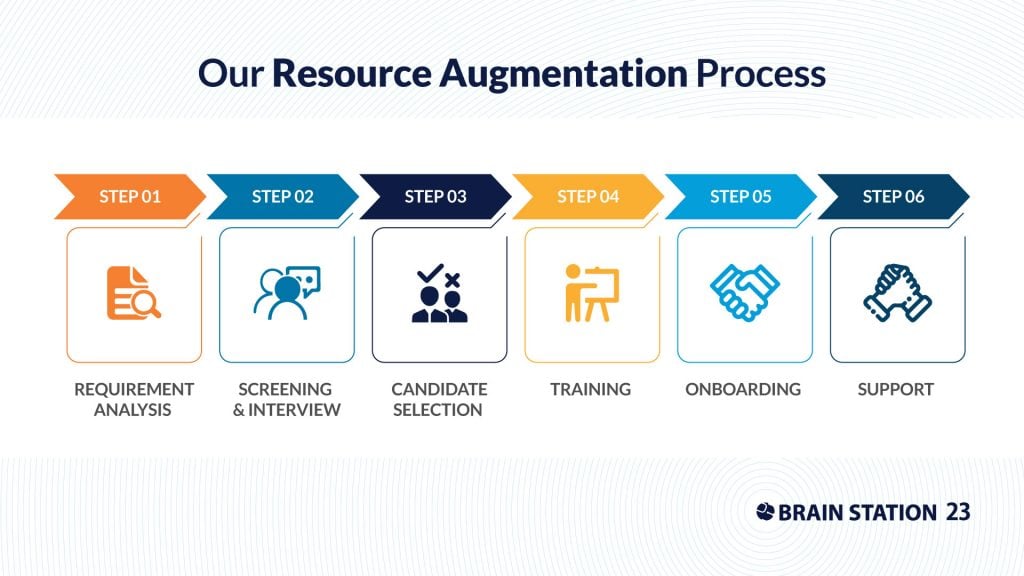 Resource Augmentation Service for Grameenphone
IT staff augmentation is a simple and cost-effective solution to expand and strengthen any organization's in-house development team. Brain Station 23 is more than just a staff provider, rather we work as a partner to make the whole process smooth and steady.
In terms of income, accessibility, and market presence, Grameenphone Ltd. is Bangladesh's largest mobile telecommunications company. In Bangladesh, where mobile telecommunications are a significant determinant of economic progress, Grameenphone Ltd. serves both rural and urban users. The organization hopes to harness the power of digital communication to help people improve their lives and ensure a brighter future for everyone. In addition, the company has always been a leader in the local telecom sector when it comes to launching innovative goods and services.
With Grameenphone, the resource augmentation contract happened back in 2018. For a certain project they required resources for PHP & QA. Initially, a few resources were engaged in the project. When they gradually started to feel the necessity for more people, we opted for a contract basis. As a part of the whole process, the contract came into a PO. Since then, we have been collaborating with Grameenphone till now and looking forward to making this alliance even stronger.
Currently, 30 professionals are engaged. Most of the resources are employed as PHP QA, iOS, and Android developers. There are another five Devops working on various projects. Different resources are working on different projects. Employees are divided across the following projects: MY GP, MY GP Light, POL, CHT, and INPP.Per unit, approximately three or four professionals works usually. On a monthly basis, a bill is generated. Every month by 15, bills are issued in accordance with the contract.
Different projects demand different specialized talents, and full-time employees often, if ever, acquire all of them. Technical Staff Augmentation is a potential approach for overcoming skill gaps in project teams. Training always provided to the staffs while onboarding from Brain Station 23 to make sure that they are ready with the strategy and has the competencies to effectively serve the organization. After joining, new joiners get organizational or any other essential knowledge sharing or knowledge training within a few days.
Augmented employees can integrate with existing procedures as it comes with scalable staffing demands. Fundamentally, between the governance of Grameenphone and Brain Staion-23 the initial discussions about the requirements phase are made. Usually, requirements come as per the contract. Especially the time within which resources are required.
At first, Brain Station 23 sends resumes of the candidates whether they are on the bench or need to be hired. An interval time then specified by Grameenphone. In that interval period, starting from the screening and interview all the enrollment process supervised and cautiously handled by HR.
From the participants, candidates with a suitable set of knowledge that goes with the required project are chosen. In between thirty to forty-five days, by ensuring all the compliances and regulations, the onboarding takes place. This duration commonly follows because if the selected employees are already engaged in a project or committed at some other place, it might take a certain time to join. After all the formalities, employees proceed with relevant training and start working subsequently. Throughout the deployment Brain Station keep providing support to make the augmentation experience smooth.
One of the biggest challenges in resource augmentation is finding the right expertise at the right time. Recruitment of the ideal resources at the right time is difficult since resources are not always available at the given moment.
Especially, Finding DevOps is especially challenging, therefore Brain Station at times may have to form their own team when filling for a devops position. Shadow resources who are already engaged on another project provide training and other required procedures to the team, ensuring that they are prepared for their role. Also, sometimes clients may need to be notified that some resources are not accessible at the given time or that they will be available after a specific span of time.
In the upcoming months, some more individuals are required for different projects in Grameenphone. We are now familiar with and skilled in the areas of management, governance, and payment. Our proficiency in the case of resource reinforcement made us a reliable and constructive partner. Brain Station 23 is a proven resource provider for organizations. With Grameenphone, our long-term partnerships have been showing that lead.
IT staff augmentation can be quite useful when you need efficient talent but don't want to commit to a long-term contract.IT staff augmentation is an approach for speeding up delivery times or filling resource shortfalls by acquiring tech skills from a third-party outsourcing provider. Professionals with the relevant expertise can be hired whenever you need them and for a set amount of time, lowering your costs. Staff Augmentation gives you complete control over the resources you add to your team, reports directly to your supervisors, and ensures the highest level of quality throughout the project. As a result of the scalable staffing demands, augmented employees can merge with existing procedures.
Have more questions about staff augmentation? We're here at Brain Station 23 to answer any inquiries you may have and to assist you if you need to expand your current staff.