Bangladeshi economy is going to change drastically due to stepping into the digital economy in the coming years. There's a huge global market for IT outsourcing and Bangladesh has already become the second-largest supplier of the online service provider, according to the Oxford Internet Institute (OII). There are 500,000 active freelancers who are working regularly, out of 650,000 registered freelancers in the country. These active freelancers are generating $100 million annually, according to the Bangladesh ICT Division.
We are 2nd to India but serving 16% of the global market at this point in time. Many countries now are focusing on different sectors of freelancing services. For instance, technology and software development is dominated by Indian freelancers, while Bangladesh is the top supplier of sales and marketing support services but IT outsourcing is also there. And IT outsourcing / Bangladeshi software development industry is also stepping up to compete and grow even far in the global competition.

While freelancing is a buzzword in Bangladesh, there is a slight difference in outsourcing & Freelancing. Let me try to enlighten you with my tiny knowledge about these two terms-
Outsourcing for any business practice involves contracting with another company to do some of the company's work in order to reduce costs, improve efficiency and gain time. 

Whereas freelance is an option for both employer and employee to get connected for a smaller scope of work. Here, a freelancer works as an independent worker and have no hard and fast obligation for doing the work. If a freelancer does his/her job well he/she gets paid otherwise there is no fortune there for him/her.

Now let me share
Why companies outsource?
The two main reasons I have seen that organizations decide to outsource are
To reduce costs and
To have the ability to focus on core business so that they can work better with future goals and planning.
Also, some other reasons are there to influence their decision for outsourcing, like-
Solving capacity issues
Sharing and distributing risks
Gaining access to world-class capability
Enhancing service quality
Driving transformational change
Managing a business environment more efficiently etc.
But recent research has shown a shift in industry thinking. And now businesses think of outsourcing for not just to save money anymore. Rather it's being seen as a critical tool in innovation and an opportunity for future growth.
So next question comes,
What are the Industries that are Outsourcing?
I would say based on my research and experience I have seen Consumer & Industrial Products Industry, Financial Services Industry, Healthcare & Pharmaceutical Industry, and Technology, Media & Telecomm Industries are the ones those outsource a lot. But there are also Real Estate, Facilities Management and Procurement industry in which outsourcing demand has been grown significantly.

Potential of Bangladesh in IT Outsourcing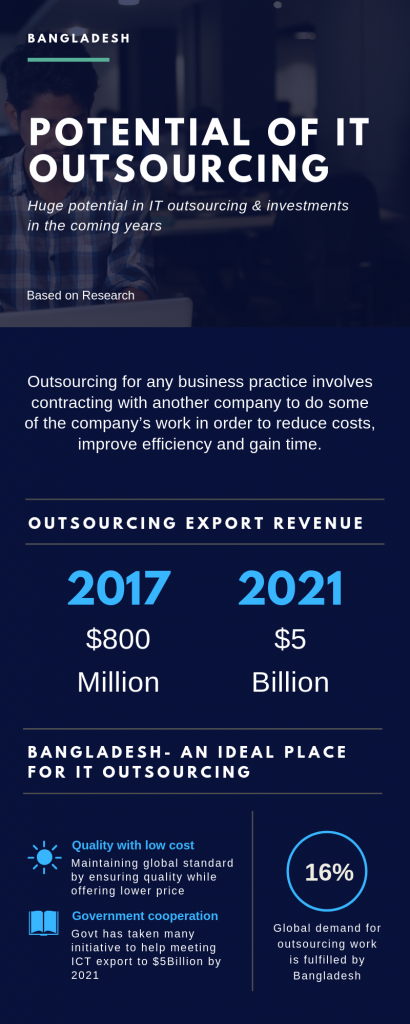 Since Global Enterprises have adopted outsourcing for quite some time now, the Global Outsourcing Market has become quite competitive in terms of offering IT outsourcing services for the IT outsourcing companies around the globe.
Last few years Bangladesh has shown incredible growth in terms of selling online services. Also, the Dream of Digital Bangladesh has made Bangladeshi Govt. to take some great initiatives for enabling local IT companies and freelancers with many forms of training. Also Govt. has helped companies by inviting foreign countries to explore the IT outsourcing market in Bangladesh. IT Companies have been participating in international IT exhibitions representing Bangladesh in the global market.
Now IT companies in Bangladesh are offering services like-
Application/software development
Web & Mobile App development & hosting
Application support and managed services
Database development & managed services
Infrastructure development
Cloud services
Custom development services etc.
And as the Oxford research showed 16% of the Global demand for outsourcing work is fulfilled by Bangladesh which makes us 2nd in the competition. Of all the digital workers out there, 22% are dedicatedly working in software development and technology alone. Netherlands, Germany, Japan have already been taking IT services from Bangladesh for quite a while, few foreign IT companies have their offices too in Bangladesh and many are trying to set up an offshore development center here. Now, Bangladesh surely can claim to be a key destination for global IT investment and IT outsourcing considering the huge presence of youth, a growing English-speaking population, and competitive cost for skilled resources. 
On September 8 2014, a high-level trade delegation from the Netherlands represented different sectors including Information and Communication Technology, food security, logistics, technology, waste management, water management and shipping. Where the delegates from the Netherlands wanted to make Bangladesh a hub for their IT outsourcing, apart from extending technological support and collaboration in the areas of flood and water management. And since then Bangladesh has been serving Netherlands with IT outsourcing services.
Let me share an interview of Willem Hoekstra, Chairman of Atos Foundation (Netherlands) over outsourcing in Bangladesh-
"Bangladesh" A five-billion-dollar dream
For the German market as well Bangladesh is offering IT Outsourcing, Offshore IT Development & IT Consultancy services. Since the German market is highly sensitive about the quality, therefore, to meet the German quality IT companies have to prove their standard and global case studies before gaining trust.
Want to get connected with our German partner? Reach Matthias or Me!
Brain Station has been going strong in the German market. If you want to know about those case study, ping us anytime!
In the past few years, Japan has also become one of the good markets for Bangladesh for IT Outsourcing. Many Japanese companies have opened their offshore development center in Bangladesh and many companies have done a partnership with Japanese companies for IT Outsourcing.
Therefore, we can proudly claim that Bangladesh is a country of huge potential in terms of IT outsourcing and IT investments. Government's initiative promoting 'Digital Bangladesh' among the people, especially the youth have taken the potential opportunities in this industry even more ahead. And now is the time IT Outsourcing is bringing us a respectable amount of revenue which we are hoping to multiply many times in the coming years!
What is your opinion about the blog? Let us know your thoughts about IT Outsourcing in Bangladesh. Also, you can reach me anytime to discuss any outsourcing issues you are having.