Adopting cutting-edge technologies can play a vital role in the digital revolution of the pharmaceutical industry. Though capturing this opportunity requires identifying the right initiatives. 
Technologies like Artificial Intelligence, Machine Learning, AR-VR, Digital Apps, The Internet of Things, Blockchain, 3D printers, Organ-on-Chips are among the innovations that are starting to transform the pharmaceutical industry in the ways they have already transformed the other industries like media, retail, banking, telco, education, etc. Pharma executives as well as researchers, innovators, and lawmakers are well aware of the disruptive potential and are experimenting with a wide range of digital initiatives. It's not that easy to determine what initiatives to take to scale up and how, as they are still blurry to visualize what digital success will look like in ten years from now. In this article, we will try to put the spotlight on where digital technology will drive the most value in the pharmaceutical industry, and guide companies accordingly as we are trying to build a strategy for digital success.
Here we start with some trending technologies that are already changing and will contribute more to reshape the pharmaceutical industry.
Artificial Intelligence and Machine Learning
Artificial intelligence and machine learning are undoubtedly the next big thing for the pharmaceutical industry. AI is already being used in the healthcare industry for conducting repetitive tasks such as data entry, lab test analyses, data management, analysis of healthcare systems to identify errors or inefficiencies, medical consultations by AI-based apps, medication management that monitored by an AI-based system, etc. ML is also being used in disease identification and diagnosis, radiology and radiotherapy planning, clinical trial research, personalized medicine, rare disease identification, and new drug invention, etc. 
Now, the question is how AI and ML will help to reshape the future of the pharmaceutical industry. Actually, these technologies have the highest scope to contribute in the future as pharmaceutical industry holds a ton of silos of patient data. For example, rather than taking months to see the effect of a particular drug on thousands of people, it will take seconds to see the effect of a drugs on billions of simulations of the human body's physiology from the past records of patients. 
AI and ML are expected to be integrated into most, if not all, pharmaceutical R&D operations. In turn, this should theoretically improve the drug development success rate and streamline R&D efforts. Furthermore, AI may, in theory, help accurately identify the subset of patients who will benefit from a particular drug. This could reduce the failure rate substantially and ensure a successful and quick launch.
Nevertheless, to get to this point, there needs to be a change in the current R&D approaches. Rather than trying to understand exactly how AI computers derive a solution, the focus should be on validating the results.
Digitization of Medicine through Healthcare Mobile Apps
Pharma companies around the world are lately realizing that it is not enough anymore if they are only producing and developing drugs. Recent trend shows that they have to go beyond the physical appearance of medicines itself and offer a complete package. These are called already the "around the pill" digital offerings: digital health mobile apps, devices or services that could be prescribed by a doctor or bundled with a drug.
Some packages come with a wearable monitoring device and an app, through which patients can receive positive feedback from their doctors and from the automated, personalized feedback generated by the app itself. 
Fitness apps for chronic diseases, locating free health care clinics and hospitals, ordering drugs via e-commerce apps, cross-checking clash by multiple medications, social network connecting patients apps, – these are already popular in the app stores. 
Besides, mobile apps that will connect patients with health insurance companies can eliminate the long process of document authentication and other verification activities. In this process, insurance companies get the prescription and other medical documents of their clients through the mobile app so that they can decide whether that particular bill goes under insurance coverage or not. 
Hence, more digital apps are coming with the rising of new technologies. Undoubtedly, healthcare apps are the next big thing for pharmaceutical industries
AR-VR has a lot to contribute to the pharmaceutical industry, as companies struggle to engage doctors and research timelines spin into a whirlwind of more and more studies. With their ability to create a captivating virtual world with minute details, AR and VR are promising technologies that can cater to a wide range of needs of the pharmaceutical industry. 
For reference, the Giant pharma organization "GSK" used an AR tool to create the migraine experience which helped to understand what a migraine patient experiences. This was an exemplary use of AR and such applications can address serious problems in today's healthcare environments like empathy and trust. 
For drug-target interaction prediction studies, AR-VR technologies can expand so far. VR can increase the efficiency of the pre-development phases of medicine by enabling scientists to better visualize the interactions and thus redesign and re-engineer molecules according to site specifications. 
https://www.youtube.com/watch?v=wTp82DbJ-1o
Also, AR-VR can also help in the manufacturing sector of the pharmaceutical industry. Such as remote maintenance and guidance, complex machine handling training, etc. DAQRI, a California based augmented reality company has come up with the DAQRI smart helmet which is safety compliant for industrial use. This product just goes to show how well can AR be used for manufacturing, especially in complex settings like pharmaceutical manufacturing.
IoT has incredible potential to help the pharmaceutical industry. Introducing with a network of connected devices with monitoring sensors can reduce the risk of machinery malfunctions and guarantee precision production by detecting issues and making adjustments before they cause a problem.  
IoT integration can aid the manufacturing sector of the pharmaceutical industry like material tracking and management in the manufacturing process of medicines. Additionally, IoT-enabled data-gathering devices can locate in shipping and receiving stations can collect information from RFID tags and barcodes and correlate the information from multiple locations, including production facilities and warehouses, to verify whether data is consistent. 
With the amazing advancement of nanotechnology as well as IoT integration in pharmaceuticals, one possible way we can see in the near future is in drug making- to produce "digestible IoT Devices". These tiny pills or gadgets combined with a sensor could track digestion and the absorption of drugs after swallowing them. 
https://www.youtube.com/watch?v=jYkcXm74LAs
By this time, in 2015, the FDA approved the first drug product combined with a digestible sensor. The Japanese pharmaceutical organizations Otsuka and Proteus Digital Health combined a digestible sensor with a type of drug against mental illness. With the patient's consent, the indigestible sensor communicates with a wearable sensor patch if the drug is taken, then the information is transmitted to a smartphone or tablet of the curator or the patient himself. The ultimate aim is to measure drug adherence in the treatment of adults with schizophrenia, acute treatment of manic and mixed episodes associated with bipolar I disorder, and as adjunctive therapy for the treatment of major depressive disorder in adults. 
So we can hope to see advanced stimulation of IoT integration in the near future for the betterment of this industry.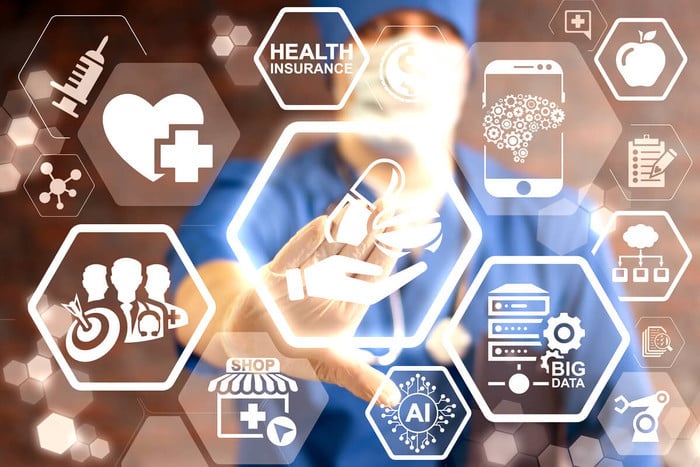 Blockchain is still now a complicated technology for most of the industries. It's tough to realize the benefits that the pharmaceutical industry can get from this technology. There are so many areas in this industry to facilitate with blockchain like research and development,  manufacturing and distribution, consumers and patients identity management. 
The development and commercialization of a new drug is a long, complex and expensive process, with high risk. 
The estimated time and cost is 
Time Span: 8–12 years (sometimes more)
Cost Per Drug: $800 million — $2.5 billion 
Success Rate: 1 in 5 drugs make it to market
Return: ~3.2%; only 1 in 3 drugs reaching the market recoup investment costs (is "profitable")
Blockchain provides an opportunity to decrease these costs and increase transparency and trust for all participants in this process by protecting intellectual property information. Current intellectual property systems have blocked cross-collaboration which makes the whole process more complex. Blockchain may be able to provide a platform for the protection and facilitation of intellectual property, including the facilitation of royalties, payments, and incentivization models that could encourage participants to provide input into the research and development process. It helps to track the results of cross-collaboration which leads to quicker breakthroughs and fast-track the overall process while saving time and money for all participants.
Blockchain also provides transparency in the whole clinical trial consent process. A digital identity through blockchain enables traceability each time a patient's identity is verified and would improve data quality as the tracking of patient data, linked to a specific drug trial maintaining the highest security of information. 
Another important area that blockchain can contribute is maintaining the manufacturing and distribution process of drugs by tracking and tracing. Which results in reducing fraud and counterfeit drugs. It can be used as a single source of truth in tracking drugs, products, and medical devices across all points in the supply chain. Moreover,  it can provide financial facilitation like pricing, payments, discounts, rebates, and refund tracking sectors. 
In a nutshell,  blockchain technology will completely revolutionize the patient and consumer experience soon. So pharmaceutical companies should think to grab the opportunities that blockchain offers.
Once 3D printing was just a concept of sci-fi fantasies. But this concept has come to the light and implemented in 2015, Aprecia Pharmaceuticals developed Zipdose, patented technology for 3D printing drugs to enable high-dose medications in a rapidly disintegrating form. Using this technology, they then produced Spritam, which treats Epilepsy. This was the world's first 3D printed drug approved by the FDA. As this manufacturing method gains popularity, it will likely completely transform how the pharmaceutical industry operates, in terms of its supply chain.
Hospitals and pharmacies could potentially print the pills that they need in-house in ten years' time.
Additionally, the University College of London is testing ways to print medicines in fun shapes for kids. Thus, making it easier for them to take and can make it a potential commercial goldmine.
https://www.youtube.com/watch?v=uM77Gj8zX0I
For those B2B companies that are involved in the sales, sales operations, and marketing of pharmaceuticals, these new trends could open many doors in terms of new forms of revenue and profits.
Testing drugs on humans or animals in the framework of costly and lengthy clinical trials are the past, "Organs on Chips" concept is the new hype. Imagine that the characteristics of living organisms are so perfectly simulated that the clinical trial can be carried out in less time, with less money and still amazing outcomes. This method is called the "silico trial". It is basically an individualized computer simulation used in the development or regulatory evaluation of a medication product, device, or intervention. While completely simulated clinical trials are not feasible with current technology and understanding of biology, its development would be expected to have major benefits over current in vivo clinical trials.
https://www.youtube.com/watch?v=v_mBLzYf91U
"HumMod" is one of the most advanced simulations in this respect. It provides a top-down model of human physiology from whole organs to individual molecules. It features more than 1,500 equations and 6,500 variables such as body fluids, hormones, circulation, electrolytes, metabolism, and skin temperature. "HumMod" aims to simulate how human physiology works, and claims to be the most sophisticated mathematical model of human physiology ever created.
Needs Digitization or Expert advice?
https://brainstation-23.com/contact/The pharmaceutical industry is changing at each and every level.
In order to survive and thrive in this environment, it's more essential than ever for companies in the industry to explore and invest in the latest technology and innovations.
Are you interested in harnessing some of these top-notch technologies to move your business forward? Get in touch with us for a free consultation on the top technologies that can impact your business the most.