Solving the Multi-Currency Payroll Complexity with Odoo Solution
MSI Americas is a leading service provider in the field of new technologies and telecommunications, offering comprehensive services to businesses looking to transition into digital enterprises. With 14 offices across America and a workforce of over 700 employees, they have established themselves as a trusted partner for global companies.
MSI faced significant challenges in managing services and employees across multiple countries. The company's global presence presented a set of challenges. They found it difficult to maintain consistency in their payroll processes across various countries, each with its own regulatory requirements. Moreover, dealing with various currencies in their operations created difficulties in accurately tracking and managing employee expenses.
They needed a streamlined solution that would allow them to efficiently manage payroll, generate accurate reports, and gain better control over employee expenses in a multi-country, multi-currency environment.
We introduced Odoo as a comprehensive ERP solution to simplify the management of company and employee management as well as payslip management.
With projects and services spread across multiple countries in the Americas, MSI faced challenges in effectively managing their services and employees. The diverse locations added complexity to their operations. 

 

MSI faced a big challenge with their payroll system due to the complexity of operating in different countries with different tax rules and structures.

 

By implementing

ERP system (Odoo)

, we streamlined company and employee management, including payslip management. The introduction of the mother company concept resolved the complexities of employees working across multiple companies, enabling consistent management. 

 

Efficient subcontract management further streamlined payroll calculations. As a result, MSI Americas now have an efficient payroll system that fulfills all their requirements and provides necessary reports.

 
MSI faced challenges in managing their services and employees due to their wide range of projects and operations in multiple countries. 
One of the major challenges MSI encountered was the complexity of their payroll system, which operates differently in each country due to varying tax regulations and structures. Consequently, there was no standard format followed for payroll across the company. Since multi stakeholders are corporate, following singular standard format was challenging.   
Moreover, being a multinational organization, employees were registered under one company but received payments from different companies when assigned to projects in other countries. This added complexity as employees received a portion of their salary in the local currency and the remaining portion in USD. 
Addressing these challenges proved to be a significant obstacle for MSI, particularly in generating consolidated salary reports and accurately calculating expenditure for individual employees who received payments from multiple companies and in multiple currencies.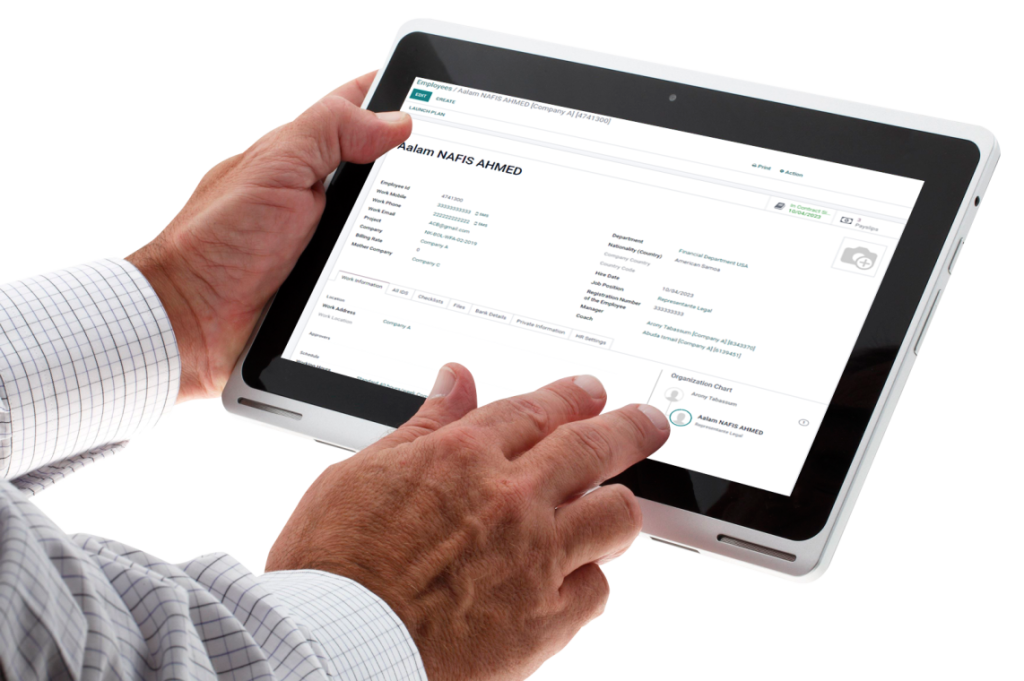 Company & Employee management –  
In a multi-company management setting, employees often work for cross companies simultaneously.

However, local HR departments can only access and view the pay slips and project-related information of their respective company's employees. To address this complexity, we have introduced the concept of a

mother company-

 
Under this concept, employees working for multiple companies will have duplicate profiles in each company they work for. In their mother company, they will be associated with the company under which their contract is signed.

 

This arrangement allows for the generation of multiple pay slips across different companies and structures using the same employee ID.

 

The system can accurately calculate the total expenditure incurred for an employee without violating any access layer rules.

 
 Payslip Management-   
We implemented different payroll solutions based on the company and contract types. 
For individual companies, we set up salary structures in the local currency only. Under contracts, we introduced a dynamic solution where users can input wages in any currency, but the system converts them to the local currency. We developed a user-friendly process for easily inserting manual inputs that can vary across different salary structures.

 

Our retirement/pension process is flexible, allowing users to configure years and percentage amounts on their own. This enables easy adaptation to rule changes.

 

We encountered another challenge related to

ERP customization

, as the same structure has different accounting implementations based on employee type and project type. However, we successfully addressed this challenge by making some developments from the basic Odoo system.

 

We faced a challenge with different accounting implementations for the same structure based on employee and project types. We addressed this with ERP customization minimal modifications to the basic Odoo system.

 

In MSI, a multi-project environment exists, where one employee can be employed on several projects and receive payments based on different contracts. To accommodate this, we introduced subcontracts that allow multiple contracts under one person, including different employee and salary structure types.

 

Instead of generating pay slips by structure, we implemented a method where pay slips are generated per person. If multiple subcontracts exist for one person, the system automatically generates individual pay slips for each subcontract.

 
With the integration of a robust ERP system, MSI Americas now has a seamless and efficient payroll process tailored to their specific requirements. This ERP solution, coupled with a powerful access layer system, guarantees secure and automated management of sensitive data. 
Brain Station 23 is focused on delivering tailored services to meet the unique needs and expectations of their clients. Here we provided ERP Solutions to our client. 
Software Testing as a Service