Odoo or SAP: Which ERP Software is Right for Your Business?
Enterprise Resource Planning (ERP) systems play an important role in addressing miscommunication, inefficient resource utilization, and disrupted workflows within businesses. With the right ERP solution, you can streamline your business processes and ensure the highest efficiency. Today, we will primarily focus on the two leading ERP solutions: Odoo and SAP.
Odoo is a rapidly growing open-source ERP solution, debuting to assist small and medium
sized businesses to enhance their operations. Its easy implementations and simpler technology
stack makes it an ideal choice for majority users.
On the other hand, SAP is an industry-leading ERP vendor, commonly used by large
companies. With complex implementations and a steeper learning curve, it is hard to maintain
for small and medium businesses but performs well for large companies with huge resources.
By exploring the features, pricing, and suitability of each ERP system, we aim to help you make an informed decision about which ERP solution is the best for business.
Launched as an open-source ERP software, Odoo initially aimed to assist small and mediumsized businesses in enhancing their operations across various functions such as eCommerce, billing, accounting, finance, HR, project management, and inventory management. 
Over time, its popularity surged, leading to the introduction of the Odoo Enterprise edition in 2015, offering enhanced features. Businesses can leverage the enterprise version for significant productivity improvements. While the enterprise edition offers dedicated hosting and an improved user experience, the community edition remains customizable by professionals to cater to specific business needs. 
Odoo modules include accounting, manufacturing, sales, marketing, human resources, shipping, productivity, website, and services.
SAP enables organizations to streamline their processes, optimize resources, and enhance
overall efficiency. With a strong focus on scalability, flexibility, and industry-specific solutions,
SAP ERP has become a popular choice for large enterprises worldwide. Its robust features, extensive customization options, and extensive ecosystem of partners make it a versatile solution for complex business requirements.
Making the Right ERP Choice for Your Business
Selecting the most suitable ERP system for your business requires careful consideration of various factors, including the size and nature of your organization, industry requirements, budget constraints, and long-term growth plans. For small to medium-sized businesses with limited budgets and flexibility needs, Odoo ERP provides a scalable, cost-effective, and customizable solution. 
SAP ERP addresses the requirements of large enterprises with complex operations, global reach, and a requirement for extensive functionalities and integration capabilities. To select the right ERP for your business, these are some points that you should keep in mind:
Order Frequency:   The number of orders your business receives daily serves as an essential factor in selecting the appropriate ERP system. If your daily order volume is within 100, Odoo ERP is a suitable choice.
Despite being open-source, Odoo can seamlessly handle substantial amounts of data. Small businesses may opt for the Odoo Community edition, while the Enterprise edition offers advanced features for future scalability. 
However, SAP is more suitable for enterprises dealing with high volumes of orders, such as Amazon, which rely on its robust capabilities, albeit with some potential performance limitations.
Flexibility: The ability to adapt and evolve in response to changing market demands is extremely crucial for businesses. Odoo ERP provides excellent flexibility, enabling organizations to easily customize their ERP processes as per their evolving needs. This makes it an ideal choice for smaller businesses.

However, SAP offers stability and reliability, making it suitable for large organizations with international branches and complex operations like the Fortune 1000 companies.
Time and Effort for Implementation: Odoo ERP, built using popular technologies like Python and JavaScript, has a relatively simple learning curve. The software's modular structure facilitates easier implementation, allowing businesses to adopt it quickly.

However, SAP ERP, requires a longer implementation period due to its complexity. The implementation process involves a number of stages, such as requirement gathering, system configuration, data migration, and testing, which can extend the timeline significantly. SAP's complexity stems from its powerful and comprehensive nature, catering to the needs of large and diverse organizations.
Cost Considerations: 
Cost plays a vital role in the selection of an ERP system. Odoo ERP's open-source nature allows businesses to use the community edition at no licensing cost. However, the enterprise edition, which offers advanced features, comes with a subscription-based pricing model.
However, SAP ERP is known for its higher upfront costs, which includes licensing, 
implementation, and customization expenses. It is generally more suitable for large 
enterprises with substantial budgets.
Don't worry! We have a cost chart below which will help you in your decision making process.
Necessary Adjustments and Customization:  Odoo is known for its flexibility, and can be easily tailored to match your organization's processes. It is simpler and more cost-effective to customize compared to SAP.

Odoo allows modifications to various process steps, making it suitable for businesses with evolving requirements. SAP's customization capabilities are more complex and detailed, catering to organizations with intricate needs like multinational corporations. However, customizing SAP requires more resources, time, and expertise.
Free ERP Solution or Invest in ERP:  The Community version of Odoo is free but has some limitations. However, the fullfledged Odoo Enterprise version is cost-effective compared to SAP. The pricing depends on the number of users and modules required.

Implementing SAP, especially the S/4HANA version for larger organizations, comes with high implementation and annual costs. Even the SAP Business One (SBO) alternative for small and mid-sized businesses can be considerably more expensive than Odoo. SAP is geared towards organizations with substantial resources.
Hosting Server Preference:  Both ERPs offer deployment options such as on-premise, hosted private cloud, and public cloud. Odoo allows free installation on your servers, while SAP typically involves license fees along with server maintenance costs.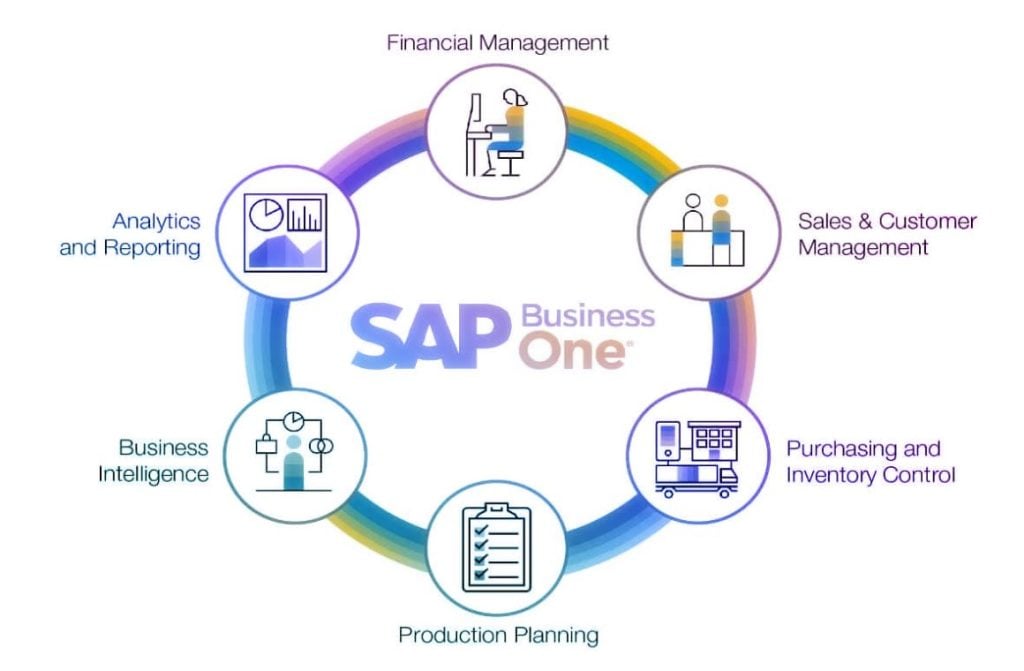 Suitability
 Odoo ERP
 SAP ERP
Business Size
 Suitable for small to medium-sized businesses
Suitable for small, medium, and large enterprises
Industry
Compatibility
Suitable for a wide range of
industries and business types
Suitable for a wide range of
industries and business types
Scalability
Highly scalable and can grow with
the business
Highly scalable and can
accommodate the growth of large enterprises
Customization
Highly customizable with flexibility to adapt to unique business processes
Customizable to meet specific business requirements and industry
needs
Implementation
Complexity
Relatively easy implementation with simpler technology stack
More complex implementation with a
steeper learning curve and
technology
 Cost
Cost-effective solution with lower initial investment and licensing fees
Higher initial investment and
licensing fees, especially for largescale enterprises
 User-Friendliness
 Intuitive user interface with a
shorter learning curve
 Requires training and expertise to navigate the system effectively
Feature
Odoo ERP

SAP ERP

Functionality
Covers all essential functionalities
Offers an extensive range of modules
User Experience
User-friendly interface
Complex and highly customizable
Integration
Integration through the Odoo app store and custom APIs
Extensive integration capabilities with third-party systems and SAP Cloud
Platform 
Flexibility
Highly customizable, it allows easy adaptation to changing business needs.
Stable and reliable, suitable for complex operations
Implementation
Time and Effort
The simple learning curve, modular structure
Longer implementation period due to complexity
Cost
The community edition is free, Enterprise edition has a subscription-based pricing model
Higher upfront costs, including licensing, implementation, and customization expenses
| | | |
| --- | --- | --- |
| Feature | Odoo ERP | SAP ERP |
| Pricing | $25 / user / month | $2,975 / user perpetual + 18% per year |
| Contract Duration | Monthly / Annual | Annual |
| Five Year Cost (50 Users) | $75,000 | $282,625 |
| Free Trial* | Available | Not Available |
| New Version Upgrades | Included | Included |
| Cost | The community edition is free, Enterprise edition has a subscription-based pricing model | Higher upfront costs, including licensing, implementation, and customization expenses |
| Update Service | Not Included | Not Included |
| Cloud Offer | Available | Not Available |
Choosing the right ERP system is an important decision that can significantly impact your business's efficiency and productivity. By comparing Odoo and SAP ERP, we have highlighted their key differences, suitability, features and pricing differences which will help with the decision making.

Ultimately, the decision should be based on your organization's unique requirements, ensuring that the chosen ERP solution aligns with your business goals and enables future growth.
Brain Station 23 is focused on delivering tailored services to meet the unique needs and expectations of their clients. Here we provided ERP Solutions to our client. 
Software Testing as a Service