Banglalink is one of Bangladesh's major telecom service operators, successfully serving the country from early 2005 till now. Banglalink's initial excellence was built on a simple mission: " Bringing mobile telephony to the masses". In the process of digitization, Banglalink wanted to present an app which will be used primarily by end-customers for viewing contents of different self-service options. To make essential services like checking user's balance, dues, usage history, latest offers to sharing internet, finding nearby service points and many more exclusive options available; Banglalink wished for such an app that will become a one stop solution for their consumers. In this mobile app, users can expect to have easy access to mobile services and features from their smart phone which would make them feel comfortable and bring convenience. Additionally, extra rewards would be available only to users.
My Bl App is an integrated place where users can obtain all these details easily within a moment. Even customized offers can be seen only through this app.
To interact with the huge customer base, Banglalink wanted a scalable, secure and responsive app. Our expert team with vast experience has worked on the project (MY BL app) and within a very short period, successfully launched a previously built project. We work hard to maintain quality standards throughout all aspects of this project, so every detail matters for us! The most important part was understanding how different modules function in order to better understand what changes need implementing or updating next; then upgrading accordingly.
When the app's version 5.2.0.04 was released by us, one of the challenges was the API reliance. API dependency was critical as third party APIs were already in use for an app. Integrating Payment gateway system was also a challenging job. Integrating a payment gateway system is no easy task and we're happy to say that the users get benefits greatly from this  feature.
We were able to implement all new features as well as increased user engagement because we applied different campaigns to attract users as part of the requirement shared by the client. Even existing users were able to enjoy and use the app even after the upgradation, their journey with the app during the whole time of development was not compromised and handled very carefully. We are constantly in the process of implementing new features for improved usability.
Users can see the menu showing these options:
Plans
Account
Add/Manage Account
Change Password
Switch to Bangla
About
FAQ
Terms and Conditions
Privacy Policy
Check for Update
Edit Profile
Log Out
Each option is designed very delicately so that these become user friendly, and users have the freedom to set up their profile. For login/reset password purpose, user will insert OTP or system will read from SMS (if permission is given) which makes secure structure.
These features not only just offer better user experience but also help the provider company to stay relevant in the market.
An improved and more user-friendly interface has been built so that customers can quickly access and understand all the offerings and services in one location. It has an easy navigation system that largely facilitates the app users.
Use of sharp and smart graphics made the interface visually pleasing and highly functional. Contents are short and straightforward with systematic elements to present a decent visual hierarchy.
Landing page:
To provide the users with a rich experience, the landing page of the application displays the following-
Shows current balance, Pack offers, Service news, Recharge offers, Exclusive bundles.
My shortcuts:
Shortcuts can be customized according to user preference, so that with a click users can know about all the important information. For example, balance transfer, recharge, USSD codes, vaccine registration and many more. Covid 19 Vaccine registration also can be possible from the app, as the app user can follow the given link to the registration site. Users can even refer MYBL app to a friend. for every successful referral there are offers for both current and new users (who got referred).
Feature buttons:
To keep it simple and convenient these feature buttons are made available from the homepage:
Feed,Menu,Store,Explore
Also, the Homepage can be customized according to user choice.
Some key features from the app: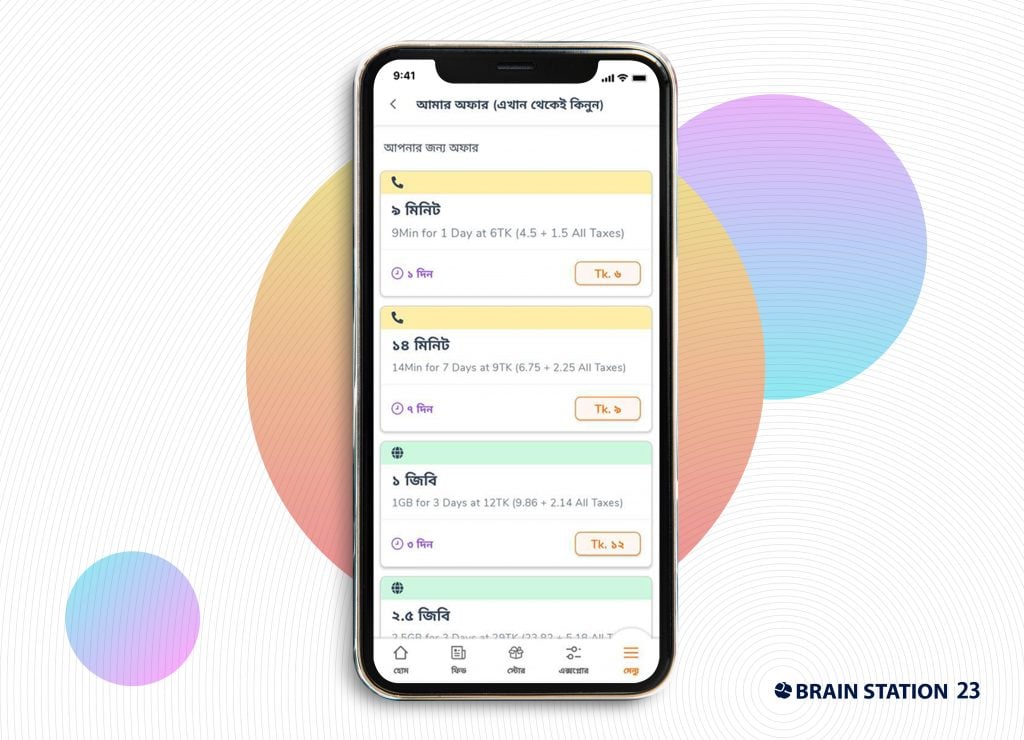 Users can purchase Amar offer from user dashboard
Amar offer: Amar offer card, where different offer shows; user can see and access from user dashboard with the facility of Individual package block.
Purchase confirmation: Package volume and validity information at the side of package details information
Gift: An option for gifting the package to a friend and family, can select the cancel button if wants to cancel the operation.
Successful screen: After buying the offer, a congratulation message with package information and package validity will be shown as confirmation.
Another noteworthy function user can buy Amar Offer package even when there is not enough balance in account.
Recharge screen: A recharge screen will be shown to users where they can recharge account when insufficient balance to purchase the package, by selecting payment method user can recharge balance and activate internet package.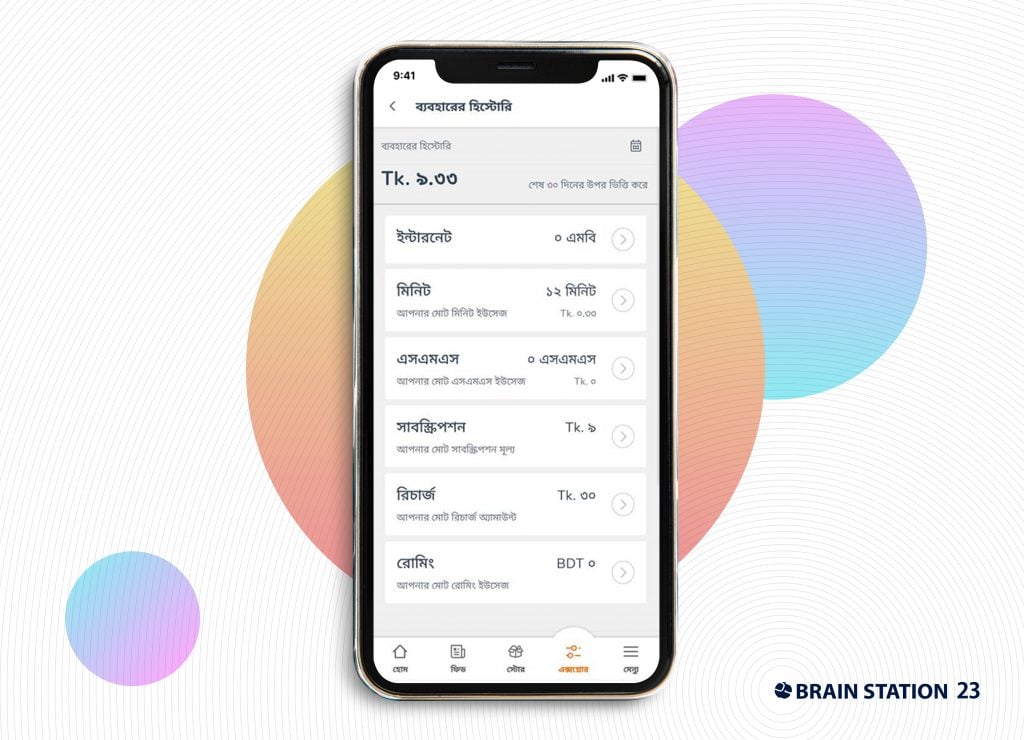 There's an option to view the usage history. When selected, the user will be taken to the "History" screen with the filter automatically preset to that type of activity.
Usages History: This option is user profile specific. Users will be able to view a summary of his / her usage history in chart and text. (Ex: Internet usage, sms usage, subscription value).
Date range of usages history: By default, the last 30 days date range will be selected. And data will be populated accordingly.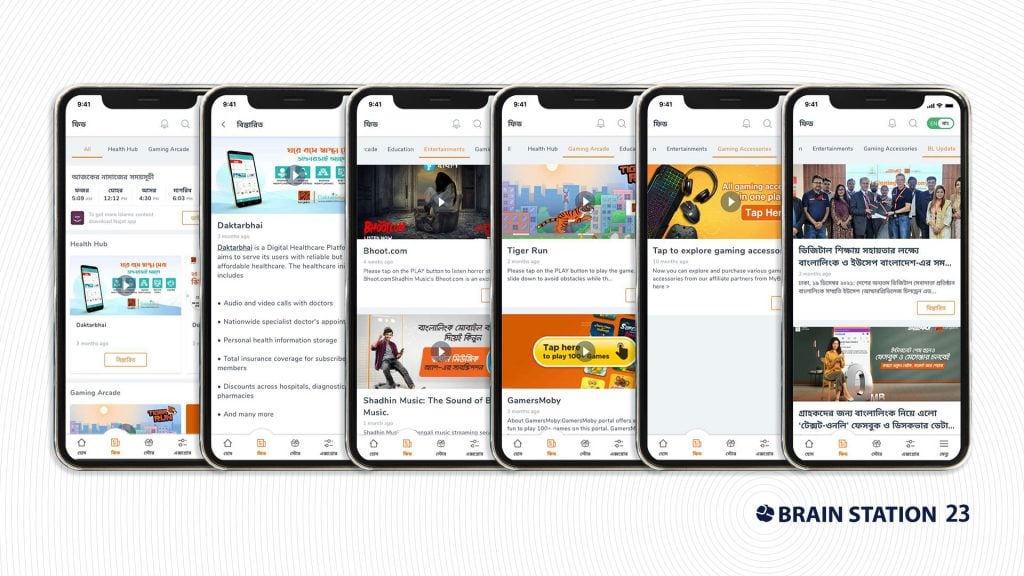 The Feed has all infotainment contents categorized by topic.
From the Feed option, users can know about prayer timing.
Can access Health Hub, Gaming Arcade, Education, Entertainments, Gaming Accessories.
Additionally, users can access all BL updates quickly.
Health Hub: Digital Healthcare platform like Daktarbhai, DocTime, Pulse Healthcare Services can be accessed from MYBL app. Health services, Video consultation with doctors, medicine home delivery, sample collection such helpful services all can be approached by users anytime.
Gaming Arcade: Consumers can play games by accessing gaming portals that are brought by third party partners, integrated into the app.
Education: TutorsInc is an innovative digital education service that provides students with study materials including sessions, customized question papers and live classes. The tutoring platform can be accessed through app only.
Entertainments: As a part of entertainment, podcast shows, and music streaming services can also be accessed through the app.
Gaming Accessories: Users of the app can check out and buy various gaming accessories from trusted partners.
BL update: User can know about all the updates and news.
From feed option user can know about Prayer timing, Ramadan timing.
There are features which provide different plans for users. Ex: bundle, minute packs and more; information of different plans with exclusive offers can be obtained by users. Users have the flexibility to choose any plan any time as per their choices.
Recharge balance
Take emergency balance
Check balance
Purchase internet pack, minute pack, SMS pack
Share internet
Check latest offers
Manage FNF list
Find nearby Service Points
View USSD code list
Use the App even when you run out of internet
Get 25MB bonus internet on log-in for first 30 days
Get 500MB bonus internet on sign-up
Avail exclusive bonuses on applicable offers!
Event-Based Bonus: Complete a task and earn bonus rewards
My BL is such an application that is both direct and simple to use. Customers can quickly access all the offerings and services in one location. Some of the impacts of the app mentioned below-
Drives potential customer: Using this feature-rich app a comprehensive picture of the services can easily be seen. for potential clients it is very convenient to find about different services and learn about new launches. For Instance, A guest dashboard choice is there in the system from which a non-registered user will be able to view generic information like – Option to register, Offers details and feed updates about their experience. Additionally, User can even refer MYBL app to a friend. for every successful referral there are offers for both current and new users (who got referred). This type of incentive makes the app more attainable.
Improved customer experience: A smart application like My Bl can also help customers have a better experience. Such as, Users began receiving updates on a range of offers through the application as well as getting notified earlier whether there is enough account balance or not.
Increased Consumer reach: With the facility of multiple languages, the app is more reachable to people. Secure and fast payment platforms that are integrated in the app make payment procedure effortless for customers and such option helps onboarding more consumers (10,000,000+ installs till now and counting).
A comprehensive mobile application can become a major step for organizations and deliver a lot of practical benefits. It may help telecom companies save money on physical stores, collect important user data, provide new services. With great marketing chances companies can personalize the customer experience, monitor consumer behavior, drive up revenues and more.
Businesses that want to thrive in a highly competitive market must adapt to new developments and establish a robust digital presence. As a result, having a team of professionals that can turn an idea into a viable functional product is critical.
Need help to build your mobile app? Contact us at Brain Station 23 to know more about us and see if we have the right solution for your business.