Exploring the Power of an Insurance Claim Management and Care System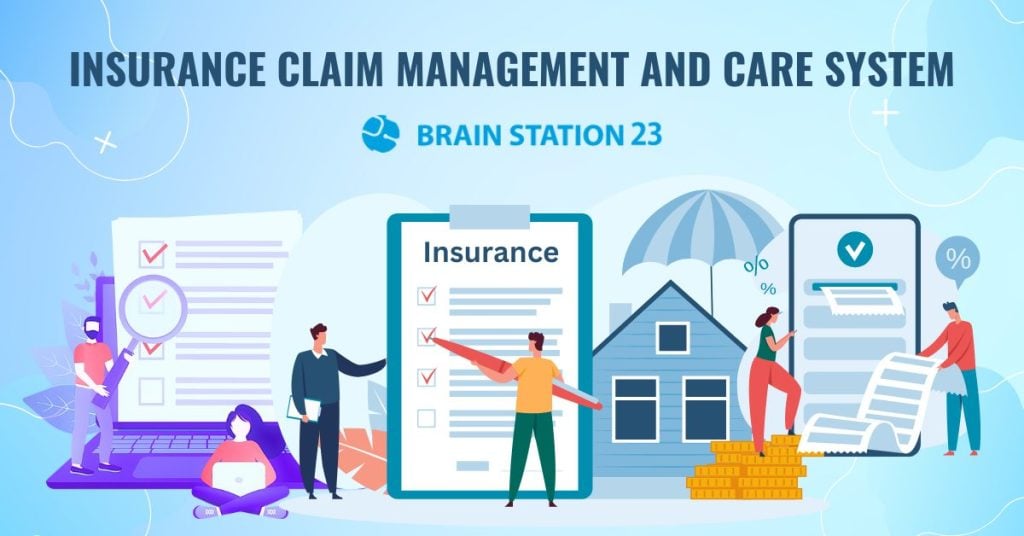 The manual insurance claim process gave rise to numerous complexities that our client wanted to tackle. With a vast customer base of 90 million individuals, the client's company has established itself as one of the leading global providers of insurance, annuities, and employee benefit programs. Operating since 1952, it has been delivering reliable insurance protection to both individuals and businesses in Bangladesh, as well as serving clients across 60 countries worldwide.
However, the company encountered significant setbacks due to the complexities arising from manual processes. The absence of an online platform and automated claim calculation capabilities resulted in a backlog of work and inefficiencies. 
Recognizing the need for a better and faster solution to streamline insurance claim processing, the company embarked on developing the "Insurance Claims Management and Care System." This web-based automated software solution directly addresses the challenges faced, enabling claim processing to be completed 70% faster.
Automation of claim submission and processing.
Enhanced fraud detection and prevention.
Better customer experience through faster claim settlement.
The company struggled with various challenges related to the manual processes of claim submission, claim review, validation, and payment. With claim investigation being slower plus draining a lot of resources, the expenditure kept rising. 
The main challenges that the company faced can be summed up with the following statements: 
Absence of an online platform forcing work to be done manually
No Fraud Detection or Auto Claim Calculation Capabilities which results in slower output
Around a week required to disburse claim
More manpower demanded for manual processing and duplication hence the rising expenditure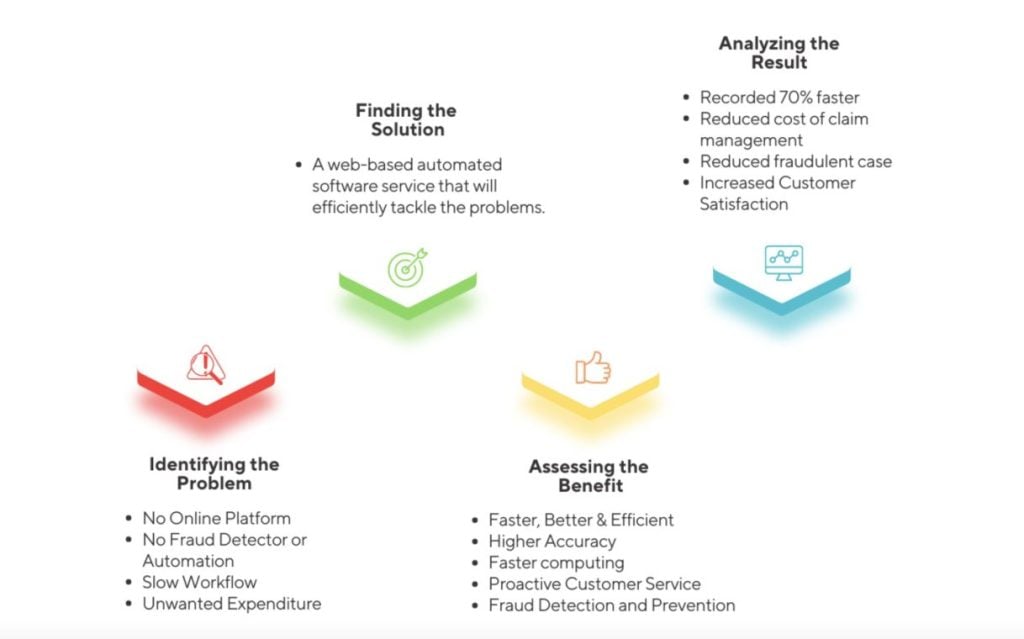 Assessing the challenges, the company developed a web-based automated software solution called "Insurance Claims Management and Care System". It helps an Insurance company to efficiently manage, process and validate insurance claims. 
This application allows the insurance company to manage the claim process with automated workflows ensuring that all claim data and each detail of every processing step are recorded within a centralized system.It was the perfect response to the challenges and made the work 70% faster than it would normally take. 
People can submit claims online hassle-free

Submitted claims processed quickly and efficiently using configured rules and criteria.

Equipped with Fraud Detection and Auto Claim Calculation Capabilities 

Allows end-users to submit data and documents for approval through claim submission portals

Integrated with customer-service that appropriately responds to claimants queries
Features
| | |
| --- | --- |
| Various types of policy, and benefits setup with exclusion & inclusion | Policy Management for both Group and Individual Policy clustering system in groups |
| Census & Beneficiary Management | Policy-wise eligibility assessment |
| Policy-wise benefit calculation (Fixed/ Multiplier/ Pro-Rata) | Adjudication Management both Auto and Manual Claims payment disbursement |
| Service request management according to policies | Loan application management according to policies |
| Policy payment after maturity or discontinuation | Notification Management (SMS/ Mail/ Standard Letter) |
| Claims Life Cycle, TAT & History Visualization | Graphical & Statistical Report |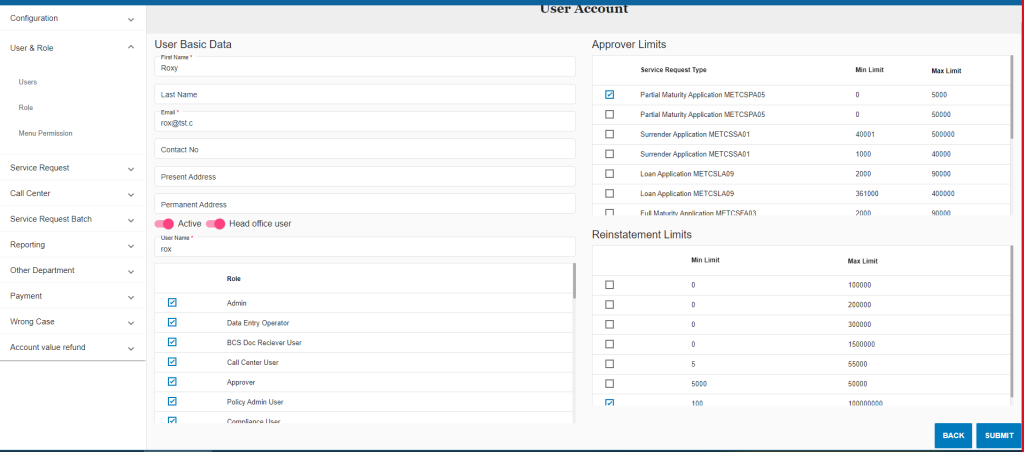 The Insurance Claim Management and Care System-software help the company work more efficiently and quickly. With higher accuracy and lower cost, the benefits to this software makes it such a lucrative solution.
1. Reduced Labor
The software allows companies to reduce the amount of manual labor they need to manage the claims. It reduces the necessity to duplicate documents and reduces the overall expense of the process.
2. More Accuracy, Less Errors
Utilizing the configured rules and criteria, the software does the work swiftly with marginal errors in claim calculations. 
3. Reduced Fraud Claims
With enhanced fraud detection and prevention, the rate of fraud claims will go down significantly. 
4. Better Customer Experience
With customer service centers to respond to necessary queries, the software is sure to bring transparency in the claim processing system. 
5. 70% Faster Settlements
Manually it used to take 15-20 minutes for each claim settlement, the system minimizes the time and does the exact work in less than 30 seconds.
With the web-based automated software solution, policyholders can now submit their claims with valid documentation more quickly and easily. From the company we can find the following report of our solution. 
Faster and easier claim submission with valid documentation
Claim processing system settles claims 70% faster
Lower claims management costs
Reduced cases of fraudulent claims
Improved customer experience and Increased customer satisfaction
Brain Station 23 is focused on delivering tailored services to meet the unique needs and expectations of their clients. Here we provided Unipet Solutions to our client. 
Software Testing as a Service