Moodle LMS is an open-source learning management system that anyone can download, modify and share with others. Due to its open-source nature and the availability of new upgrades, Moodle is known as one of the best LMS Platform.
In open-source learning, educators can create courses the way they wish. This makes open source learning an ideal way to promote lifelong learning and social inclusion.
Benefits of Moodle as an open-source platform-
Developers, system administrators, educators, and learners all contribute to Moodle, writing new features, fixing bugs, updating documentation, and sharing resources and ideas.
As an open-source platform, Moodle LMS' source code is licensed in a way that allows anyone to download the entire software for free and customize how it works. This enables a broader support for open-source learning – giving everyone access to quality education regardless of their background or circumstances.
At Moodle HQ, the teams of developers, designers, and support staff are located all over the world, focused on quality-amplifying growth for our open-source software platform. In partnership with their network of Certified Service Providers, they work continuously to make Moodle better.
The user-driven development model used by the Moodle Users Association helps to ensure that it is always up-to-date and fit-for-purpose, making it an essential tool for educators and learners around the world.
The prime objective of those improvements is to make it easier to focus on learning. Since every company is unique, it requires a distinct set of policies. Moodle can be used to its optimal capacity for efficient, affordable training, making it one of the best LMS for small enterprises or even the best LMS for corporate training. This means that companies of all sizes can use Moodle to modernize their training processes. Features like more powerful reporting, improved navigation, better course experience, collapsible content and many more made Moodle 4.0 easier to use for the individuals as well as the companies.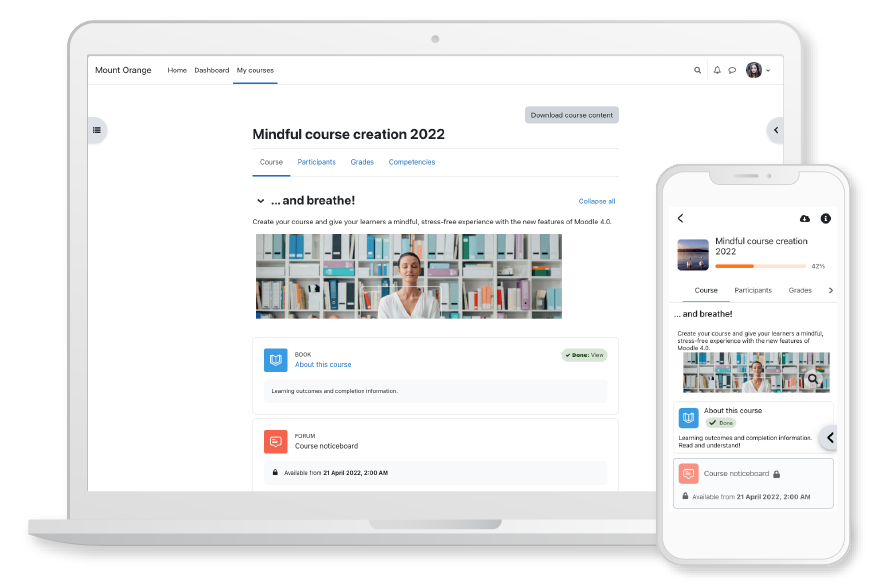 Since its inception in 1999, Moodle has been constantly evolving to meet the ever-changing needs of educators and learners. Thanks to their commitment to education and open-source philosophy, and the collaborative efforts of our global community of like-minded educators and technologists, Moodle LMS has constantly evolved to meet the changing needs of their users.
Considering their gradual development Moodle 4.0 is here. The latest release sees a completely new contemporary interface, along with a simple tabbed navigation that makes it easier for educators to create and edit courses. The course experience has been improved for students to help them focus on their studies by limiting distractions. Several new features have also been incorporated.
More Learning Centered-Moodle LMS 4.0 is designed to help learners focus on learning and get more out of their content. The new one-click access feature makes it easy for learners to find and launch all their learning content in one place. The updated interface reduces scrolling and provides more space for learning content. To reduce distractions an environment that's conducive to focus and concentration has been created. Ex- The new update collapses the block area. By doing this, you can eliminate any sidebars or other elements that may be taking up space and distracting you from the main content.
Learner Management Made Easy- Never lose track of a task because Moodle LMS 4.0 makes it easier to do this by keeping all your courses in one place, so you can see what is due and when. Thus, prioritizing workload became fast & smooth.
Effective Learning Experience – With Moodle 4.0, it's easier than ever to create great learning experiences for your learners! You can easily select the right activity for your specific learning goals, organize your content in a convincing manner, engage your learners with exciting video conferencing features, and keep them up to date with the latest course materials. Ex- To truly deliver interactive learning experience, the facility of audio, video sharing, breakout rooms, creation, interact on the whiteboard in real time has been added. Also, analytics on each session and on user participation are became available with the latest update.
Make Firmed Decisions: In today's data-driven world, it's essential to make informed decisions based on accurate information. Moodle is continually developing to establish itself as the best LMS for both small businesses and corporate training. Moodle 4.0 has a drag-and-drop interface that makes it simple to create personalized reports using the data that is important to you. Besides, to keep everyone on the same page, schedule regular reports and sharing that with other members in the organization with the latest tools.
New Features for Moodle 4.0
For Students:
New Navigation-
My courses
Dashboard and Timeline
Course index
Activity completion
For Teachers:
New Navigation-
My courses
Course index

Edit mode

 

Easily add content

 

Contextual navigation

 

Drag and drop to move

 

Question bank improvements- 

Question bank plugins

 

Improved question management

 

New in courses- 

Atto accessibility

 

Grade to pass completion

 

Content updates

 

Timed assignments

 

Big Blue Button

 

New activity icons

 
For Admins:
Site admin

presets

 

Report builder

 

User tours

 

Login page

 

LTI 1.3 advantage

 

Site support

 
Moodle LMS is the perfect platform for creating safe, accessible and flexible online spaces for young learners (k-12). With Moodle LMS, you can create a customized online learning environment that is tailored to the needs of the students. Moodle LMS offers a variety of features that make it the perfect eLearning platform for higher education institutions.
With its cost-effective pricing structure, Moodle's open source LMS is the ideal solution for vocational training providers. Moodle LMS is very scalable, so it can be used for large or small training projects.
If you need a smarter way to manage employee compliance or boost engagement with your programs, Moodle Workplace can help you create personalized learning pathways for your staff.
Our experience with Moodle-
Brain Station 23 has vast experience working with Moodle. We have been a certified Moodle partner for years. Our team of expert developers are well-versed in all things Moodle and are passionate about delivering the best possible experience for our clients. We understand the importance of a well-functioning learning management system and are committed to providing the highest quality product possible.
One of our recent works with Moodle is creating an interactive online learning management platform for healthcare professionals of a renowned pharma company. It helps to stay organized and eliminates manual work of admin and HCP user by allowing them to access centralized data management and share necessary information. After evaluating the online test progress HCP users can generate completion certificates of the training program which create additional value for medical professionals' or employees' experience as well as performance. Centralized data communication: reduced the communication gap between healthcare professionals. Some of the features included-
Brightcove video support
Incremental structure
Multilingual courses
Better HCP course management
HCP categorization based on parameter
Tracking & reporting.
Another notable work using Moodle is for a lauded charity organization who is dedicated to assisting people and vessels at the coastline. We created an LMS using Moodle that will provide learning resources related to sea area casualty rescue management for people with many other features according to their requirements. We developed customizable certification activity for guest and internal users so that both can get certificates after finishing the courses. We also developed HNS and an interactive course format which will enhance user experience. We have developed Role and cohort-based course access based on user profile fields so that this LMS can synchronize the users under "auth" and "saml2" cohorts to the respective user roles. Some of the features included- 
WebGL game support (for interactive content) 

 

Custom course layout 

 

Customized theme 

 

SAML2 based login from Azure active directory 

 

Custom API Support for authentication and authorization 

 
 We previously worked with Moodle for educational organizations for online learning. Similarly, for online training institutions we successfully implemented Moodle LMS platform.  
Open-source learning is inherently flexible, allowing learners to study at their own pace and according to their own interests.In fact, open-source learning provides a more democratic form of education that gives everyone the opportunity to quality education.    
The major advantage of Moodle LMS is its flexibility, meaning it can be customized to fit the needs of most organizations. Thus, allowing Moodle to be the best LMS for small business as well as corporate training.
Small businesses can reduce the continuous costs of learning and the loss of training materials with the use of the Moodle LMS Solution. Additionally, it's a great tool that enables both new and experienced personnel to quickly grasp the current operations and be prepared to meet the company's goals. 
Corporate businesses can optimize their training and critical business operation through LMS. The improved Moodle 4.0 solution brings those changes that help to formalize the learning processes effectively and prevent the business from inconsistent training sessions.  
The fact that Moodle is an open-source LMS program greatly contributes to the freedom, adaptability, and credibility it offers.  
With Moodle 4.0, we are excited to put our expertise to work for you and help you get the most out of Moodle.
Contact us to find out how we can help you create the perfect Moodle platform for your organization.