The HSBC Bangladesh My Calendar is an amusing and easy-to-use app that will help you stay on top of the memorable days in your life. This app is the first of its kind in Bangladesh, and it provides users with both English and Bangla calendar dates.
With a history that dates back centuries, Bangladesh has been influenced by a variety of cultures and religions. Bangladesh is a country with a rich cultural heritage and diverse religious traditions. As a result, there are a few important days and events that are celebrated throughout the year. Keeping track of all these special days can be a challenge, but HSBC Bangladesh My Calendar app is up to the task.
HSBC approached us to provide the solution for their new 'HSBC Bangladesh My Calendar' app. We delivered a scalable, reliable and easy-to-use app that meets all of HSBC's requirements. The app has been well received by users. We're glad to have played a role in its success. In addition to being a useful tool for keeping track of important days, the app also features a range of other useful functions. With the app, you'll never miss another important date again!
The COVID-19 pandemic has had a profound impact on the newspaper industry. Production halts and social distancing measures led to a decrease in the use of newspapers. As more people turn to digital news sources, this has created an opportunity for HSBC Bank to move towards digital calendar solutions. The project commemorates both Bangladesh's 50th anniversary and HSBC's 25th anniversary, and it was a chance to really showcase our country's culture and history. In addition, this digital calendar is a simple and effective way to reduce any environmental impact.
When developed with accessibility in mind, web products and services can provide equal access and equal opportunity to people with a wide range of hearing, movement, sight, and cognitive abilities. Organizations like HSBC are prioritizing accessibility in order to create products and services that are inclusive of all users. HSBC's team of accessibility experts work to ensure that every solution they develop is compatible with a variety of devices and meets the needs of people with diverse abilities. This commitment to accessibility ensures that HSBC is providing an inclusive experience for all users.
The accessibility test which was conducted as it is a 'disabled person friendly' app; presented a small constraint for us. We were unfamiliar with this test, but we handled it quite well. We developed the app and forwarded it to the accessibility team for testing purposes. They tested according to their standards and suggested solutions based on their test results.
HSBC Bangladesh My Calendar is a great example of our expertise in hand-over project completion. We're proud as we were able work with such an interesting client who shared their vision for this app from the beginning. The design process started off rather differently than what ended up being used but despite changes along the way we were able to successfully hand over the project at the earliest possible time. We released version 1.0.3 0f the app.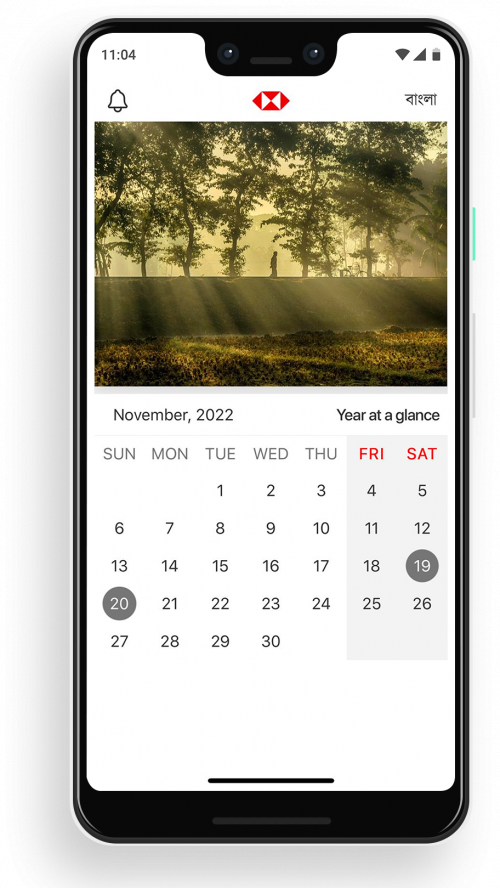 "HSBC Bangladesh My Calendar" app
The HSBC My Calendar app is built on Ionic and Angular technologies and provides an easy-to-use, user-friendly interface. Users can avail these features in the app-
Accessibility feature
Button for changing the language
Event detail with different relevant tunes
Offline calendar, no internet connection required
English and Bangla calendar
The Accessibility feature on this calendar is designed to help people with different abilities. By incorporating this accessibility feature, this calendar provides them with a way to stay organized and keep track of their schedule. People with disabilities will be able to use this app more easily as it follows Web 3 standards. We noticed that if we adhere to the Web 3 standard, we can get several functionalities built into the devices automatically; HSBC Bangladesh My calendar app will fall under those accessibility features if we expand those functionalities. The accessibility function is already interoperable with Android and iOS. When one enables accessibility features from the Settings menu, My Calendar app will respond accordingly. For example, it uses Voiceover, a screen reading technology that speaks the date numerically.
English and Bangla calendar:
It's the first such calendar app in Bangladesh which will give you both English and Bangla calendar dates. This functionality allows users to easily switch between the two languages. The ability to change the language of the calendar is a very user-friendly feature. When opting for another language, the entire calendar will be shown according to that chosen language. This can eliminate any confusion, as sometimes one English month can comprise two Bengali months. In addition, important dates according to that month will be highlighted for easy reference.  Overall, the changeable language feature is a great asset that makes this calendar user-friendly and accessible to everyone.
Users will be reminded of special days and events through messages both in Bangla and in the English language (depending on the chosen language). Then users click on a specific date; the event name will be shown. Users can click on the event name to see more details about the event, including a description and a tune to compliment the mood of that event plays. This feature is useful for finding out more about upcoming events and getting a reminder of when they are. Ex-Pohela Baishakh(1st day of Bengali year) a brief history with celebration details is added.
The app does not require any internet connectivity once installed, and users will be able to enjoy all its features with no interruptions. This is great for those who live in areas with spotty service or who travel frequently.
The app has been very successful so far, with over 1,000 downloads on the Android version alone. The app has been very well received by users, with a 4.7 rating on the Android version. Users are highly satisfied with the app, and they have given it high marks for its ease of use and its ability to meet their needs. The app is essential for people who need to stay organized and connected.
Users can access the app from anywhere in the world thanks to HSBC. Whether you're looking to stay on top of your personal or professional commitments, or just want to be prepared for when your favorite festival is happening, HSBC Bangladesh My Calendar is the perfect tool for you.
We offer a variety of digital solutions to meet the needs of our clients. Contact us to see whether we have the right digital solution for you.