Fires are devastating. It not only destroys property but can also take lives. It is not something to be taken lightly. A fire breakout can occur anywhere, anytime. It can happen at the workplace or even at home. Therefore, knowing what to do and what not to do in such situations are essential skills to learn. For decades, organizations in the fire department services or different industries have trained their employees on fire safety using traditional tools and methodologies such as structural burn building for walkthroughs and flame generators, which are risky, expensive, and nearly impossible to recreate life-threatening situations for training purposes using traditional methods. These tools and methods have been used for years because they are considered to be the most effective way of training individuals in fire safety. However, those days are now gone, with the advancement of technology and following the trend, there are now more efficient and safer ways of conducting fire safety training. This is where VR is playing a great role in revolutionizing fire safety training completely.
Many experts believe that virtual reality technologies will become an incredible component of firefighter training in the future. Now you might be wondering to know –
How does Virtual Reality Training work for everyone?
While using VR training for firefighters is a fairly new concept, which is already being utilized. The user is required to wear a VR headset that lets users experience a realistic simulation of a fire situation with a 360-degree view without any of the risks associated with live burning. Users will find themselves in a virtual world with various fire hazards. This makes it an ideal tool for training learners on fire safety procedures. In addition, VR can be used to train a large number of people at once, which is not possible with traditional methods. As a result, depending on the current incidents throughout the world, VR is becoming an increasingly popular choice for organizations that want to provide their employees with safe and effective fire safety training.
This blog post will discuss the use of VR in fire safety training and highlight some of its benefits and how we can help you with our virtual fire safety training for every type of organization –
The motive of the fire safety training in real-world scenarios fails for many reasons, such as:
Dummy training can never replicate the seriousness of a real-time occurrence.
Being unaware of the real-time scenario, people easily panic during a real fire accident.
The dummy training is unable to deliver real value and learning to the trainee.
In Fact, according to the International Association of Fire and Rescue Services statistics, countries like India, the United States, Bangladesh, Russia, Philippines are the greatest sufferers of fire accidents. Recently On the night of 4 June 2022, a fire and subsequent explosions at a container depot in Sitakunda Upazila, Chittagong District, Bangladesh killed at least 47 people and injured around 450 others, this demonstrates that Fire explosion has become a worldwide incident nowadays and people are suffering just because they are not aware of the proper precautions to take before it happens.
This is why the following are some of the reasons why many companies and fire safety leaders have begun to explore VR for firefighting. Now let's explore some of the key benefits of using our VR fire safety training for firefighters-
Deliver safe firefighting experiences
When it comes to a traditional fire training program, trainees can be exposed to toxic pollutants which can lead to heat stress, oxygen depletion, and injuries, in some cases, even death may happen. Even more When there is an actual fire or hazardous elements present in a place the trainees can also feel tense while performing the task.
Training with VR Fire, the trainee is completely safe. It enables trainees to practice in realistic virtual environments with a fully customized 3D architecture view without risking their lives or being exposed to toxic chemicals.
To create realistic virtual training, virtual training solutions such as our VR Fire safety training, the trainee can experience a realistic fire, simulate surroundings, and interact with virtual objects – extinguishing agents, fire types, and smoke. This feature allows you to 'fail safe' in dangerous situations. With our virtual reality fire safety training, firefighters can experience being in a very realistic situation and test their abilities without incurring any risk.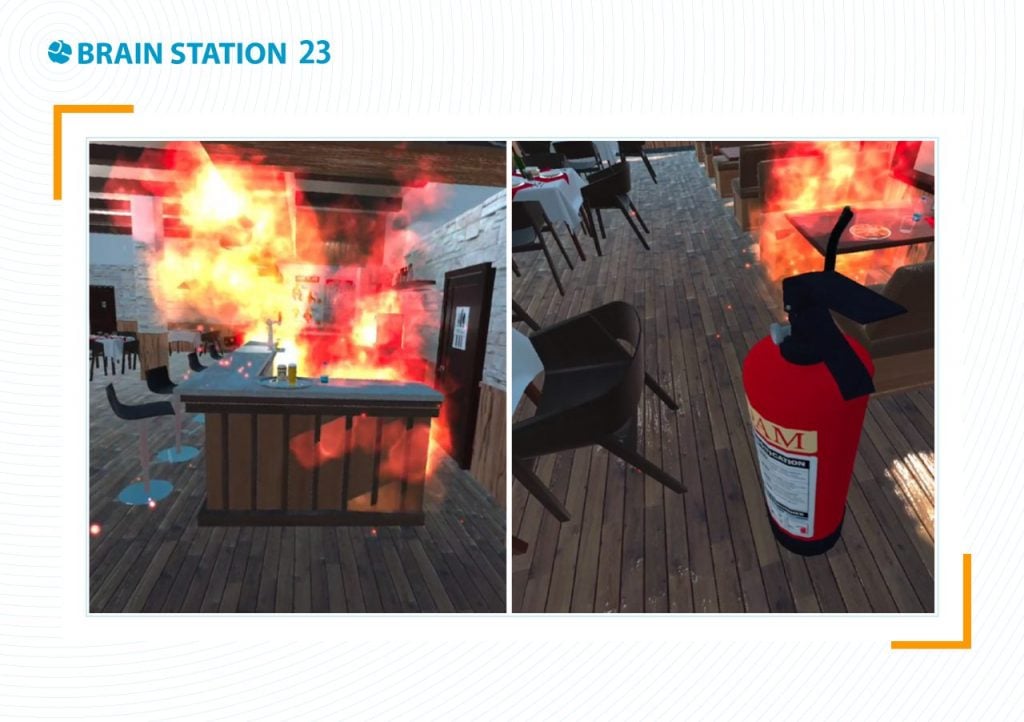 Gamified training in virtual reality
Virtual reality in fire safety training helps employees enjoy their training sessions more as VR is less likely to use traditional learning materials such as videos, paper-based SOPs, and images, which is time-consuming, and people may get bored reading long manuals or listening to a lecture for fire safety training. VR enables experiential learning in which learners learn by doing in an immersive virtual 3D world, making learning more memorable and interactive. In fact, through the VR fire safety training solution, a user is completely immersed in the virtual environment to prevent distractions by the noises of the outside world and ensure that learners are focused on the task at hand.
To make the fire safety training even more enjoyable, Studio 23 created a customized gamified training session where learners can practice and evaluate their capacity by playing a game by performing multiple fire safety training activities where players can earn scores and finally get rewarded if they complete all the fire safety training task. This is how by creating a fun yet valuable training experience, employees will be interested in learning more about fire safety standards in a stress-free gamified mode, and trainees will be more likely to be engaged with what they're taught about the hazards of the job site and the potential consequences of making mistakes, which makes the learning even more beneficial.
As a result, VR gamified fire safety training can be a valuable tool for preventing accidents and ensuring a safe workplace.
Guide steps during a fire incident
During the virtual tour, trainees will have multiple options to perform. If the trainee chooses the right step, it will allow him to move on to the next step. In case of choosing a wrong step, the trainee will be alerted about the correct step.
Train employees hands-on guide with a real fire extinguisher
With the advent of virtual reality technology, there are now more immersive and realistic ways to train people for various scenarios than ever before. This is especially useful for fire safety training, as VR can give users a lifelike experience of being in a burning building and using a fire extinguisher to put out the flames & feel the stress of choosing the right extinguisher agent and then using the physical extinguisher to put out the fire in VR. Not only does this provide instruction on the various types of fire extinguishers, and how and where to use them during an incident, but it will also give them a proper hands-on guide to use a fire extinguisher Similar to a live fire training program, such as: how to pull the extinguisher's safety pin, aim the nozzle at the base, squeeze the lever slowly to release the material and sweep it on the fire to extinguish it. VR fire safety training can also help with inspection and maintenance procedures as well.
By deploying sensors and trackers in the physical fire extinguisher device, our developers have created a way for virtual scenarios to adaptively respond to user interactions in real-time
Moreover, trainees will be aware of the placement of fire safety devices in their offices and buildings. Using this application will help them to learn where fire extinguishers are located in the workplace. By using VR fire safety training, businesses can ensure that their employees are fully prepared in the event of a fire.
Eliminate costs associated with live training – travel, specialized equipment, and more
Manual fire safety training is quite expensive to execute. It requires a mentionable number of work hours, resources and people. Allowing fire safety tools individually is impossible. Individual expertise cannot be assured during manual training.
But with our VR-based training program only requires a one-time development fee, maintenance costs, and a few minutes to set up then you can provide VR fire safety training to your employees/firefighters for the rest of their lives without incurring yearly or monthly operational and logistical costs.
Furthermore, as previously stated, VR can simulate the real-world environment and create multiple fire-fighting scenarios. This way significantly reduces the cost of creating a new infrastructure solely for fire safety training.
One of the most intriguing benefits of using VR in fire safety training is that, in this current pandemic situation, workers can learn from the comfort of their own homes or even at the company's current location without having to travel to the location, which saving transportation costs, fuel costs, safety tools and other expenses.
VR lets you train and practice as much as you need, regardless of the time, location, and weather. With just a few clicks, VR Fire Trainer gives users unlimited attempts to learn and master firefighting skills with VR fire safety training as long as trainees have the appropriate equipment, they can undergo training from any location, which is quite impossible through a dummy training program.
Finally, undoubtedly it can be said that; Virtual fire safety training has a huge impact on reducing the direct and indirect costs of employees' training.
Then why not implement VR fire safety training for your organization?
To ensure that learners are receiving the most comprehensive and effective fire safety training possible, our system provides a comprehensive user-friendly reporting feature of each training for instructors or responsible authorities to evaluate their learners' performance and can be used for certification. These reports can be used by instructors to track learner progress and identify areas where improvement is needed. Additionally, by providing real-time reports on equipment use and other factors, learners can also evaluate their performance and progress. This reporting feature is an essential tool of our VR fire safety training for ensuring that learners receive the best possible fire safety training. Finally, all reports can be stored in a database, allowing for easy retrieval and analysis to create successful fire safety training.
So finally, it can be stated that the incorporation of virtual reality in fire safety training will undoubtedly have a significant impact not only on fire safety training but also on virtual reality (VR) playing a significant role in almost every industry, ranging from the military and defense, construction, manufacturing, engineering, and chemistry lab environments that feet with your industry, for example:
Military and defense training can use our VR training for flight simulation, Medic training, Virtual boot camp, wielding and drilling, and more to make their training more effective. 
The construction business can benefit from VR training by introducing a simulation of a complex or expensive piece of equipment and teaching employees how to use it.
VR training in the mining industry can teach employees the proper actions to take in the event of a collapse or fire hazard in a confined space without putting employees in an unnecessary hazardous situation.
VR safety training methods can be used in the oil and gas industry for gas meter inspection. Employees at the company will be able to use a variety of tools to detect a virtual gas leak and eventually devise an operational action plan that minimizes risks.
So now It's high time to make the right investment and explore the world of AR & VR safety training. Regardless of your niche or industry at Studio 23, you'll find a team of trustworthy experts who will offer you the right business solution for any kind of training need that matches your business type.
Our team has many success stories in several industries, so you can rely on us if you want to take your company to the next level-
We Brain Station 23 assisted a well-known telco company in providing a virtual fire safety training system to train the appropriate steps to be taken during a fire accident using virtual reality. To learn more, read the full case study to get a full overview of our VR fire safety training project and how it works with a successful business impact.
So, feel free to contact us today, and we can help you transform your work environment by making your employees more equipped for whatever they have to face on the worksite with the stated features of our VR fire safety training.