If you are here, you already know what AWS Cloud Practitioner is. On March 25, 2022, I passed this certification exam on my first try with a score of 936/1000.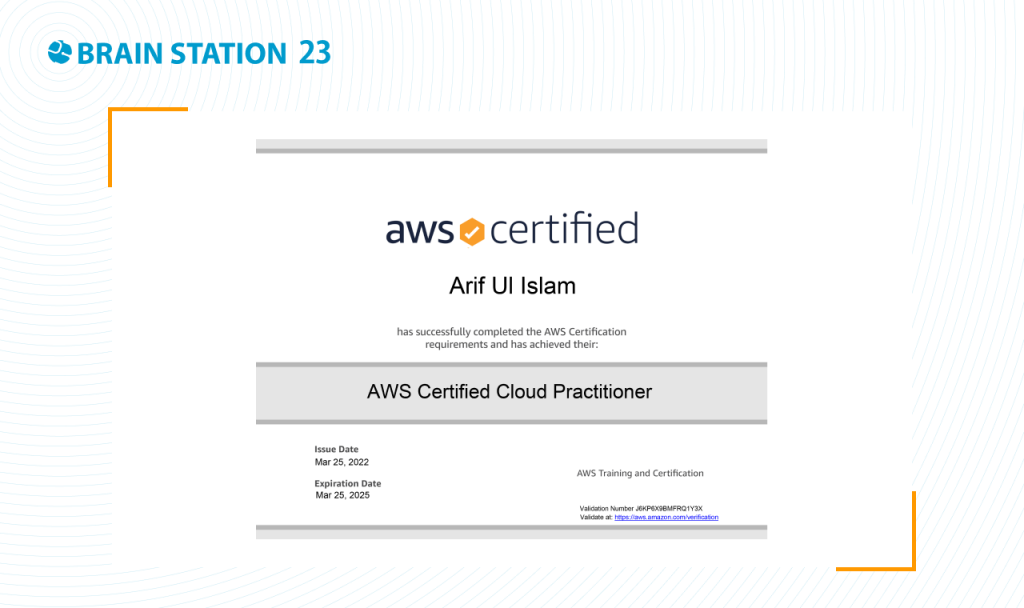 Amazon Web Services is in the leading position in the world of cloud service providers. AWS provides this Cloud Practitioner certification which is the most common entry point to enter the cloud world. Now, one important thing to mention is that this certification demonstrates a foundational understanding of Cloud principles, AWS Services, and other aspects of the Infrastructure as a Service platform that AWS offers, including billing, pricing, and security.
From my perspective, two kinds of people are eligible for that.
1. Project managers and salespeople can take this to adopt basic knowledge in order to utilize that knowledge in front of clients and management
2. Software engineer like me, who has been working with AWS for a long time. Now is the time to prove your knowledge
I have been dirtying my hands with AWS services since the middle of 2021. In January 2022 I made a decision to take this entry-level cloud certification which would help to prove my knowledge about AWS cloud services.
This certification exam covers a lot of fundamental areas of AWS services. It is for earning and showcasing one's knowledge to others. In this blog article, I am going to share how I have used my time, and then what videos, and tests I have participated in to prepare for the exam.
When I entered the exam center I had just 6–7 months of hands-on experience with Amazon Web Services. I recommend people have at least 3 months of experience in the AWS field before preparing for this exam. But that's not required. There are lots of people who get to be ready for this with having Zero knowledge of AWS stuff.
As I am a Senior Developer, usually I am engaged with so many things daily. So, it was a bit hard to find time to prepare for the certification. My plan was to spend at least 5–6 hours daily for 12 days.
First 5 days on ACloud Guru
I had a subscription to ACloud Guru. I spent my first 4 days on this (Daily 5 hours). I was going through this course at 1.5x speed so that I could not fall asleep
. It helped me to grasp the whole basic things fast and easily. I wrote down in point format what seems important to me.
At the end of this course, I tried the practice tests from ACloud. I completed all the practice tests with an 82–88% score on the first try. On second try, I was able to achieve a score of more than 95%. It's a good thing that there are descriptions for correct and incorrect answers. I used to read those descriptions to understand why any option is right or wrong. Believe me that helps a lot.
The Next 3 days on Udemy:
Then, I bought this course from Udemy, which is basically for the AWS Certified Solutions Architect Associate exam. The Architect Associate exam is my next target. So, I bought this course in advance. This is a really great course from Stephane Maarek. I watched all the videos at 1.5x speed in order to finish basic things fast. There is one practice test in this course. So I completed that test as well. I spent 3 days (5 hours/day) on it.
The Next 2 days on WhizLabs:
To do more practice tests, I completed the tests from whizlabs. I spent my 2 days on these tests. I went through every test and wrote down the notes.
The questions from WhizLabs were a bit harder than ACloud Guru and Udemy. But anyway, I was able to archive more than 85% mark on my first try.
The Last 2 day:
On the last two days, I was going through all the notes, all the practice tests, and all AWS whitepapers again, and again randomly. That's kind of self-brainstorming for 1 day.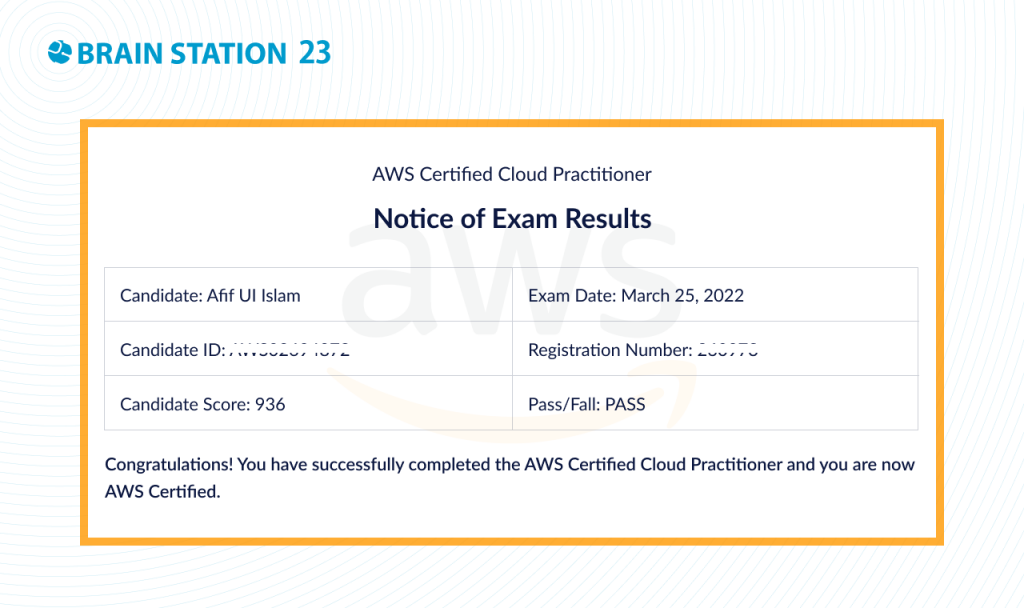 Figure: My Score 
So, that's how I prepared for AWS Cloud Practitioner Exam. You at least got the idea of what effort and time are needed to sit for this exam. Now it's your turn. Now I will write about how you may pass the exam on the first try.
Start with a proper routine
Routine is something that you need very fast. Because preparing for any certification requires time and commitment. And a proper routine will help you to utilize time with commitment.
1. Online Courses
Courses from online platforms like Udemy and ACloudGuru are the best resources to start AWS Certification preparation. But choosing what is best for you is painful. I can help you with that. I am suggesting the courses below.
Ultimate AWS Certified Cloud Practitioner — 2022 : 
I would say this is the best course to pass the AWS Cloud Practitioner exam. Stephane Maarek did a great job for us. This course from Udemy will walk you through everything that you need to know for the certification exam. This course has 4.7 rating with 90k+ votes. The course link is here.
AWS Certified Cloud Practitioner (CLF-C01) : 
This is another great course which I personally followed. Kesha Williams described so well everything. I would suggest you to follow the practice tests again and again untill you get 92%+ score.
2. Online Mock Tests
Now, this is the important piece of the puzzle to your AWS certification journey. After going through the online courses, you should judge your knowledge before sitting for the certification exam. I generally start with a topic-wise test to see if I am ready for a full mock test and then work my way there. When you keep getting more than 85% scores, I believe you are ready for the real exam.
 Whizlabs:
I refer Whizlabs to as the king of mock tests provider when it comes to the certification exams.
 AWS Certified Cloud Practitioner 500 Practice Exam Questions:
If you have Whizlabs, then this Udemy questions set is not required for you. But if you want to be more confident, you can try it out. The link for the question set is here.
3. Reading Whitepapers and Documentations
This is not required for this entry-level certification exam but if you want to score close to 1000 then you must read them well before the exam.
Whitepapers link.
That's all about the Cloud Practitioner Exam based on my experience.