As the name suggests, "Going Paperless" is a term coined not so long ago to describe "reducing the amount of paper used in a business context, exchanging printed pages for digital documents, especially in internal processes."   
Companies' common paperless areas of choice include receipts, invoices, tax returns, and paychecks. Areas where manual work adds no real value to the company and the steps required to complete its work are too time-consuming.  
It should not be a surprise that, once this wave started, it was only a matter of time before it became more prominent. The situation happened mainly because of the rise of modern technologies including enterprise solutions taking over companies worldwide, digitalizing several previously made processes with tons of paper. 
 To help a company to Go Paperless, Odoo comes to the rescue.
Let's match your business need with Odoo:
First let's talk about why should companies use Odoo? 
Odoo is one of the most user-friendly ERP software solutions at current time, which is easy to implement and understand. 

 

It is the perfect fit for companies that are growing rapidly. 

 

Odoo provides unmatched functionality and features which have made it one of the most preferred ERP software solutions among small- and large-scale businesses. 

 
Truth to be told, Odoo ERP is mainly crafted with the aim to meet all your business needs even the ones you can't think of. 
Data management: 
Today, managing sensitive data is a headache for many large companies across the world. On the other hand, the safety of such data is also a matter of great concern, which needs to be taken seriously. Data can fall into the wrong hands and cause harm to your business long-term plans. In such a rare situation, Odoo stores such confidential information in a secured folder and protects it from a third party.  
Synchronized System management:  
Odoo software perfectly manages all the departments where the company lacks proper management and ensures hassle-free communication.  
Odoo is a modular-based solution which means data of different departments are ideally stored systematically. Odoo ERP connects all units of an enterprise and manages them to perform in an exceedingly synchronized manner. All company operations are synced along the way. Users can also access information based on how much they are allowed to. 
 To summarize,  
 Odoo ERP software system revolutionized the commercial management system.  
Odoo is a product that is meant, developed, and updated to stay up with the needs of today's business. Odoo positively lets your business take the autopilot. The dedicated modules for all aspects of the company like HRMS, CRM, marketing, sales, accounting, inventory, and PoS. The modules take the concern off all management aspects of the business.  
 Odoo follows modular architecture.  
The various modules of Odoo are efficient, and they are perfectly integrated with the others to deliver associate degree uncompromised potency in management and organization. 
Another characteristic of Odoo is that Odoo gives coverage of choice. Coverage in accounting, purchase, sales & inventory provides a fast summary of the money health of the business. 
Rejuvenate Your Business with Odoo
Odoo is one of the best ERP software solutions that can help a company to automate all the management operations. Odoo software helps the users to manage the entire operations of the company from a single platform. That's why Odoo is considered as the one-stop solution for all business needs.  
Odoo is an open-source ERP (enterprise resource planning) software that includes practical business modules such as CRM, accounting, sales, purchase, inventory, project, billing, financial handling, and manufacturing. These modules are perfectly integrated to make fruitful communication with each other. This software is developed to meet all your business needs. 
 This is the beauty of Odoo! 
Odoo is a suite of ERP systems that involves many key modules that are updated frequently. It can also be integrated with the tens of thousands of Community apps. Since it is open-source software, businesses of all sizes (small, medium to large) can use it. Its customizable nature allows the Odoo apps to be customized as per individual business specifications.  
 Odoo helps a company in the areas where it is possible to become paperless. The areas of choice include receipts, invoices, tax returns, and paychecks.  
As Odoo is an integrated software system, all four of these are integrated: Sales, Purchase, Inventory & Accounting. Receipts that will be created after purchase will be integrated with accounting & can be accessible using the same system and will be automatically stored in the same place. The same goes for Sales. And all receipts & invoices are going to be synced automatically with the accounting module. There will be no need for paper-based manual intervention. 
This blog will give prominence to how Odoo can empower any business and go paperless. 
Sales-Purchase-Inventory-Accounting all in One!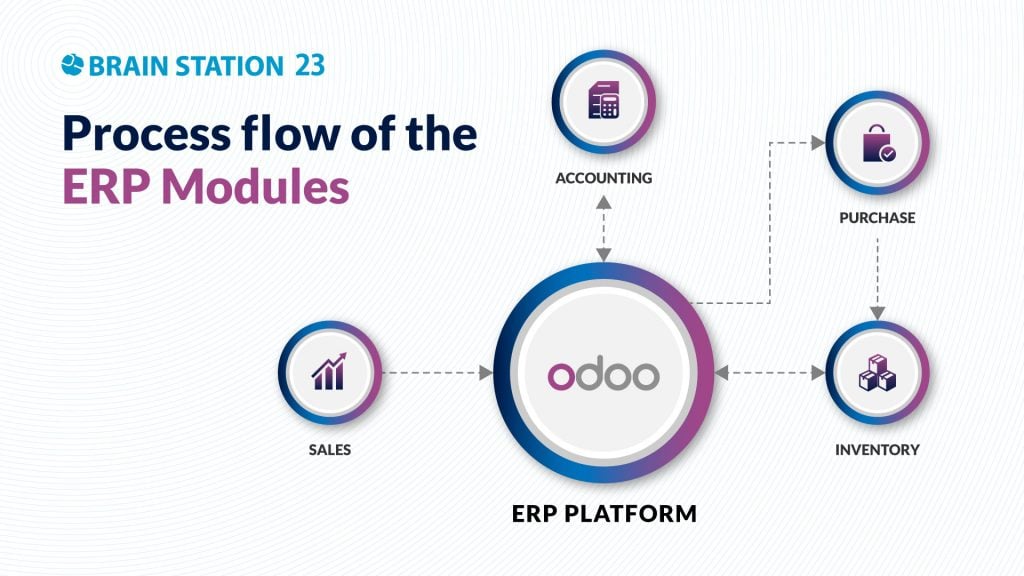 Integrating Odoo ERP software can accelerate a rapid improvement in the supply of products by purchasing them from the vendor to deliver the products to the customers. Odoo inventory management software gives companies the right to track and manage sales & purchases. It allows you to keep an eye on the entire product activity until the products reach the distributors or are received in the inventory.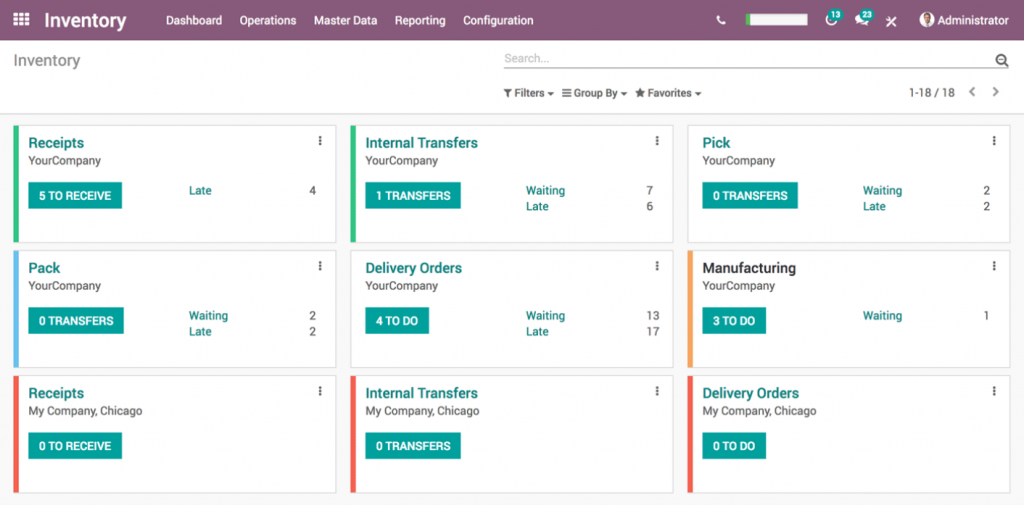 All the purchased items receipts are stored in one location without any manual intervention. Confirming a purchase order will automatically create a receipt for the products to be received.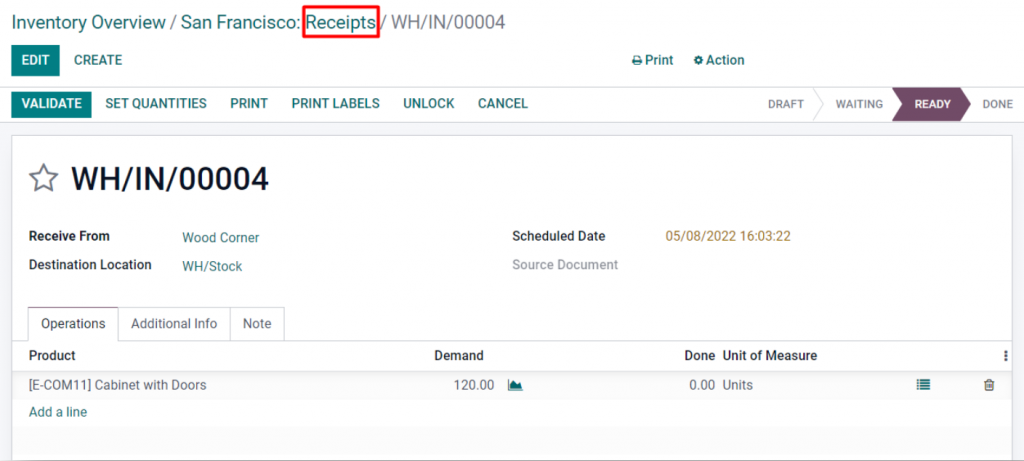 Same goes for the delivery orders. All the delivery orders are stored in one location without any paper-based system. Confirming a sales order will automatically create a delivery order for the products to be delivered.  
Internal transfer or inter-warehouse transfer can be performed in a much easier way using Odoo. The record management and documentation part involving internal transfer can also be achieved thoroughly using Odoo inventory management. Odoo manages all these operations in an efficient manner. We can easily register internal transfers and manage the operations.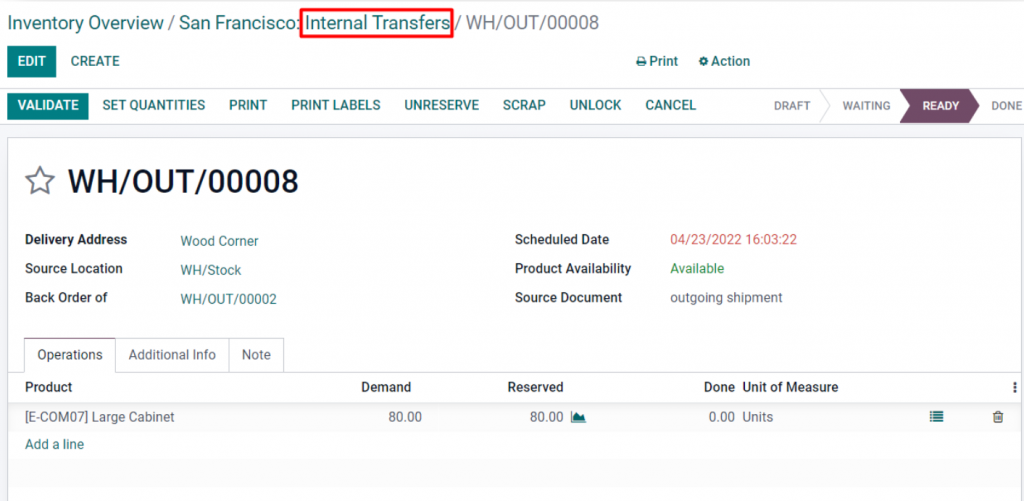 This module eases the process of tracking inventory effortlessly. With serial numbers and lot numbers of the products on hand, you can easily trace the company's products. No tension to mess up with the stored items. While receiving the purchasing order from the vendors, specific serial numbers and lot numbers are assigned to the particular products.

The software has a warning system that alerts the users about the mismatch with the serial numbers. It ensures that the serial numbers are correctly assigned, maintaining the proper order. 
With the Odoo inventory management, you can supervise the movement of several warehouses of the same company at different locations. The most significant advantage of getting the Odoo inventory module is that you are allowed to add additional warehouse locations in a queue to track and manage the product movements shipping from one warehouse to another. Odoo makes multi-warehouse & multi-location management so much easier. 

This Odoo module allows you to handle the entire product movement, including purchase, sales, and manufacturing. These routings in Odoo can be customized depending upon the organization's business requirements. 
The Odoo platform lets users configure the reordering rules on existing products. Setting a reordering rule helps any company get rid of the problem of overstocking and keep the stock in proper balance. The Odoo warning message will alert the department about the low stock when there may be insufficiency in supply.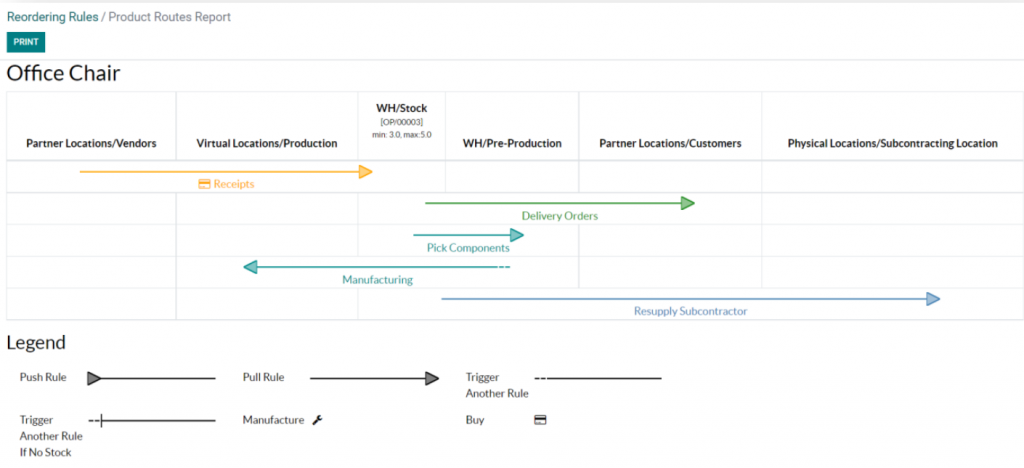 The reporting feature of Odoo Inventory management allows users to prepare reports according to the information available in the system. As every bit of information is synced throughout the system & stored so that no data loss happens, it is easier to generate the report. In addition, you are free to configure the information matrix based on your own organization's needs. 
Odoo Sales Management gives you total control over the sales department. You are allowed to customize it according to your business needs. You can quickly solve sales queries, create invoices, get orders, and trace pending orders with Odoo sales management. 
Odoo sales module is the most progressive sales management system in the world. The module can efficiently deal with massive sales data, allowing you to manage and view complex sales data effortlessly.  
By integrating with the Inventory module, one can easily manage, and view sold products. With this feature, you can meet the customer requirements more quickly. There are also advanced filtering options that can give users access to products and data rapidly. Employing the feature to its utmost capacity can help a company to enhance its salesperson's efficiency and increase the sale margin. 

There are marketing concepts which are known as up-selling and cross-selling. Up-Selling is one of the marketing ideas where one can persuade the customer to buy the high valued and high frontier products from the same category. Using Odoo upsell is so much more convenient than ever.
The e-signature feature of the Odoo allows companies, valuable customers, and employees to sign electronically on documents and important sales documents from anywhere around the world. Your customers can review the quotation and sign the paper if they want from wherever they want. This feature allows the sales teams to sell faster and without any hassle.  
Converting quotations into sales orders is possible with a click. Companies can let their customers do it themselves with the Odoo e-sign (electronic signature). With the Odoo sales module, users can edit, modify & update sales orders, sell products, and ship partial orders accepting partial payment.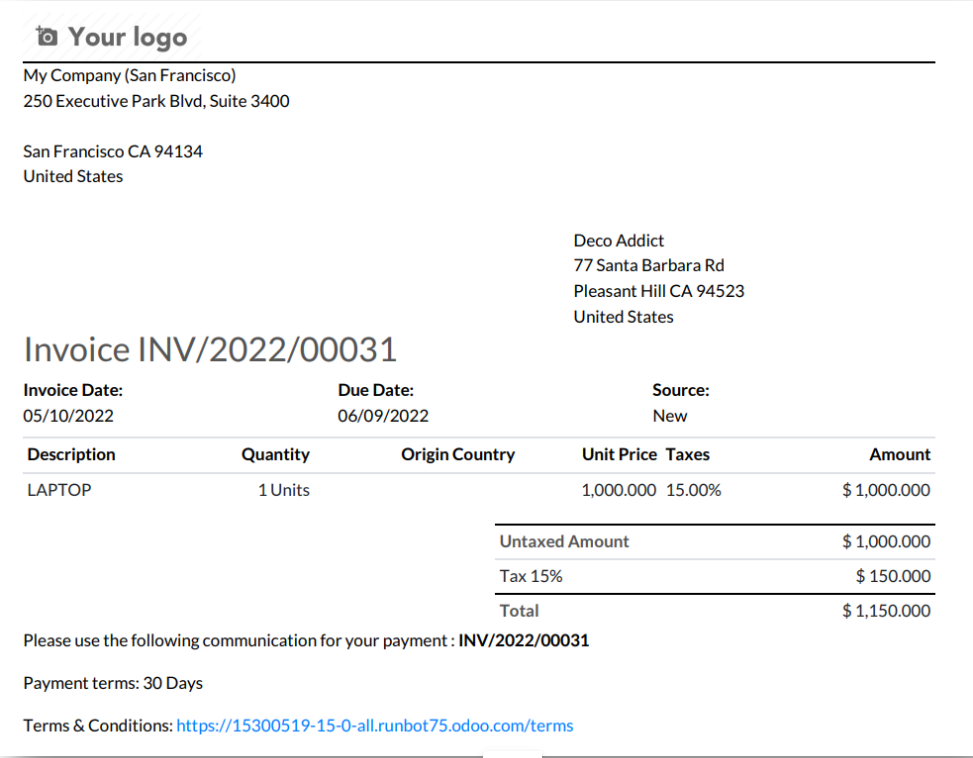 Invoice management is easy with the Odoo sales module. Users can easily manage and review invoices in the sales module. There are multiple invoicing options in the Odoo system designed for convenience. Invoices can be invoiced instantly. Applying and managing invoice policies or terms and conditions is also more straightforward. Odoo sales management has made everything much more convenient & paperless. No need to send & receive documents back & forth. 
Odoo Purchase Management will enable companies to automate their purchasing operation and boost the enactment of their purchases and inventory. 
Odoo will enable any organization to automatically send a request for quotation to vendors based on the inventory on hand stock or demand. 
The purchase module is a central component of the Odoo ERP system, as it streamlines the purchasing and management process for company users. 
The company may purchase a combination of items and services to meet various business needs, demands & requirements. As a result, having a module to manage all purchases is fundamental. 
Odoo will ensure that the company can manage anything they buy for their business utilizing this Odoo Purchase module. Odoo provides improved performance by combining this module with the sales, accounting, and inventory modules. 
Odoo Purchase management module will function as a complete solution for supervising purchase orders, including vendor management, vendor bill management, product and product variation management, stock update, and product quality inspections.  
After accessing the purchase module, we will be able to view a list of quotation and purchase order requests. Orders, Products, Reporting, and Configurations are available and easily accessible from the main menu by authorized users. There is no easier way to manage a company purchase and all procedures & documents related to purchase than this.
Linking a purchase agreement to an RFQ or purchase order is highly essential. A company user can quickly designate and manage purchase agreements under the Purchase module's 'Purchase Agreement' option. 
It is a contract between a vendor and its customers. This field includes a list of existing agreements and their status. Information such as the Reference, Purchase Representative, Company, Ordering Date, Agreement Deadline, Source Document, and Status are also demonstrated.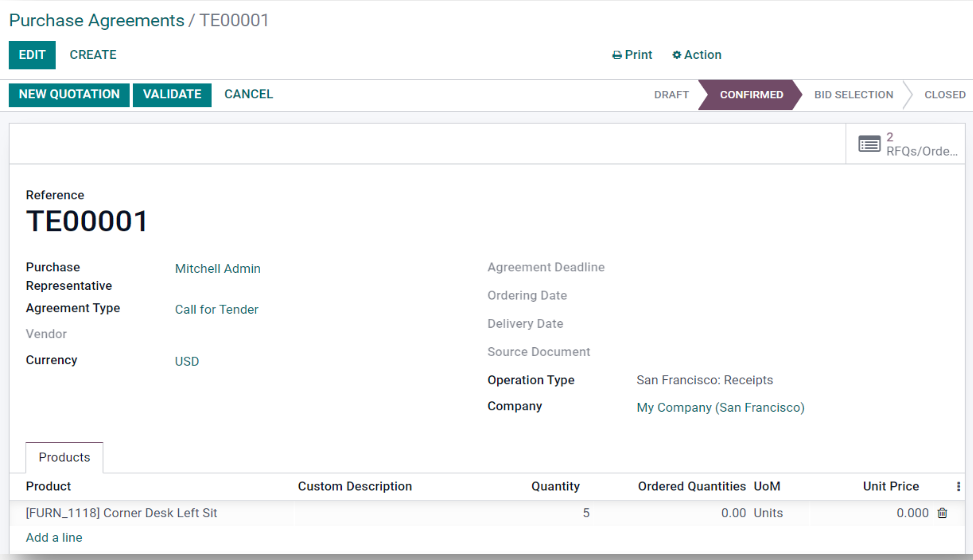 The organization can generate tabular and graphical reports about the company purchases, including bar, pie, and line chart models. You can change the views by changing the 'Measures' in the Purchase module's reporting window. 
Vendor bills can be generated for & sent directly to the vendors. The company user can create vendor bills using Odoo purchase management and provide payment for the individual ones. The vendor bills in Odoo can be configured based on the delivered quantity or the ordered quantity. This ability can simplify the whole billing process when a company purchases products in much larger quantities. 
Accounting & Invoicing Management
Odoo accounting & invoicing module is perfectly capable of taking care of all the invoicing necessities for the sales module & vendor bills for the purchase module. The accounting module can automatically generate invoices & vendor bills based on sales, delivery, purchase orders, and contracts. 
With Odoo, a company can generate & send invoices manually from the accounting app or directly from the Sales app. Company users can split an invoice into multiple payments for convenience or split an amount into numerous invoices. 
The company can track and pay for supplier invoices and employee expenses from the payments side. 
All this data instantly incorporates with the Odoo Accounting module.
Accounting reports such as profit and loss, cash flow, and tax audit statements are essential to any business. Odoo allows users to create such reports from their internal data easily. It is also possible to customize the dashboard to show charts and KPIs vital to you. 
Your business must have accurate accounting data, but it's also important that this comes with ease & convenience. Company accountants shouldn't have to search through hundreds and thousands of papers or documents or folders. 
With Odoo Accounting, the company's accounting approaches are integrated with the rest of the business operations in Odoo's application suite. Data flows from one module to another, and the workload is done. It is much more effortless. 
Odoo is perfectly capable of converting company operations into a paperless one. Every document can be generated in the system using Odoo. Print only those that are in need to be printed. Odoo doesn't require its users to go through the hassle to maintain papers or documents. Be paperless with Odoo! 
Want to learn more about our ERP services?