How AR/VR Changes the Client Experience in Real Estate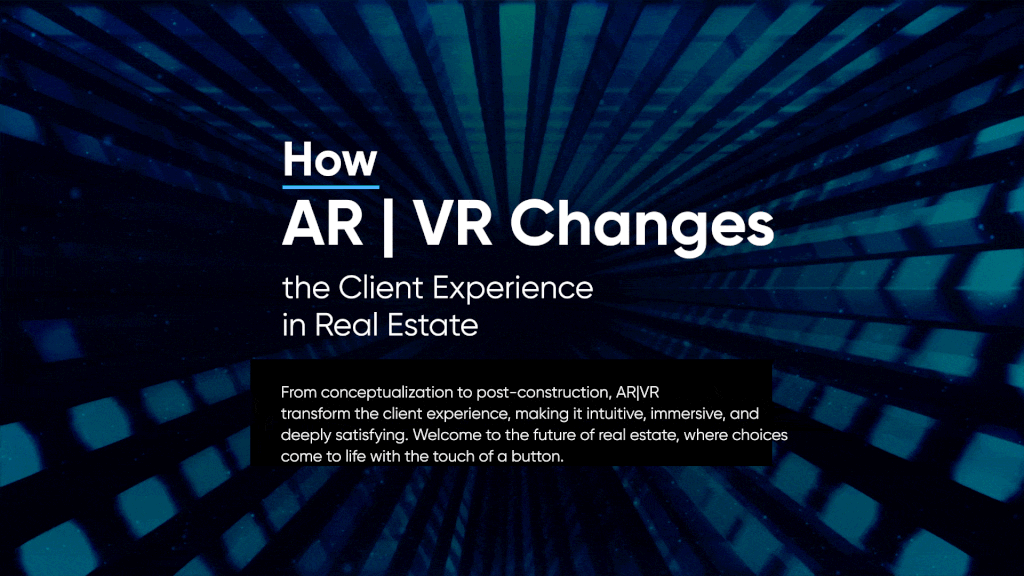 In the dynamic world of real estate, where every decision carries monumental importance, technology plays as a key influencer of decision Your clients are expected to envision something that's not even there yet, making those crucial choices more difficult.  
Traditional aids like floor plans and 3D renders help, but the full picture remains puzzling. Immersive (AR|VR) technologies are now poised to reshape real estate. From property viewing to final purchase, this article goes through how these mesmerizing technologies are revolutionizing the client experience. 
Read on as we explain how AR/VR is impacting real estate and allowing users to make informed decisions. 
Why AR & VR necessary in real estate
In a world increasingly reliant on technology, buyers and sellers expect more than static listings and physical property visits. AR and VR bring immersive experiences to the table.  
Analysis has shown that approximately 50% of prospective buyers may seek immediate or same-day access to view a property. 
With AR, potential buyers can visualize how a space might look with their personal touch—furniture, decor, and more—creating an emotional connection before purchase. 
VR, on the other hand, offers virtual property tours, eliminating geographical barriers and the need for numerous site visits. Buyers can explore every nook and cranny of a property from the comfort of their homes. 
Cost effective-

Cost-effectiveness is at the forefront, as AR/VR significantly reduces traditional marketing expenses like property staging and travel costs for potential buyers.

 

 

Short sales cycle-

With virtual reality home tours and staging, decision-making becomes more intuitive, resulting in quicker property transactions and shorter sale cycles.

 

Competitive advantage-

This embrace of advanced technology not only streamlines operations but also provides a competitive edge, giving the edge in the market to real estate professionals and companies that are utilizing AR and VR technologies in the market.

 Ex- AR mobile apps bring convenience, offering better reach without the need for physical presence at work sites. 

 
Reality technology in construction phases
Before & After- 
Before constructing any dream, conceptualizing is key. With 3D modeling and VR touring solutions, you can visualize your dream instead of being unaware. This will allow you to get a better understanding of your projects.  
But it doesn't stop there. AR-VR further enables you to better the client experience via VR tour or AR brochures. Let's elaborate-  
Need for conceptualizing their project-

 

Need for a solution to tour concept projects

 

Platform for creating client's dream home

 

Marketing material for engagement

 
 Conceptualizing Projects with 3D Modelling: In the real estate pre-construction phase, AR and VR take project conceptualization giving the clients a glimpse of their dream homes & a place of new ventures for businesses. 
You can engage your clients with immersive presentations, ensuring precision in drawings and presentations, all in a cost-effective way. 
 With 3D modeling, it offers interactive 360-degree views, object rotation at your customized pace, and it's mobile-responsive. This approach connects with the fact that 39 percent of AR retailers utilize AR during the consideration phase. 
 Virtual Touring Solutions with AR and VR:  
Virtual Touring Solutions offer feel like strolling through the property.  Buyers can voyage on a truly engaging and realistic journey, allowing them to grasp every detail of the property's layout, flow, and unique features.  
Remarkably, 3D tours already influence 44% of potential buyers to engage more deeply, and VR tours take this to the next level, making remote property exploration easier. 
Redfin, a top real estate platform, enhances property viewing with its AR feature.  It lets users virtually tour homes for sale, offering an immersive experience and detailed information, providing a realistic feel of the property without being there physically. 
 Customizing Dream Homes through 3D Modelling:  By developing an AR platform that lets clients virtually personalize customers' dream homes, kind of putting the power of design right at their fingertips.  
Imagine being able to visualize changes in real-time, from room layouts to exterior finishes; it's about making choices that truly resonate with their preferences. This approach can ensure higher customer satisfaction, and ultimately leads to increased conversions.  
With AR, it is not just selling homes; it is about customizing experiences. Ex- Reality 23 lets customers augments customize size in real world, 3D exterior interior view with real time graphics.  Notably, a striking 77% of customers express a strong desire to leverage augmented reality for precisely this purpose: to visualize and understand product differences with clarity. 
Marketing material for engagement:  Using AR/VR in your real estate marketing during the pre-construction phase is not just an option; it's a moment of impact.  
First, it signals that you're forward-thinking and dedicated to your clients. 
Second, it demonstrates your commitment to providing the best possible experience. 
Buyers can explore, personalize, and develop an emotional connection with the property before it's built, leading to higher sales conversions and a competitive edge in the market. 
Ex- an AR brochure can make better engagement. AR product experiences are 200% more engaging as they deliver double the levels of engagement compared to their non-AR equivalent. 
Post construction- 
Convenient way to explore properties

 

Help visualize client's interior visions

 

Marketing material for listed properties viewing

 
 Convenient way to explore properties: Transitioning to the post-construction phase, AR and VR continue to be invaluable tools in the real estate business.  Beyond conceptualization, they provide a convenient way to explore properties. Clients can virtually step into their new spaces, examining every detail and layout, even after construction is complete. It's like having a permanent open house, enhancing client satisfaction. This approach keeps clients engaged, ensuring they make the most of their investments. 
Help visualize client's interior visions:  AR and VR technology continue helping clients bring their interior visions to life.   Our AR room planner solution, featuring precise 3D models, customizable lighting options, virtual design capabilities, and furniture placement, empowers clients to envision their dream spaces. 
Marketing material for listed properties viewing: In the post-construction phase, AR and VR continue to redefine real estate marketing. They go beyond conventional materials to offer an interactive and engaging experience for potential buyers. 
 Studies show that, agents can achieve 9 percent higher sales values by incorporating interactive materials. Our AR brochure is a prime example of this. It elevates property viewings, allowing buyers to involve themselves in the listed properties, ultimately resulting in more significant engagement. 
How AR & VR tech impacts consumer psychology
Sense of ownership-  AR enables buyers to envision their ideal homes in their current spaces, fostering a sense of ownership. Meanwhile, VR provides virtual property tours that forge personal connections. These experiences offer "try-before-you-buy" scenarios, aiding informed decisions. Notably, personalized content is 1.7 times more likely to boost global sales. 
Push vs. pull experience- In the real estate context, the push vs. pull experience dynamic takes on new relevance through AR/VR. Traditional real estate marketing often involves pushing information to potential buyers through advertisements and listings.  
However, with interactive technology consumers can pull property details and features that resonate with their lifestyle. AR's decentralized approach puts control in the hands of consumers, making for more informed buyers and a win-win for the real estate industry. 
Higher conversion through Visual Context- When considering even a couch purchase, the ability to virtually touch the fabric and gauge comfort bridges the online-offline gap. A study by Snap and Deloitte revealed that AR-empowered interactions with products yield a remarkable 94% higher conversion rate, solidifying the value of visual engagement in real estate transactions. 
Thanks to AR and VR technologies, the customer journey is being enhanced every step of the way.  From enhancing property tours to facilitating more informed decisions, these technologies offer a win-win situation for both real estate professionals and clients. 
The ultimate reward could belong to pioneers who lead the way, transforming their digital interactions to carve a unique experience. 
If you are thinking about exploring AR|VR technology to elevate your real estate business, now is your time to get started. With us, you can create an everlasting client experience with the help of reality technology. Reach out to us today and let's make your real estate endeavors special.

  Previous
Brain Station 23 is focused on delivering tailored services to meet the unique needs and expectations of their clients.
 NEXT 
Brain Station 23 is focused on delivering tailored services to meet the unique needs and expectations of their clients.