Did you know that 87 % of organizations now utilizing a learning management system? In fact, with the increased use of technology in many organizational operations, According to Fortune Business Insights the LMS market is expected to reach USD 44.49 billion with CAGR 18.7 by 2028.
So, are you thinking about implementing an LMS to enhance workplace learning, productivity & employee retention? If this is the case, then you are not alone! In the corporate world, 80% of global organizations believe that LMS provide them a competitive edge over their competitors. This article will assist you to choose the right LMS for your organization, so before we know more about selecting the best LMS system-
Let's begin with a definition, An LMS refers to an online learning management system (or e-learning management system). Internet-based software that connects users/students from all over the world is known as a synchronous learning environment (SLE). To create digital classrooms and connect teachers and students, it can be used in an educational institution. If you work in an office or organization, you can also use it to train employees on topics like skills, policies, and legal compliance issues, as well. As a result of its numerous benefits, many organizations (both government and non-government) are currently using or considering using an LMS.
According to FinancesOnline in the survey of 2,504 companies, found that "58% employee preferer for comprehensive training in LMS learning" 41.7 % save training cost, and 57 % investing more on online learning to get higher return profit margins in their organization.
According to Fortune Business Insights, the LMS market is expected to reach USD 44.49 billion with CAGR 18.7 by 2028 Sounds impressive, right?
So, the advantages of online learning cannot be ignored & this is a sector that continually changes according to the constantly changing user needs. As the growing requirements of users are recognized, you need to be aware of these trends before selecting your next LMS.
There is plenty of learning systems suppliers all over the world, which is not secret anymore. So, it may be very quick to confuse the process of choosing a new LMS, especially if you're looking for the cheapest?  The most frequently suggested one than others? Or that for which all others appear to be heading?  Or What factors contribute to the management system's effective for learning purposes? So, for these, you need to spend time on certain key questions which will help you make this decision. In this context, you should consider ten questions when choosing a perfect LMS software for your organization. If you can consider them all, it will make you well placed for your organization to find the best learning solution. So first you need to know – 
Who needs an LMS System?  
All over the world, LMS platforms are utilized in a wide range of industries and for a variety of workplace learning use cases. For several years, LMS adoption has been on the rise all over the world. Indeed, the global LMS market is expected to grow at a CAGR of 24% year over year, so if you haven't found your LMS solution yet, now is a good time to do so. 
 So, there are two key types of LMS users: 
Why does your organization need an LMS? 
A learning management system (LMS) will assist your company in streamlining its processes and increasing your employee productivity. So, every Businesses must incorporate an LMS into their procedures in order to maintain growth.  
Let's go over the major reasons why an LMS is required for a successful business outcome in any form of corporation. 
Reduces Learning & Development Cost

 

Consistency of Training

 

Easily Tracks Learner Progress & Performance

 

Meet Regulatory Compliance

 

Increase The ROI

 

Organizes e-Learning Content in One Location 

 

Increase Productivity & Profitability

 
In general, learning management systems have far more advantages than those listed. These are the most common selling points and top indicators of whether you and your company can get benefited from an LMS. 
Top 10 Considerations while choosing the right LMS for your organization
It is very important to select the best Learning Management System (LMS) for your organization's learning requirements. Thousands of companies and educational institutions have expressed interest in creating their own digital learning or training platform in order to deliver organized and effective learning to their employees or students using Learning Management Systems. The Learning Management System (LMS) has evolved over time to include a variety of advanced capabilities. With the help of real-life examples from organizations just like yours, in this guide we will walk you through every step of how to choose the perfect LMS for your organization. Let's have a look at the 10 most crucial factors to consider when selecting the best LMS platform to assist you.  
Is Your LMS User Friendly? 
The primary consideration for the evaluation of LMS should be user experience (UX). Busy educators don't have time to learn complicated new ways of presenting their instructional materials, and if the platform isn't simple enough for learners, they will rapidly (and literally) switch off the platform. To be effective, an (LMS) must be easy to use, quick to grasp, and without requiring hours of training or troubleshooting. Each new edition of eLearning 23 improves the user experience by considering accessibility and cross-device compatibility. 
So, when implementing the LMS solution, it should be easy to access and update with the minimal effort. 
What Key Features Do I Need for My Learners? 
When you identified your users, it's time to take the features you will need into consideration. The description of the LMS should include all the features you need, and there shouldn't be too many functions that you don't need. Features are the major selection criteria at this point. Your short-list will be eliminated if the platform does not satisfy your standards! You need to know what the user is expecting to accomplish at the end of the learning session before you begin exploring LMS, as this will be your ultimate goal. Let's say, for example, your company develops a fundamental training program for new employees. learners from all around the world can attend the workshop. so here you need to concentrate on the features your team needs to train, such as-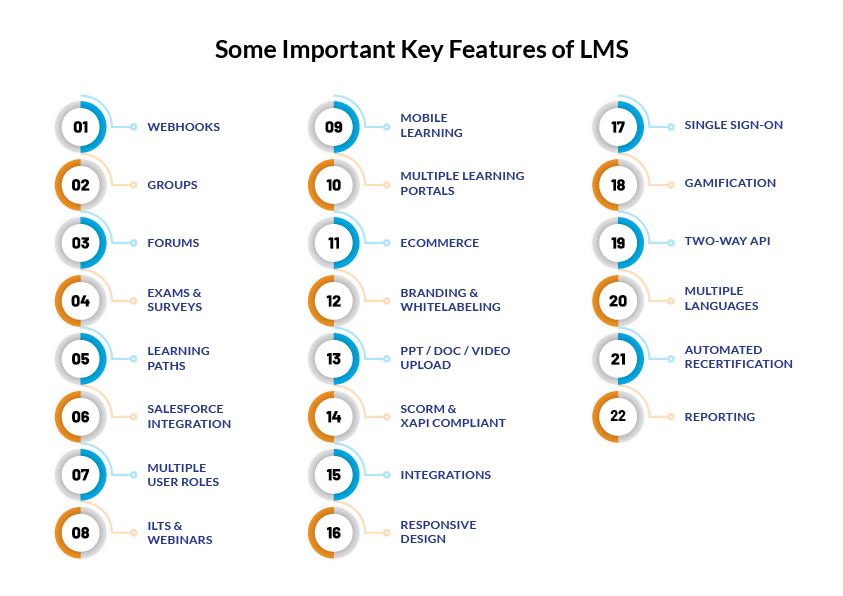 Knowing this, you can concentrate on those features that will help you to make an informed decision for your organization. 
Suggestions: If your first priority in learning is game dynamics, social features and a top-notch user interface (UI), you can be interested by our eLearning 23. Studies indicate that gamification can up to 94% increase employee involvement! 
Dose your LMS Provide Custom Features? 
Look for a learning management system (LMS) that must contain the following features: Custom Learning Management System (LMS) Grading system, alerts for notice, writing notes and online libraries as well as the ability to create and develop courses are some of the most essential features for any business or leaning purpose. Additional requirements for an LMS include specific features like live chat, an announcement board, a calendar for major events, tests and quizzes, file sharing, and tracking progress. The majority of these functionalities should be included in from the start if you're spending a lot of money on an LMS. 
These are some of the basic characteristics of an effective Learning Management System. You can learn more about them by using one of our development team's solutions, – eLearning 23.  
Will Your New LMS Solution Be Mobile-ready? 
According to studies, smartphone also enable learners to access and complete training information 45% faster than those who use a PC & not only that 76 % of online students' access course information and training materials using their personal devices.  
When selecting the LMS, consider how your existing technology or applications will integrate the new system? Keep it in your mind; you can lose some potential clients if your education system is only available on a desktop or on your laptop. 
This is why Learning content should be accessible anytime, anywhere, regardless of device, and if it's not, your programs are less accessible for no good reason, so it is important that the LMS you choose is fully responsive across all devices. This makes learning more accessible and convenient, which can enhance the commitment of your training programmed.
So, here we can see that according to Report Linker Mobile Learning is estimated at US$22.4 Billion in the year 2020, is projected to reach a revised size of US$80.1 Billion by 2027, growing at a CAGR of 20% over the period 2020-2027.
Suggestions: If that isn't enough, eLearning 23 has more LMS functions. It is intended to work smoothly with our learning management system. 
Does your LMS Security and reliability have been tested? 
Confidentiality and security concern all companies irrespective of their industry. This applies to both the encryption of personal data and the payment of fees. A security violation is the most serious threat for the reputation and trust of an organization. Especially when it comes to compliance, e-Learning & LMS users rely on it heavily. Learners must not log into one other's accounts, and the data must be secure all the time. There are a few things to consider when choosing an LMS:  
Data storage location

 

User authentication

 

Who can have access to what data?

 
So, seek companies that employ industry-standard data protection measures as well as a firm have strong commitment to never compromise on confidentiality. 
 Here are some questions to ask your LMS vendors about these issues: 
Will we be able to scale up our use?

 

Can we grow our active users if necessary?

 

How long does the average outage last on a daily basis? Is system monitoring in place continuously?

 

Have you got a plan for disaster recovery?

 

Have previous data breaches occurred?
What customer Support Can I Get after sales service?  
Do the LMS providers offer round the clock support? Before making a final decision on the LMS, check out the vendor's customer service quality and availability from a variety of sources to resolve issues with functionality and maintenance.  Live chat, email and telephone lines should be included in customer service options.  
You should check if your LMS partner is able to meet your needs and if they are reputed to have a good reputation for success. 
In addition, knowledge-based support should be included such as guidelines and demonstration video help with system setup. As the customer support desk's willingness for assistance and knowledge expertise reflect how much they appreciate their consumers.
Suggestions: Make sure you have all the supporting functions for implementing your online learning program are provided to your new LMS. A 24/7 support center and a dedicated customer success managers are provided for the LMS user in eLearning 23.   
Does your LMS monitor progress in learning? 
A digital website should be built for learners with an automated LMS, where they can post a variety of learning materials, including resources, quizzes, and even the syllabus for the learning objectives. Students must have a download option to view information both online and offline. A good Learning Management System also keeps track of the student's development, which is quite beneficial. Learners can log on and see not only what they've learned, but also what they still need to learn. 
Compatibility? 
When choosing a learning management system, make sure it can access all of your customers' existing resources and materials (content). LMS must be able to accommodate all of their existing resources such as WordPress, SCORM, PDFs and visual aids. It's Illogical to complete an LMS only to discover that some of your current training materials cannot be linked with the LMS. 
For example, information on a new hire entered into your ERP by your recruitment team should flow immediately to the LMS, setting up the new employee and initiating boarding training without the need for human intervention. 
When you purchase a car, you take it for a test drive. in the same way a demonstration is the only way to find out whether or not a learning platform can help you to achieve your goals effectively and efficiently. You can discover more about the platform by watching a detailed demonstration and taking a free trial. 
 As a result, you will be able to evaluate if it suits your training requirements properly. So before choosing an LMS, request a live demonstration or perhaps a trial period from the LMS vendor so you can see it in action. This will help you and your team realizes how easy or accessible it is for your end-users to be a potential platform. Remember that the LMS will almost certainly be a large investment for your organization, so it's always a good idea to test it out beforehand. 
Suggestions:  If your vendor is unable to display its platform should immediately be excluded. We offer in-depth demonstrations and testing for our learning technology solutions in eLearning 23. Did you examine the LMS Provider's Company? 
Choose a company with a strong history and reputation, as signing up with one that closes down unexpectedly could leave your users stranded – along with their learning data.  Read testimonials and success stories from companies/clients that have used this LMS to train their employees. 
Will the LMS Meet My Future Needs? 
When deciding on an LMS, the future and present demands must be considered. A good LMS should not become temporary distraction but should be a lifetime business partner. You should consider whether your new LMS sales partners will be able to deliver your long-term goals & objectives. 
 Almost every growing LMS systems are developing and have a roadmap with a schedule for introducing new features to their system. There may be certain features that aren't necessary right now. However, this might be useful in the future, so please check out the LMS road map. This will show you where your product comes from and where it will go in the future.  
Inquire about your LMS provider's R&D spending, examine how frequently the LMS will be updated in the future, how active the community is, and how skillfully assistance is handled, as well as other development plans? 
Conclusion 
Choosing the proper LMS for your organization can be a difficult task, but following this advice can help you avoid costly trial-and-error by keeping all of these principles in mind. 
Here's a 'How do I select an LMS platform' checklist, I hope this blog will help you narrow down your options and find your right platform if you are prepared to go with an LMS plugin on your Word Press. In a single plugin, it provides a group solution for most of your LMS requirements and supports various extensions for further features. I hope that this article will cover the maximum points to choose the appropriate LMS to meet your company's needs. 
Do you want to know more about How do you pick the finest LMS for your company?  We are here to assist you! Take a free tour of eLearning 23 the most engaging learning management system in the world. 
eLearning 23 is the only place where you can examine & compare all the available alternatives for your needs, so now as you know more about LMS software than you ever have before! Click here to get a full version for 30 days for free. Without investing a time, here you may test out all of the capabilities of the learning platform without risking any money at all.