AR Solution to Visualize Interiors for Real Estate
CO-WELL is home of more than 400 specialists and engineers working in Tokyo and Miyazaki (Japan), Ha Noi and Da Nang (Vietnam).  
CO-WELL specializes in delivering software development solutions tailored to the Japanese market and Japanese-standard services for Vietnam's local market. They excel in resolving a diverse array of customer challenges across multiple domains.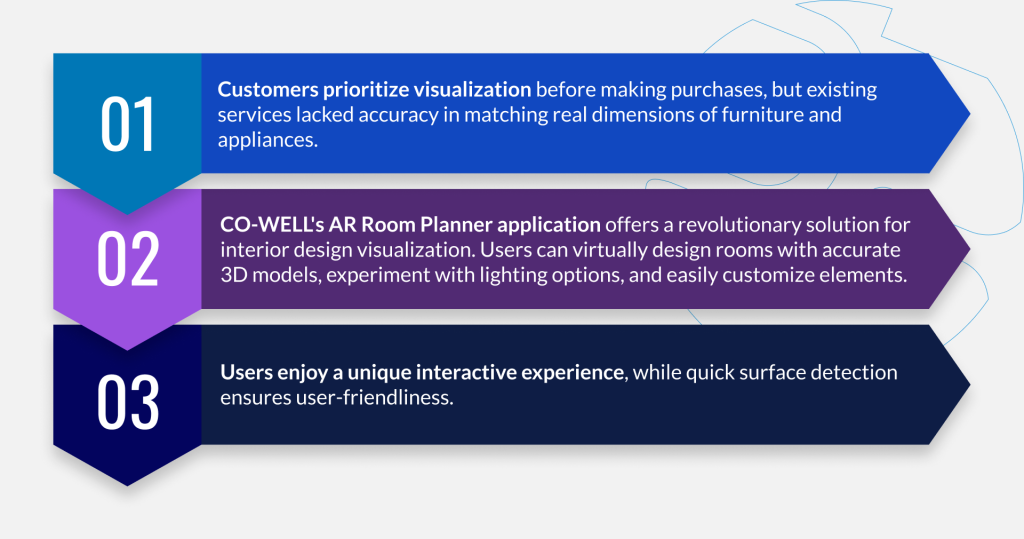 CO WELL needed a solution that helped their real estate clients to visualize interior designs and enhance the home buying or interior decorating experience in Japan.
In today's world, customers seek visualization before making any purchase, and this holds true for interior design. However, there was a problem: existing services often fell short. They struggled to precisely match the real dimensions of furniture and appliances, leaving a gap in customer satisfaction.
The available solutions had trouble distinguishing between floor and wall surfaces, leading to frustrating outcomes. The interdependence of layers added complexity to making changes, and surface detection latency interrupted app's mobility.
So, CO-WELL wanted to develop an augmented reality application that not only provided precise interior design visualization but also included real-world dimensions, proper lighting placement, easy manipulation of various elements & efficient surface detection.
We developed the AR Room Planner application, a solution to visualize interior designs effortlessly. The app offers a plenty of features to enhance the user experience: 
Virtual Designing: Users can apply virtual paint and different textures on walls, add decorations, and even test furniture placement. 
Accurate 3D Models: The app's extensive catalogue includes furniture and decor elements with precise 3D images, enabling users to envision how each object fits into their space. 
Lighting Options: Users can experiment with different lighting modes and shades to get a comprehensive idea of the room's ambience. 
Easy Customization: The app allows users to add, remove, or move items freely, change colors, and zoom in for detailed views. Wall and floor textures can be altered independently, ensuring no interference between them.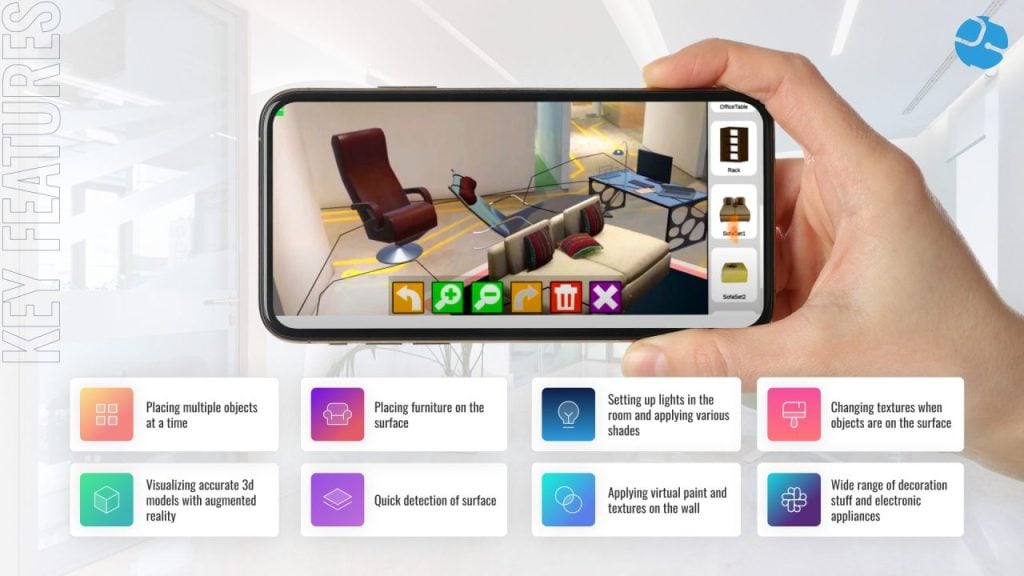 Brain Station 23 is focused on delivering tailored services to meet the unique needs and expectations of their clients. Here we provided AR/VR  Solutions to our client. 
Software Testing as a Service