Banking is no longer somewhere you go, it's something you do!
Brain Station 23 provides Internet Banking solution to the fintech institutions where digital banking is the primary channel for transaction. As a market, online banking is growing as well as challenged not only by the other competitors but also with their very own tech savvy customers' rising expectations.
City Bank is one of the oldest private Commercial Banks functioning in Bangladesh and also is a top among the oldest five Commercial Banks in the country. Thus, to make banking faster, fresher, more secure and convenient for their customers, City Bank was in need for digitized web and mobile banking solution. We stood up to take the challenge of developing the most intuitive, smart and responsive in any platform, banking solution for City Bank.

We realized City Bank's need of having an Innovative Banking solution beyond the basic services that will distinguish the banking standard in terms of most modern Internet Banking facilities. And so we tailored our solution to meet and rule the anticipated market trends. This seems to well articulated and obtained applaud at home and abroad.
Along with the web portal, our mobile banking application for City Bank, CityTouch provides an interface that will engage your customer. We have designed a natural and useful Internet Banking experience that caters to the needs of every type of customer lifestyle and their expectations. CityTouch is touch screen optimised and compatible with any device which connects to the internet (laptop/mobile/tablet/connected TV).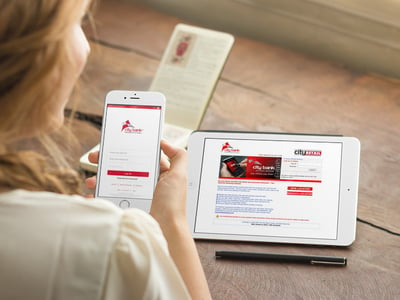 Therefore, we integrated off-the-shelf products and services for their customers that while initially may come as surprise for their customers. User experience is optimised for City Banks customers via a highly flexible solution that adapts screen resolution, navigation menus and content to the given screen size. Thus City Bank now offers a straightforward and attractive online banking experience for the customer that is becoming intrinsic to their lifestyle.
After the successful handover of the project, this year, City Bank has recently been named the 'Best Bank in Bangladesh' by Global Finance, a North America based leading global financial publications. As the statement made on their best digital banking solution by the giant finance magazine while giving away the award this November 2017, 'City Bank of Bangladesh likes to see itself as 'the bank for all purposes' and is dominating the country's banking industry.'
The dominance was applauded at homeground as well in a row. City Bank has been announced as the "Best Online Bank" by the ICT Division of the Government of Bangladesh at the celebration of first National ICT Day. The award was given based on recommendations from Bangladesh Bank itself. With City Bank, we take this achievement as a force behind a world class and smart digital banking provider in the country
As committed as we are with our clientele, we thrive to develop the best customer oriented and secure digital banking experience that all the fin-tech institution would certainly want to integrate with their banking system. At the same time, our solution protects your customer relationships with integrable cross selling and upselling customization, moreover, native fully functional secure enough mobile application.
We help you to be with your customers wherever they Go! Banking service will be one click away for them. Give your customer the Freedom of banking from anywhere and anytime. We provide a complete range of the most secure internet banking and software solutions tailored for your banking business and financial institution. Additionally, we use the latest state of art technology to test the scalability of our applications in the test environment to see how it performs for hundreds and thousands of users. Whether it's Blockchain or any service bots, we are all upfront for developing the latest fin-tech solutions for our customers at Brain Station 23. Our support teams are always there waiting to serve any queries on bringing about the next big digital banking expectations into reality.