Find The Best CMS For Your Enterprise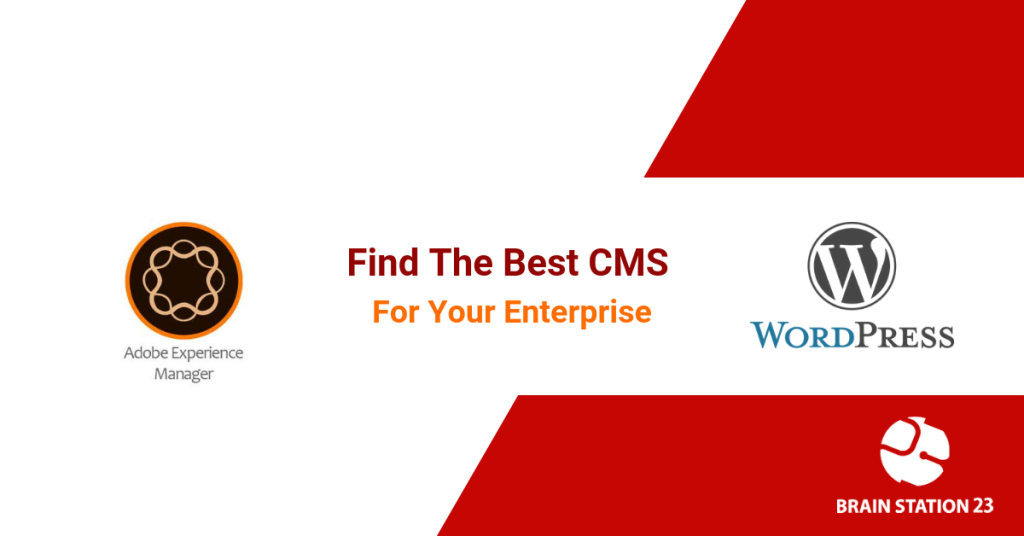 In today's market, web presence is the key to survive among enormous businesses. Your entire business might be functioning solely on the Web. Is your organization's site doing the very best it could, utilizing the most efficient and robust resources available? Let's find out the answer. Today, I will share the reasons that can help you to choose the right content management system for your business.
From a technical perspective, AEM (Adobe Experience Manager) is an Enterprise Content Management System with several touches from Adobe, placing AEM somewhere in between open-source and proprietary software. It is those touch-ups from Adobe that make the system slick and usable. For example, a visual drag and drop page builder has been the standard way for creating pages in AEM — long before WordPress Gutenberg was born.
On the other hand, WordPress is a well-designed open source and easy to use content management system that continuously updated with new features and its large community of users provides countless handy plugins and development resources. But it lacks some of the capabilities like comprehensive site editing and updating capabilities, extensive site metrics, and tools to really capitalize on ROI, etc.
Both AEM and WordPress have some advantages and drawbacks depending on your business sizes and needs. Let's jump right into the exact points that will help you to choose between the right CMS for your business.  
1. Multi-channel Support for Content Sharing

Multi-channel CMS allows users to maintain all information and content centrally. Furthermore, users can publish content to all of their favorite channels. It saves a lot of time and money and there is less hassle remembering passwords from different channels.
AEM offers cross-channel content, which users or authors can create once and deliver beautifully across the web, mobile, apps, IoT, single-page applications, and in-venue screens — without any additional effort.  
Conversely, WordPress lacks this exclusive feature. With WordPress, users can only upload their content through a single channel, especially blog based websites are handled best by WordPress.
So If you are managing multiple channels and you need to share a single content through multiple channels, maybe WordPress is not the best option for you, you need to move to AEM on a higher note.
2. Advanced Analytics for Personalized Customer Experience
Advanced business insights help to understand customers and their specific needs which helps to grow a business with loyal customers on-board. Customers love to be pampered with personalized care and that's what makes them returning to any service or brand.
With AEM, users can achieve the ability to dial into the exact person at the right time by audience segmentation and personalization through artificial intelligence and machine learning. Also, users can deliver highly personalized digital experiences to every customer — all from one platform. By AEM's Adobe SiteCatalyst, users can deliver the top-notch personalized experience to their customers.
WordPress has also a built-in analytics tool for business insights that can give preliminary reports of customer behaviors. But while advanced AI and Machine Learning enhanced analytics leading around, WordPress's built-in analytics can't compete anymore.
3. AI & MI Enhanced CMS for Better Customer Engagement
As mentioned above, AEM has a built-in AI and ML integrated into its CMS which is popularly known as Adobe Sensei. Adobe Experience Manager Sites uses the artificial intelligence and machine learning capabilities of Adobe Sensei to speed up content creation so users can deliver tailor-made experiences to customers at massive scale. The ability to create once and deliver everywhere, with features like reusable content keeps repetitive workout, and efficiency in. So much so that instead of reaching only a few web and mobile customers on a personalized level, a business can reach millions of customers – even across affiliated properties, without the extra work.
WordPress doesn't have any built-in AI or MI enhanced system. Blog-based websites for small businesses can surely be benefited from WordPress integration compared to the price range of AEM. But Large scale enterprises can unlock an out-of-the-world experience for their customers with the help of AEM's robust AI and ML enhanced CMS.
4. Permission and Workflow Management
Permissions and workflows in CMS are features that are negligible for small businesses having a small team for content management. However, as a business, as well as the team grows, those features become critical for the productivity and success of the team.
Adobe Experience Manager comes with some progressive permission and workflow management moods, such us content must go through an approval process before it can be published to the production site. Only certain people are able to hit the "publish to production" button.
This is even more true for WordPress. But AEM has the advantages to make this process in a more automated way than WordPress. So, authors don't have to call or email people for any approval, AEM makes it more easy and automated that won't create any confusion while publishing content.
5. Advanced Editing Modes
In AEM, authors can quickly edit and view each page in different modes. Authors can switch between modes based on what job needs to get done.
There are a few more modes on AEM that show up based on how the site is set up. One ideal scenario is that A/B testing and personalization is set up by integrating AEM with Adobe Target. Using Targeting mode, authors can define when to show certain components based on a visitor's location, age, referral page, the time of the day, etc.
Integrations in AEM are comparable to plugins in WordPress but with the difference that AEM integrations are more complex and usually custom-tailored for user specific needs.
But if you own an enterprise level business, putting development complexity and money aside, the consequence of such an effort can result in a superb authoring experience. The concept of editing modes demonstrates how a simple drop-down creates an opportunity for authors to get a range of jobs done while staying on a single page.
Summary
When choosing a platform for CMS implementation or migration, it all comes down to your organization's needs and site requirements. AEM helps to maintain the overall process of CMS with advanced features that many much missing in WordPress. AEM gives its users a more personalized and customized user experience with the integration of latest technologies which makes it a robust content management system.
Despite the difference in price range compared to WordPress, AEM is worthy for any large scale business which has to maintain multiple business channels and different level of customers.
Running a large business? Need help with integrating Adobe Experience Manager in your business?