Revolutionizing Payments: Bangla QR Leading the Digital Transformation in Bangladesh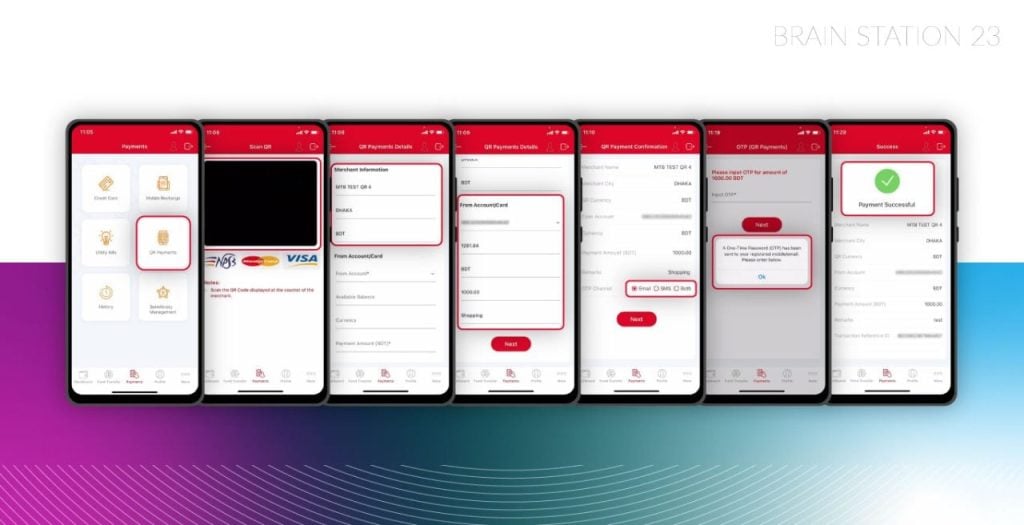 In today's rapidly evolving world, there is a growing shift towards cashless payment systems. By embracing cashless payment, Bangladesh Bank aims to provide a convenient and efficient method of conducting financial transactions. This is the start of the digital payment transformation in Bangladesh.
To make the contactless payment system more streamlined, Bangladesh Bank has created a regulatory guideline for the system. Client who uses internet banking, any QR which are Bangla QR certified; can read and does the transaction. The motive behind this act is to ease digital transactions in the country so that more people can use this medium. This will help to reduce the reliance on cash and promote a more efficient way of making cashless payments.
Seamless Digital Payments
Ensuring a smooth Integration Process and Streamlined User Experience
Safe and Convenient Transactions
In order to provide a safe solution and to facilitate QR payment system, Bangladesh Bank initiated a unified Bangla QR code. Now, consumers user who want to do transactions through QR will not face any problem because of the availability of QRs.
Previously, when users want to pay through QR, they might get into a problem because of "because of unavailable QRs of their respective banks.". In that case, if a user is a consumer of a specific mobile financial services or bank, he/she can do the transaction. There was no generalized system which provides benefit to any user. Also, this lack of interoperability hindered the growth of digital commerce in the country.
United Commercial Bank, City Bank & AB Bank Limited wanted to implement the service according to the specifications shared by Bangladesh Bank. By collaborating with Bangladesh Bank on this initiative, both the banks hoped to provide a more convenient and accessible service for all users.
Bangla QR is a new QR code-based payment solution that enables businesses in Bangladesh to accept digital payments directly into their bank accounts. This generalized QR system will allow users (app that supports Bangla QR) to do transactions.
We merged the business requirements shared by our clients and the API to launch the Bangla QR payment in their corresponding banking apps. Whenever API clarification was required, we clarified through Banks. The solution offers a way of transaction from many banks to a merchant account. The transaction is executed through NPSB channel. Customers can pay digitally by scanning the Bangla QR using the mobile payment applications provided by banks. Launching this solution helped meet customer needs for digital transactions in a safe and efficient way.
Customers need to download the app that supports Bangla QR. Merchant and transaction information will be displayed following successful QR code scanning. After scanning the QR code, the customer enters the purchase amount. To authorize and complete payment, the customer enters an OTP.The transaction will be debited from the customer's specified source by the app. Following payment, the system sends an acknowledgment email.
Bangladesh Bank is taking a step towards cashless payment. To bring millions of small businesses, such as street vendors and lower-income groups, under the digital transaction system, the Bangladesh Bank is launching a campaign to promote an interoperable QR code throughout the capital city.
Ten banks, three MFS providers, and three card-based payment gateways are participating in a central bank pilot initiative that is now underway (18 Jan –21 Feb, 2023). Under this pilot project each bank set up 200 QR booths in Dhaka City.The central bank's initiative comes as more people, motivated by convenience, are beginning to conduct transactions digitally.
This will ultimately lead to more widespread use of these systems and less dependence on cash. In addition, it will strengthen digital business presence in the micro-merchant arena, where most sellers are out of the formal banking system. It will promote financial inclusion by making it easier for people to access banking services.
Brain Station 23 is focused on delivering tailored services to meet the unique needs and expectations of their clients. Here we provided AI & ML Solutions to our client.
Software Testing as a Service

  Previous
Brain Station 23 is focused on delivering tailored services to meet the unique needs and expectations of their clients.
 NEXT 
Brain Station 23 is focused on delivering tailored services to meet the unique needs and expectations of their clients.