On 27th December 2016 Brain Station 23 Limited got investment from BD Venture Limited and IPE Group. The Investment Declaration Ceremony took place at Software Technology Park, Janata Tower, Karwan Bazar Dhaka. Honourable State Minister of ICT Mr Zunaid Ahmed Palak was the Chief Guest at the ceremony. While Mrs Farhana A. Rahman, Vice-President of BASIS, Raisul Kabir, CEO of Brain Station 23, Mr Shawkat Hossain, Managing Director of BD Venture Limited, Mr Adnan Imam, Managing Director of IPE Group and Mr Aftab Ul Islam FCA, Director of BD Venture Limited, were also present at the joyous event.
Since 2006, we, Brain Station 23 Limited have been serving foreign clients and for the last 10 years, we have been gathering experience from around the world, working with startups, SMEs and also with big global clients like British Telecom, PayPal, SIEMENS, Nissan, etc. We have also started serving the local market for the last 4 years, mostly focusing on the Banking and Finance industry where we have proved our capability of developing most secure banking software for our clients. After a few successful and ongoing projects with City Bank and AB Bank now we are aiming to expand our horizon even further in the local market. We all know, going mobile is the next big thing in the coming years and we are 100% ready for playing a significant role and helping the rest of the Bangladeshi Banks launching their banking on mobile platforms.
We are also willing to help each & every industry of Bangladesh to transform into this digital tide & get the best business outcome in their sectors. We have already helped the pharmaceutical industry, telecom industry, e-commerce industry and real estate industries with our mobile sales force automation, educational module, rental applications, web mobile applications, etc. With the latest technology outreach, we are offering our clients insurance for the best service possible. We want to serve our country with the best developers and marketers who have not only global standards but also understands local markets and demands.  Therefore, we want our clients to do what they do best and leave us with the rest.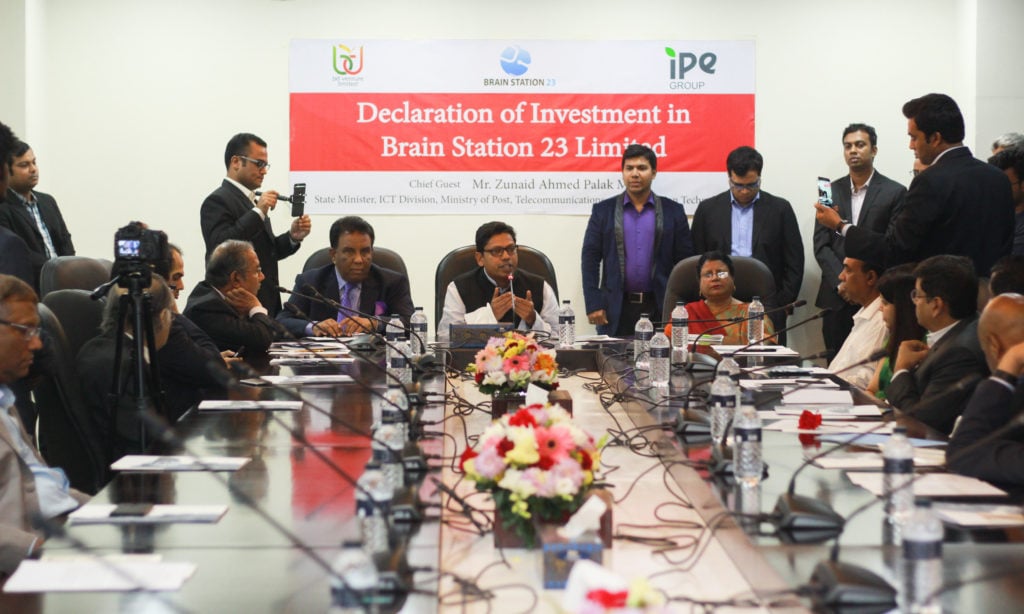 BD Venture Limited is a venture capital company registered by Bangladesh Securities & Exchange Commission as Alternative Fund Manager. Which has been working relentlessly for last few years to sow radical and influential seeds among entrepreneurs & enterprises to pave their expansion through facilitating investment, mentorship and other relevant services. Different reputed institutions such as Mutual Trust Bank, Lanka Bangla Finance Limited, Green Delta Insurance Company, Bangladesh General Insurance Company Limited, Midas Financing Limited, National Bank, Data Edge Limited, EBL Securities Limited etc. are also its associates. They have invested in a few IT start-up such as Doctorola, Esho Shikhi etc.
IPE Group, our another investment partner, is a young but diverse enterprise mainly focusing on startups, new technology, Outsourcing industry etc. Headquartered in Dhaka and London, they have already invested in a few large local organizations like G&R, Genex, etc. As one of the leading software companies in Bangladesh, we have got the investment from IPE group, expecting to scale up the outsourcing business all over Europe using their extensive and efficient network.
By 2020, we would like to be a global giant where all the talented developers from Bangladesh are working to achieve our goal. And with a good platform, we are able to change the world.  We believe It is not the strongest nor the most intelligent who survive, but those who can best manage change are the one triumph for victory.